Better Mechanic is described by its developers as a Windows system optimization tool. It promises a lot of enhancements for your computer, claiming to perform important fixes of your operating system by repairing system errors and resolving broken Windows registry items. Unfortunately, the analysis of this program and its activities within the computer gives all the grounds to assert that it is an absolutely fake system optimizer. It falls under the category of a PUP (potentially unwanted program).

Better Mechanic Malware quicklinks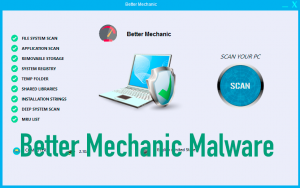 Better Mechanic is very similar to Registry Doctor, RegeasyFixer, Microsoft Cleanup and some other fictitious system cleaners belonging to the same family. These programs are similar according to their misleading alerts produced in order to scare people into purchasing their so-called full versions, which do not differ much from the trial ones. Better Mechanic reports fake errors during its primitive scanning and then prompts for an immediate fix. However, whenever people click on the appropriate button to fix these invented bugs, Better Mechanic leads them to the online payment processing page to perform the upgrade to the registered copy of it. Definitely, doing so is the total waste of money.
Reasons not to tolerate Better Mechanic
First of all, we already mentioned the first ground why Better Mechanic should be removed right way. It acts as a primitive system optimization tool and does not even look decent. Its so-called scanning process lasts within just a few seconds, afterwards, the program immediately presents its fabricated scan report. The hoax simply tries to trick you into wasting your money for nothing. In times of malware attacks or availability of serious computer-related problems Better Mechanic will not help you to prevent your PC from being infected, neither will it fix the errors that definitely slow down your system.
Better Mechanic is dangerous because it is additionally involved in click fraud activities. Once installed, the program launches its special process that may be clearly tracked through the Task Manager. The process will cause random pop-ups and redirections to a wide range of associated websites. It will additionally click on the advertisement banners and sponsored links promoted through these websites in order to generate revenue for advertising companies displaying these ads. This activity is absolutely illegal, for this reason, it is correctly identified as click fraud.
Finally, Better Mechanic is dangerous because it will produce an extremely negative impact on your operating system in general. The program will cause high CPU usage on a permanent basis due to its click fraud activities running on a regular basis. So, even if you have a brand new computer with an excellent processor and other top characteristics, the power of your PC will be essentially diminished because of Better Mechanic enabled.
How to uninstall Better Mechanic
You first need to realize how to prevent Better Mechanic or similar PUPs from attacking your system in the future. Note that the majority of unwanted applications are now distributed through bundling. This is when they are integrated with many other cost-free programs. Dealing with free software may be great as long as there is nothing else suggested in the installer. Regretfully, things are often totally different. The freeware installer may additionally contain other third-party utilities of no value, whereas some of these extras could be absolutely dangerous to install. So, be very careful, pay attention to all the details during the installation process. Do not allow any junk utilities to be easily brought to your computer without your consent.
You may definitely attempt to uninstall Better Mechanic manually. Open the Task Manager, locate the processes associated with Better Mechanic and end their tasks. Then access the Control Panel, check the list of available programs, find Better Mechanic and remove it immediately. We additionally recommend that you scan your system with Spyhunter that will help you to identify other items that could not be revealed during the manual removal. And remember that Better Mechanic might not be the only unwanted software that is slowing down your system right now, so automatic system checkup may reveal problems you are not aware of.

Automatic Malware removal tools
How to remove Better Mechanic Malware using Windows Control Panel
Many hijackers and adware like
Better Mechanic Malware
install some of their components as regular Windows programs as well as additional software. This part of malware can be uninstalled from the Control Panel. To access it, do the following.
Start→Control Panel (older Windows) or press Windows Key→Search and enter Control Panel and then press Enter (Windows 8, Windows 10).
Choose Uninstall Program (if you don't see it, click in the upper right next to "View by" and select Category).
Go through the list of programs and select entries related to Better Mechanic Malware . You can click on "Name" or "Installed On" to reorder your programs and make Better Mechanic Malware easier to find.
Click the Uninstall button. If you're asked if you really want to remove the program, click Yes.
In many cases anti-malware programs are better at detecting related parasites, thus I recommend installing Spyhunter to identify other programs that might be a part of this infection.