"Bad Rabbit Attack" fake alert is a message, claiming that a ransomware virus Bad Rabbit has been detected on your computer. However, this is another scam, aiming to trick people into calling a helpline. The phone number 1-844-539-5778 is indicated to belong to Windows certified technicians, but this statement is false (Microsoft Impersonation Scam).
In fact, Microsoft has nothing to do with this fake message and has enlisted this message among other Microsoft-related scams. This multinational technology company has inspired many cyber criminals to create fake technical support notifications. For instance, we have recently discussed rogue tech support service from Easysupport.com.
"Bad Rabbit Attack" alert is false: your computer has not been affected by this ransomware virus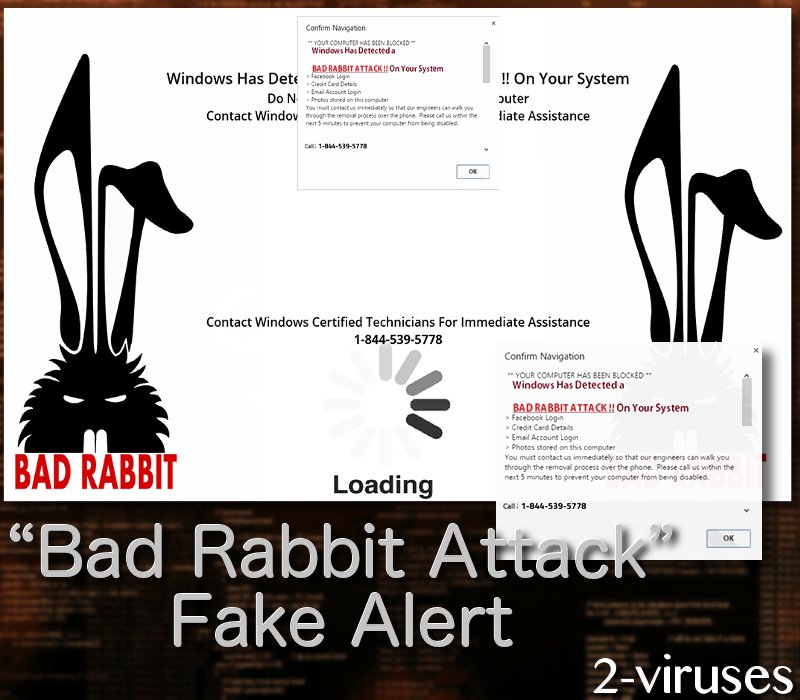 "Bad Rabbit Attack" scam warns people that virus is going to steal Facebook logins, email account credentials, and photos stored on your computer. Over the indicated helpline, creators of this message promise to walk users through the removal process over the phone. However, we are sure that the alleged removal is going to be pricy. These technicians have no association with Microsoft. Conversation with them will probably lead to demands for money in exchange for the provided "assistance".
Microsoft has mentioned that in none of their security notifications they put numbers to contact a helpline. If you notice a phone number in a technical support message, it is clear that it is not originating from the creators of Windows operating systems. All information in "Bad Rabbit Attack" scam is misleading: they hope that naive users will believe that their computer device has been compromised and needs immediate attention. Nevertheless, this message is put at the same level of credibility as hoaxes like "Important! Your Browser(Chrome 65) Is Missing A Privacy Extension".
Cyber criminals that generated this "Bad Rabbit Attack" fake alert are probably going to be asking money in exchange for the assistance while removing the infection. In addition to this, the rogue tech service can also require remote access to operating systems. Since these people have nothing to do with Microsoft, you would be giving control to suspicious third-parties (Tech support scams hitting more computer users online).
It is important to never give remote access to people you do not know. In addition to this, do not reveal personal information about yourself. If scammers from "Bad Rabbit Attack" scam ask for your banking account information, hang up the phone immediately.
If you don't remember the notorious Bad Rabbit ransomware, we are going to quickly remind you. The virus was extremely intimidating around the end of October, 2017, and targeted many countries around the globe. People from Turkey, South Korea, United States, Poland and other regions had reported this infection. In some ways, the virus was compared to another ransomware giant: NotPetya.
"Bad Rabbit Attack" technical support scam is very likely to be generated by an adware parasite
If you are bothered by this rogue message, it could be that a malware infection has slithered into your operating system. This might have happened after you downloaded an unknown application or a browser extension. Unknown software can always cause security issues like tracking, generation of third-party ads and installations of other viruses. "Bad Rabbit Attack" could be generated by an adware parasite.
We would expect you to immediately pay attention to your computer after this message is displayed on your screen. We do not need getting help from the people behind "Bad Rabbit Attack" scam. In order to make these notifications stop, it would be best to find the adware parasite. Please look at the guidelines below and try to remove all suspicious software from Control Panel. However, if you are hoping for the best results possible, the best solution would be to run a scan with an anti-malware tool like Spyhunter. Use these tools regularly to make sure that your operating system would not be affected by viruses.
How to remove "Bad Rabbit Attack" scam using Windows Control Panel
Many hijackers and adware like
"Bad Rabbit Attack" scam
install some of their components as regular Windows programs as well as additional software. This part of malware can be uninstalled from the Control Panel. To access it, do the following.
Start→Control Panel (older Windows) or press Windows Key→Search and enter Control Panel and then press Enter (Windows 8, Windows 10).
Choose Uninstall Program (if you don't see it, click in the upper right next to "View by" and select Category).
Go through the list of programs and select entries related to "Bad Rabbit Attack" scam . You can click on "Name" or "Installed On" to reorder your programs and make "Bad Rabbit Attack" scam easier to find.
Click the Uninstall button. If you're asked if you really want to remove the program, click Yes.
In many cases anti-malware programs are better at detecting related parasites, thus I recommend installing Spyhunter to identify other programs that might be a part of this infection.
Automatic Malware removal tools