AV Defender Professional is a rogue antivirus program that pretends to scan your computer and detect infections so it could convince you into purchasing its full version and make money. Beware that it's a fake application that has no ability to detect or remove any kinds of threats. It was designed by cyber criminals only to rip you off. We recommend removing AV Defender Professional from your system as soon as you see it scanning your computer. Use a reliable anti-malware program, such as Spyhunter or StopZilla and run a full system scan.
About AV Defender Professional
AV Defender Professional can appear on your computer when you least expect that and imitate scanning it. In a few minutes displays a list of threats that are supposedly harming your system. It warns that your system is at risk and if you want to continue using your computer safely, you should better remove all threats that were found. Have a look at the message by AV Defender Professional below:
Windows is unable to delete all found threats
Please note that Windows security system is no longer protecting your computer against malicious software, including viruses, spyware, and other unwanted software. To finish removing all detected threats, you'll need to install antivirus software.
Recommended antivirus software:
Name: AV Defender Professional
This program helps enhance the security and performance of your computer. This antivirus is regularly updated with new features and services. The latest updates will download after the installation. Real-time protection will alert you whenever malicious or potentially unwanted software attempts to install itself or run on your PC. Windows is ready to install "AV Defender Professional".
Obviously, if you do what you are asked in a message, you will end up paying for cyber criminals. However, you should know that AV Defender Professional has nothing to do with reliable antiviruses, so you should never trust what it says. In fact, it report the same issues for all targeted systems, so clearly it doesn't detect anything. Do not reveal your credit card details under any circumstances. There are plenty of great antivirus programs to protect your computer from infections and deal with exciting infections, but AV Defender Professional is not one of them.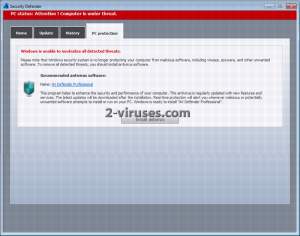 Do not fall for this scam and remove AV Defender Professional from your system as soon as possible.
Distribution Methods of AV Defender Professional
AV Defender Professional infects computers with a help of Trojan viruses. It is quite difficult to detect it before it infiltrates to your system. However, you should be more careful when browsing the Internet, avoid visiting suspicious websites and clicking on random popups. Also it is very important to have reliable antivirus and anti-malware installed.
If you have already been attacked, remove AV Defender Professional as soon as possible. Use a reliable anti-malware for that and make sure you upgrade it to its latest version.
Automatic Malware removal tools
Manual removal