Arcade Safari virus is an adware owned by EpicPlay LLC that when installed starts displaying pop-up and in-text advertisements, special offers, deals and coupons. The website www.arcadesafari.com offers a list of free games, some of which must be downloaded in order to be able to play them. Alas, not many read this software's Terms of Use before installing a game:
Premium Games are offered free of charge at the Site in exchange for your agreement to install the ArcadeSafari Software (the "Software"). The Software will allow us to display third party applications as well as text link, popup/under, transitional and banner advertisements on your computer based on the information we collect from you as described in the Privacy Policy.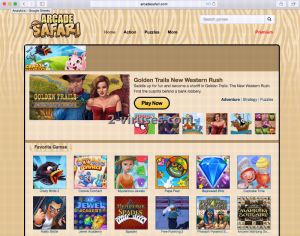 It means that after you install any game from this website, you will end up having advertisements displayed every time you browse the Internet. They might be shown even during the game play. Moreover, third party software, such as search provider toolbars can be added with it. Subsequently your home page, default search engine and new tab page might be changed to anything else but what you used before. Arcade Safari virus may also present itself as a Facebook add-on for free games. In the latter case it will misuse the used Facebook account, for example, it may post spam links on the user's behalf.
The amount of questionable gaming platforms has only increased since 2013. In 2016 we can offer you a whole rick bouquet of gaming facilities that offer their services in exchange of advertising and installation of the required software. All of them seem to have bizarre names, just like Arcade Safari, probably implying that you should start your adventure in Safari. ArcadeBunny, SultanArcade, ArcadeBayou or ArcadeHall are all identical to ArcadeSafari and you should stay away from all of these adware programs. Play games from reliable platforms and avoid installing the ones that will constantly bother your with external links and third-party advertisements (possibly suspected of being malware-laden).
In the screenshot of Arcade Safari you should notice similarities to the ones that are eliminated above this sentence. They are all constructed following comparable pattern and their activity on your device is also parallel. It might be that due to the unbearable amount of promotions, your device is going to start running slower than usual. At some cases, people noticed that their Internet connection crashed at times.
Due to Arcade Safari virus annoying nature and an increased risk of getting computer infected via malicious advertisements, it is recommended to remove it as soon as possible. In most cases a simple uninstall procedure will not be enough as adware and browser hijackers are programmed to be complicated to be removed. You may choose between an automatic and a manual removal options. Please note that a manual removal should be applied only if your computer knowledge is deep enough not to cause more damage. For you convenience, we added a simplified version of the manual removal and hope that you will find it helpful enough. If you have any question, please leave it in the comment section below and we will get back to you soon.
Arcade Safari Virus Removal Instructions
For an automatic Arcade Safari Virus removal install Spyhunter and run a full system scan using it. The program will detect and eliminate all the infections including any other adware/browser hijackers/viruses that might have been installed while you had this unwanted application.
For a manual Arcade Safari Virus removal :
go to Control Panel, uninstall Arcade Safari and any other applications installed on the same day;
go to browser extensions and remove Arcade Safari from there. You should do this for all the browsers you have on your computer. It is recommended to uninstall all unfamiliar browser extensions;
if you still have redirection issues, follow the instructions here;
if even after removing Arcade Safari manually you still get advertisements, scan your computer with Spyhunter.
Automatic Malware removal tools
Manual removal