Antivirus Pro 2017 is a rogue antivirus program that belongs to Braviax/FakeRean family of infections. Once inside, the program modifies your Windows Registry and imitates functions of a regular antivirus program. Unfortunately, it is not able to detect any infections and it is not the best solution for any security related issues. The program only wants to convince you to purchase a full version of Antivirus Pro 2017, which is, unfortunately, as useless as its trial version.
You must remove Antivirus Pro 2017 from your system as soon as you detect its very first steps. Below you will find a tutorial how to do it. To remove Antivirus Pro 2017 automatically, download a reliable anti-malware program, for example, Spyhunter or StopZilla and run a full system scan.
About Antivirus Pro 2017
As already mentioned Antivirus Pro 2017 belongs to Braviax/Fake Rean family. This family is distributing their programs for years and they all work in a very similar manner. First of all Antivirus Pro 2017 imitates looking for infections on your system, it imitates performing system scan and finally lists various files that are supposedly damaging your system. In fact they either don't exist at all or they are just some regular entries that pose no risk to your computer. However, Antivirus Pro 2017 will try to prove you the opposite and it will try to make you purchase its full version, so that it could complete the scan and remove infections.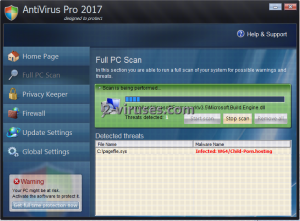 In addition, Antivirus Pro 2017 may display various security notifications that should strengthen the feeling your system is at risk. Ignore there warnings just like you should ignore the scan results by Antivirus Pro 2017. it is not a reliable tool and you should get rid of it as soon as possible.
Distribution Methods of Antivirus Pro 2017
There are several ways of distribution of Antivirus Pro 2017. You have to be very careful when you surf on the Internet. Never click on random popups as they may contain malicious links embedded. You should also avoid opening attachments in spam emails. Beware that Antivirus Pro 2017 is often installed by Trojan viruses too. You should always have your antivirus and antispyware program upgraded to keep your computer as safe as possible.
If it was already infected by Antivirus Pro 2017, you must remove it as soon as possible. Follow the guide how to remove Antivirus Pro 2017 below and eliminate this badware for good.
Manual removal of Antivirus Pro 2017
Start->Run
Enter https://www.2-viruses.com/downloads/stopzilla.exe and press 'Enter'. Wait for the file to downlad.
Run the Stopzilla installer. It should kill Antivirus Pro 2017 process.
If the Stopzilla installer does not kill the process, try the Spyhunter installer : Start->run https://www.2-viruses.com/downloads/spyhunter-i.exe, download and run.
Scan with

Stopzilla, Spyhunter or Malwarebytes to eliminate the parasite.
At this point the Stopzilla installer is capable of killing processes of this rogue family, though you might need additional anti-malware tools to fully remove the parasite.
Antivirus Pro 2017 removal video guide
Automatic Malware removal tools
Manual removal