Amazon Mini Saver is another adware with an interesting name. It was developed by Nero. Designers state that this application will enhance users browsing experience by providing them with special offers and deals while visiting e-commerce sites like Amazon or eBay. However all those ads are worthless because they come from the third parties.
If you will click on one of those ads, you will be redirected to the third parties websites which may be infectious. That's not even all malicious actions performed by Amazon Mini Saver. It also tracks your personal information like browsing history, search queries or top visited sites. This information is transferred to the third parties later on in order to adjust ads according to your habits and make them more engaging to you. This adware is listed as a PUP (potentially unwanted program) and you should not keep it on your computer.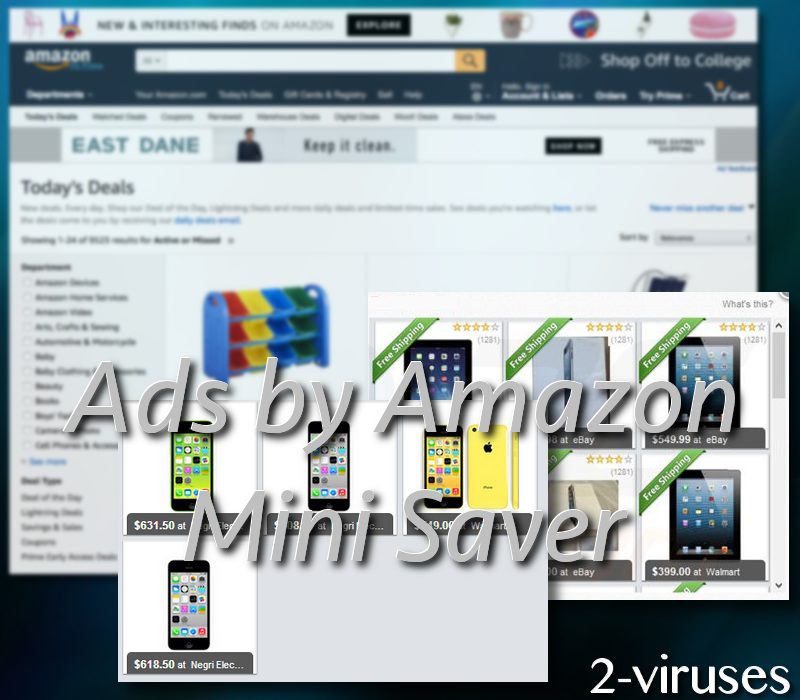 Amazon Mini Saver usually comes bundled with other free software that can be found on the Internet. In order to avoid this malicious application, you should pay attention to the installation of various freebies. Do not skip any steps and make sure you opt out for a custom or advanced install mode. If you have enough time, it is advisable to read all terms and conditions.
You will be sure that no unwanted program is being installed alongside this way. If it is too late and you have noticed that your computer is already infected, try to scan it with a trustworthy anti-malware program like Spyhunter or malwarebytes – this will remove Amazon Mini Saver automatically. In case you would like to perform this manually, follow our removal guide given below.
Using Control Panel to remove the main Amazon Mini Saver components and installers
Go to Control Panel. On Windows XP/Vista/7 open Start -> Control Panel , Add/Remove Programs or Uninstall . On Windows 8 enter Control Panel in the search box, then look for Uninstall a program. You may need to confirm that you are the administrator on this PC, in both cases.
Look for Amazon Mini Saver and /or similar looking items on the list of programs. By default, I recommend removing Yontoo, WebCake, anything "savings" or "coupon" related. Scanning with Anti-Malware programs like Spyhunter or Stopzilla might give a good idea of what programs you should remove from there as well.
Close Control Panel.
Removing Amazon Mini Saver from Internet Explorer
Press on the Wench icon->Manage Add-ons.
Go through Toolbars and extensions. Remove everything related to Amazon Mini Saver and items you do not know that are made not by Google, Microsoft, Yahoo, Oracle or Adobe.
Close the Options.
Removing Amazon Mini Saver from Firefox
Enter about:addons in URL field.
Go through Extensions and Addons list, remove everything Amazon Mini Saver related and items you do not recognise. If you do not know the extension and it is not made by Mozilla, Google, Microsoft, Oracle or Adobe probably you do not need it.
Optionally, reset Firefox: go to Firefox ->Help (Help in menu for OSX users) -> Troubleshooting Information. Then Reset Firefox.
Removing Amazon Mini Saver from Chrome
Enter chrome://extensions in url field.
Go through extensions list and remove programs you do not need, especially similar to Amazon Mini Saver. If unsure, you can disable them temporarily.
Restart Chrome.
Optionally, you can enter chrome://settings in URL bar, press Advanced settings, scroll to the bottom of the list and press Reset browser settings.
Automatic Malware removal tools