AllInOne Keylogger can be a really dangerous program that can cause a lot of problems to your privacy. Although it is an official and commercial program that can be found and bought online for noble reasons (to keep track of your children or employees) it can also be secretly infiltrated into your system by cyber criminals and used to reveal your passwords or spy on your chatting. At some cases, websites are obliged to not disclose information about the removal of this program since monitored individuals can delete the program. In such cases, the monitoring is not a violation of privacy: especially if parents are only trying to protect their children from offensive browsing. AllInOne keylogger is not only used to pursue this benelovent mission. People that have a way of getting involved in scams can take advantage of such applications to find users' passwords and other credentials that are valuable.
People might be unware of the sneaky activity of AllInOne Keylogger. This program is created with a task of being stealthy: no inconveniences should arrive with it. Nevertheless, there might be some minor setbacks that may be seen as a hint. Sadly, these features are commonly left unnoticed. It is not that irregular for computers to freeze or crash on their own. That is why some similar inconveniences might be regarded as not that important.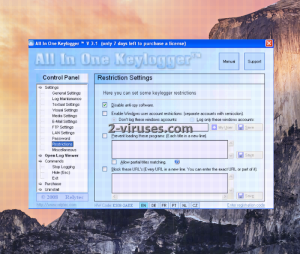 If you did not exactly comprehend the actions that AllInOne Keylogger opts to do, then this paragraph should make some things clearer. Basically, this program is just a fancy word for a tracking. If it ends up in your device without your knowledge, then it will collect information about your online activity. Anorther unpleasant aspect is that this program can record the things you type with your keyboard. This is the way program steals your passwords or other confidential data, exploited online. As we indicated before, AllInOne Keylogger can look into your chat windows, shared pictures or etc. If you send pictures that are provoking, there is a great chance of these photos reaching hands of shady people. For transmission of compromising pictures or other information, use reliable networks and make sure that your activity is not being tracked by some unknown evils.
This program is still available for purchase even though it has been introduced to Internet users in 2014. Two years later, it is still possible to get this application and start stalking people. However, if you have no authority to do so, then such monitoring with AllInOne Keylogger can be considered as a crime. If hackers invade people's privacies and have the nerve to consistently keep track of their activity, then such individuals are taking a risk by exploring this dark side.
If you have a suspicion, that AllInOne Keylogger is hiding somewhere in your operating system, you should wait no more and scan your computer with a trustworthy anti-malware program like Spyhunter or malwarebytes. If your suspicion was real, it will detect AllInOne Keylogger and remove it for good. You should also scan your computer from time to time because you may not know what kind of threats are waiting for you.
Automatic Malware removal tools