Adwizz adware virus presents a multitude of online advertisements and they all promote products from Banggood.com online shop. From the look of this shop, it appears legitimate and reliable: a perfect place to purchase goods for lower prices. Despite this initial assumption, we conclude that BangGood services are as genuine and respectable as the ones from Alibaba. Adwizz ads presents coupons/sale offers from Banggood.com and most of them will be a waste of resources.
According to multiple Reviews, the received goods do not function, orders are getting randomly canceled, or they arrive damaged. However, the company neglects the inconveniences of customers by refusing to pay refunds or taking long periods of time to reply and solve issues with the received products (Avoid dangers of online shopping).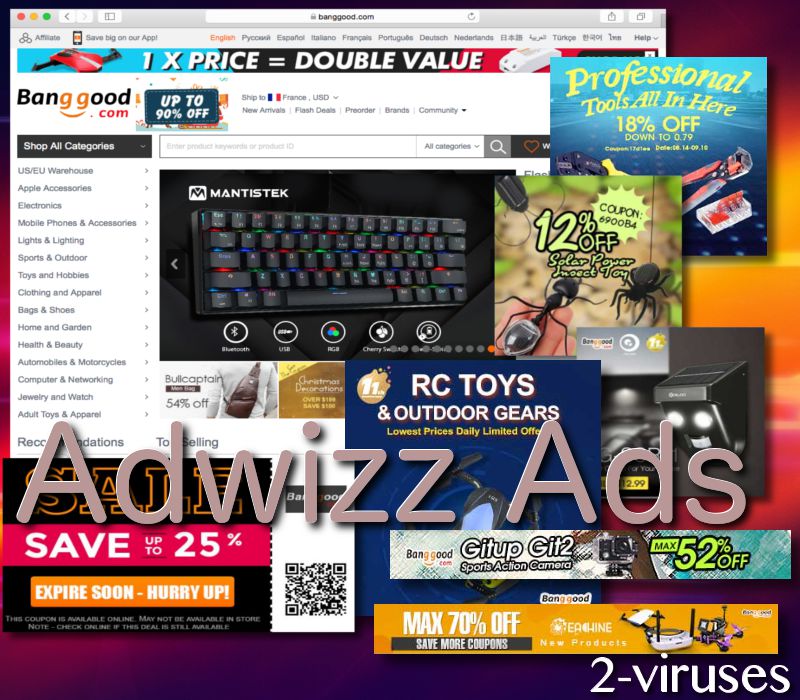 This attitude towards online clients should not be supported and we hope that you won't be tempted to click on advertisements that are generated by the Adwizz adware.
Adwizz adware will display numerous promotional offers from Banggood.com
While usually we indicate vague explanations on the origins of adware programs, Adwizz malware parasite has a very specific method of distribution. Security researchers have determined that it is distributed via a fake "Blue Screen of Death" or BSOD (legit version is common for Windows users). The infection later on shows a rogue Troubleshooter application which will declare that your operating system is no longer fixable.
After this, users will be encouraged to purchase a specific program to solve all issues. Sometime during this process, a sneaky Trojan installs the Adwizz virus into your operating system and you will be forced to repetitively battle the online advertisements from Banggood.com.
One of the customers of Banggood.com addressed the issue of the coupons from this online shop. According to the disappointment consumer, the online advertisements are deceptive as they often include bad deals. Take a look at the full statement:
"Don't buy anything on flash sales or other seemingly great promotions. Banggood's tactic is to mix good deals with bad deals. If you get confused and choose a bad deal, you pay and you get the product. On the other hand, if you wisely choose a good deal, you pay and you wait… and wait… After a week or so, they will claim that the product is out of stock and suggest something else. Of course this "something else" will be a bad deal. Even if you choose wisely for the second time and get your money back, you lose a lot of your time. And if you complain, they will offer you some point, worth maybe a dollar. I know what I'm writing as I was (un)lucky to buy a laptop for $500 on a flash deal with 20 or 30% discount".
In other reviews, the store promoted in Adwizz Ads is called out as "the worst company ever" and "waste of time company". In addition to this, a lot of shade has been thrown on the customer service of this Banggood.com as they are refusing to reply to consumers' concerns and have strict refunds policy (which usually means that you will not get back your money).
With this knowledge, we hope you will turn to another online shop for Christmas presents and save your money from being wasted on products that will arrive late/damaged or do not arrive at all.
We should mention that Banggood.com appeared to have some positive reviews a while ago, but the number of negative feedback started to intensively grow. As many people are clearly complaining about this service, we insist you to re-consider the possible purchase from this site.
How can adware parasites like Adwizz malware affect your system?
The malware is located in a C:\Program Files\adwizz folder. In this folder, people will find adwizz.exe. As long as the executable is active, you will be bothered by online advertisements and possibly have your online activities monitored. Since this adware comes from a Trojan, it is possible that your computer device is also carrying more malicious programs. To properly remove all of these dangerous files, we suggest you to run a scan with Spyhunter. These tools have proved to have excellent skills when it comes to protecting computers from harmful activities of malware. If you wish to clean your operating system manually, you can take a look at the manual instructions below.
How to remove Adwizz ads using Windows Control Panel
Many hijackers and adware like
Adwizz ads
install some of their components as regular Windows programs as well as additional software. This part of malware can be uninstalled from the Control Panel. To access it, do the following.
Start→Control Panel (older Windows) or press Windows Key→Search and enter Control Panel and then press Enter (Windows 8, Windows 10).
Choose Uninstall Program (if you don't see it, click in the upper right next to "View by" and select Category).
Go through the list of programs and select entries related to Adwizz ads . You can click on "Name" or "Installed On" to reorder your programs and make Adwizz ads easier to find.
Click the Uninstall button. If you're asked if you really want to remove the program, click Yes.
In many cases anti-malware programs are better at detecting related parasites, thus I recommend installing Spyhunter to identify other programs that might be a part of this infection.
Automatic Malware removal tools