Ad Expert Browser is an advertisement-supported application, so called adware. It is also listed as a PUP (potentially unwanted program) due to several malicious actions that it performs. You can call it whatever you want, but one thing is clear – you need to remove this malware from your computer as soon as possible. The developers of this adware promise, that it will help you to get statistics about PPC (pay-per-click) campaigns. Here's the the text from their official website: "Ad Expert Browser is a new program used to analyze the online advertising market to obtain detailed statistics about websites advertising on different pay-per-click advertising systems. The program works very simple – we analyze search results from different pay-per-click systems, carefully study the websites in your area and build a detailed visit statistics for these sites. Each visit is recorded in a text file. You only need to configure automatic update of your database and that's all. And behold you have a beautiful and convenient statistics at a glance! Ad Expert Browser does not require human intervention because it is fully automated and the necessary statistics files are generated automatically. The program does not create any inconveniences to the user – it is not visible on the screen and it does not throw up popup windows and various notices in the tray. All you need is to run the program once and we will do the rest for you.". As you can see – no words about pop-up ads were spoken. It is worth mentioning, that a lot of developers of various malicious software and even scammers use this advertising network to promote their products. Ad Expert Browser works as a browser add-on that can be added to all most popular websites, such as Google Chrome, Mozilla Firefox and Internet Explorer. Once installed, it will collect your personal information, such as browsing history, search queries or IP address and transfer it to mentioned third parties. They adjust their ads according to it and make them more engaging and relevant to your browsing habits this way. Even though Ad Expert Browser is not a dangerous virus that can cause damage to your computer itself, but it can lead you to some more serious cyber security problems.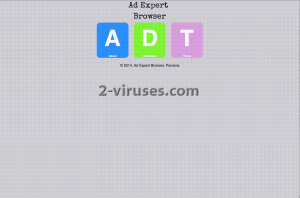 This adware travels bundled with other free software and can get installed on your computer without you even being aware of it. I.e. when you download and install some software from a suspicious looking website, Ad Expert Browser can get installed alongside. To avoid this happening, you should be really careful running the install wizard of freeware. Do not skip any steps and opt out for a custom or advanced install mode to be able to see all possible options. If you see that some additional software is being installed – do not allow it. In case your computer is already infected, we highly recommend to scan it with a trustworthy anti-malware such as Spyhunter or malwarebytes right now. It will detect and remove the threat automatically. If you would like to do this manually, follow our step-by-step Ad Expert Browser removal guide given below.
How to delete Ad Expert Browser
Using Control Panel to remove the main Ad Expert Browser components and installers
Go to Control Panel. On Windows XP/Vista/7 open Start -> Control Panel , Add/Remove Programs or Uninstall . On Windows 8 enter Control Panel in the search box, then look for Uninstall a program. You may need to confirm that you are the administrator on this PC, in both cases.
Look for Ad Expert Browser and /or similar looking items on the list of programs. By default, I recommend removing Yontoo, WebCake, anything "savings" or "coupon" related. Scanning with Anti-Malware programs like Spyhunter or Stopzilla might give a good idea of what programs you should remove from there as well.
Close Control Panel.
Removing Ad Expert Browser from Internet Explorer
Press on the Wench icon->Manage Add-ons.
Go through Toolbars and extensions. Remove everything related to Ad Expert Browser and items you do not know that are made not by Google, Microsoft, Yahoo, Oracle or Adobe.
Close the Options.
Removing Ad Expert Browser from Firefox
Enter about:addons in URL field.
Go through Extensions and Addons list, remove everything Ad Expert Browser related and items you do not recognise. If you do not know the extension and it is not made by Mozilla, Google, Microsoft, Oracle or Adobe probably you do not need it.
Optionally, reset Firefox: go to Firefox ->Help (Help in menu for OSX users) -> Troubleshooting Information. Then Reset Firefox.
Removing Ad Expert Browser from Chrome
Enter chrome://extensions in url field.
Go through extensions list and remove programs you do not need, especially similar to Ad Expert Browser. If unsure, you can disable them temporarily.
Restart Chrome.
Optionally, you can enter chrome://settings in URL bar, press Advanced settings, scroll to the bottom of the list and press Reset browser settings.
Automatic Malware removal tools
Manual removal