5starCoupon is yet another malicious application that can look useful at a first sight. However, it is listed as an adware due to several unwanted actions that it performs. Once installed, it will display various advertisements on your web browser. Those advertisements are not only disturbing and annoying but malicious as well. That's why you should not keep 5starCoupon installed on your computer. It's not difficult to indicate if your PC is infected with 5starCoupon adware, because those ads displayed by this malware are usually marked with a slogan "Ads by 5starCoupon" or "Brought to you by 5starCoupon". If you have noticed this occurrence, your computer is definitely infected and you need to solve this problem immediately.
You can get rid of 5starCoupon either manually or automatically. If you have no previous experience in virus removal, you should choose to do it automatically. For this, simply download a trustworthy anti-malware, such as Spyhunter, StopZilla or Malwarebytes. Install it and run a scan of files stored on your computer. It will automatically detect and get rid of this malicious application. It will also protect your computer from similar infections in the future. In case you feel like you could do it without any help of anti-spyware software, you can remove 5starCoupon manually. However, this process is not very simple. That's why we have developed a step-by-step 5starCoupon removal guide which will assist you. Scroll down to the end this article and take a look at it. In case you would like to learn more about specific features of 5starCoupon, please continue reading this article.
About 5starCoupon
5starCoupon works as a browser add-on, that can be added to Google Chrome. It's not an ordinary feature because most of similar adware are adapted for all most popular web browsers, not only one of them. However, in order to completely eliminate 5starCoupon, you will have to remove it not only from your Control Panel but from Google Chrome as well. It's described as a useful application that will help you to save both your time and money when browsing online by providing you with various coupons, deals and commercial offers but this is not quite true. Those offers come in an annoying manner of web advertisements, such as pop-up, pop-under, in-text, contextual or banner advertisements. Some random text on various websites can be turned into hyperlinks, so you have to be careful not to click on the latter. Even though those advertisements look really appealing, you should not click on them, because they are fake – it's just a trick to win your attention and make you click on one of those advertisements.
5starCoupon is an advertising network, mostly used by various cyber criminals, such as hackers and scammers. They use it to promote their services and direct traffic to their websites. That being said, if you have 5starCoupon installed on your computer, cyber criminals can access your sensitive data right on your web browser, on a daily basis. If you click on one of those advertisements, you will be immediately redirected to other websites. This may result in your computer getting infected or in case you attempt to purchase something there, you can even get scammed and lose your money.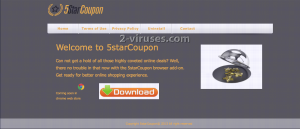 Another malicious attribute of 5starCoupon is data collection. Once installed, it will collect all sorts of information about you and your browsing habits, such as your browsing history, search queries, Top visited sites, your IP and email addresses. The thirds parties will adjust those advertisements according to the given data and make them even more relevant and interesting to you this way, so chances that you will click on one of those advertisements rise. And that's the main goal of 5starCoupon, because its developers get paid for every click you make on those advertisements.
Distribution methods of 5starCoupon
5starCoupon is distributed bundled with other free applications, such as various PDF generators or media players that can be downloaded for free. For instance, when you download and install some freebie from a suspicious looking website, there is a chance that 5starCoupon will be installed alongside without you even being aware of that. So if you don't want to get infected with 5starCoupon or any other malware, you should avoid downloading software from unreliable sources. Or, you could just install a powerful anti-spyware, such as Spyhunter, StopZilla or Malwarebytes and you won't have to worry about possible infections any more.
Manual removal of 5starCoupon
How to remove 5starCoupon using Windows Control Panel
Many hijackers and adware like
5starCoupon
install some of their components as regular Windows programs as well as additional software. This part of malware can be uninstalled from the Control Panel. To access it, do the following.
Start→Control Panel (older Windows) or press Windows Key→Search and enter Control Panel and then press Enter (Windows 8, Windows 10).
Choose Uninstall Program (if you don't see it, click in the upper right next to "View by" and select Category).
Go through the list of programs and select entries related to 5starCoupon . You can click on "Name" or "Installed On" to reorder your programs and make 5starCoupon easier to find.
Click the Uninstall button. If you're asked if you really want to remove the program, click Yes.
In many cases anti-malware programs are better at detecting related parasites, thus I recommend installing Spyhunter to identify other programs that might be a part of this infection.
TopRemoving 5starCoupon from Chrome
Click on the menu button on the top right corner of a Google Chrome window. Select "Settings".

Click "Extensions" on the left menu bar.
Go through the extensions list and remove programs you do not need, especially similar to 5starCoupon. Click on the trash bin icon next to 5starCoupon or other add-ons you want to remove.

Press on the "Remove" button on the Confirmation window.

If unsure, you can disable them temporarily.

Restart Chrome.
(Optional) Reset your browser's settings
If you are still experiencing any issues related to 5starCoupon, reset the settings of your browser to its default settings.
Click on Chrome's menu button (three horizontal lines) and select Settings.

Scroll to the end of the page and click on the Reset settings button.

Click on the Reset button on the confirmation box.

If you cannot reset your browser settings and the problem persists, scan your system with an anti-malware program.
Automatic Malware removal tools