Are you unable to access your computer device because a message from Microsoft is in the way? A capitalized phrase "This PC Has Been Blocked" is not coming from honorable security technicians: this statement is made by vicious scammers. In the presented blue-screen, the reason or locking the device is identified to be violations of users' privacy. This means that imposters are claiming that people's security has been compromised by spyware or another malware threat. Due to the detected unusual activity, the device is locked as a safety measure. This PC Has Been Blocked lock-screen recommends people to contact Microsoft Technicians if they wish to regain access to their system. The communication is supposed to be made via a provided telephone number: 1-844-703-1130. This is not the first time this helpline has been reported by Internet users. In January of 2017, complaints about this number were made and people indicated that individuals who responded either hung up or spoke in the Indian-language.
Do not believe "PC Has Been Blocked" virus
"This PC Has Been Blocked" message features an especially frightening button "Click here to get Remote Assistance". This means that user will provide remote control to the people behind this screen-locker. Even though you will be expecting to provide Microsoft Technicians with the power to help you, but actually, you will allow unknown forces to initiate various commands in your device. They certainly won't be focused on fixing security issues: it is the opposite. After gaining remote control, hackers might place spyware or malware into your system and disrupt it even further.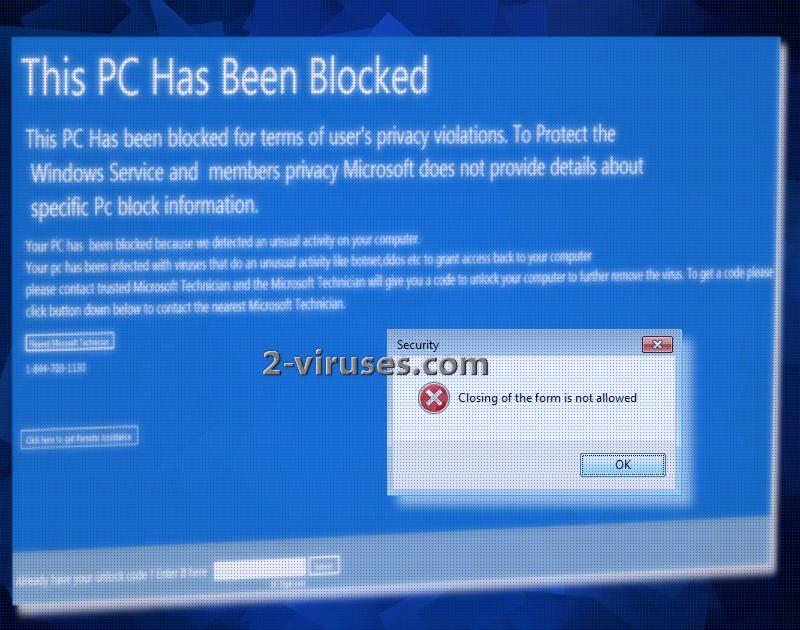 "This PC Has Been Blocked" locks your screen because a Trojan is already present in your system. Do not continue on this journey of collecting even more malware parasites. Besides the selection of receiving remote assistance, screen-locker offers to engage in a verbal conversation via 1-844-703-1130 helpline. However, this number has already been noted to belong to scammers that will only be interested in promoting various rogue security items. In this case, "This PC Has Been Blocked" will urge you to get a code that would unlock a device. It is very likely that a certain amount of money will be requested to receive this password. It is supposed to be a 16 digit code, but the real one turned out to be much longer.
Thankfully, there is no reason to use any of the presented options as we can provide you with the computer-saving code completely free-of-charge. At the bottom of the "This PC Has Been Blocked" screen, you can see a line with the words "Already have your unlock code ? Enter it here". In the empty space, type in this code: XP8BF-F8HPF-PY6BX-K24PJ-RAA00. This should unlock your device. However, remember that even though you managed to escape the screen-locker, the Trojan responsible still remains in your system. In order to remove it, you are to run a full security scan, as the manual removal of Trojans is quite complicated.
How can you become threatened by a "This PC Has Been Blocked" virus?
"This PC Has Been Blocked" virus and its Trojan can become your worst nightmare if you download material from unreliable sources. We have heard many stories when people got various games, software applications from odd sources and ended up installing something completely unrelated to the original offer. For example, you might be lured with the idea of downloading a newly-released game, but actually, your device might install a Trojan that was only posing as a reliable program. In order to be safe, also avoid peer-to-peer downloads that also can distribute malware.
To escape the "This PC Has Been Blocked" screen-locker, enter XP8BF-F8HPF-PY6BX-K24PJ-RAA00 password in the required area. However, after that, you still have to get rid of the malware parasite that triggered the locker in the first place. Apply Spyhunter or Hitman for this task.
Automatic Malware removal tools