"Microsoft Error: Unknown System Failure" tech support scam is an alarming message that takes its form from a bizarre website of Msoft.com-msoft435.info. It pretends to belong to the Microsoft Official Support team and that the pop-up is displayed for the sake of offering assistance. A phone number 888-576-1517 is explained to connect concerned Internet visitors with professional employees from the notorious corporation that are trained to offer technical support.
However, we examined the helpline and figured out that this is not the first technical support scam that it has been blamed for. A couple of reports suggested that a pop-up showed up on victims' screens and scammers demanded Facebook IDs and credit card information. This time, scammers are potentially distributing PCBooster application which does not have the best reputation among security researchers.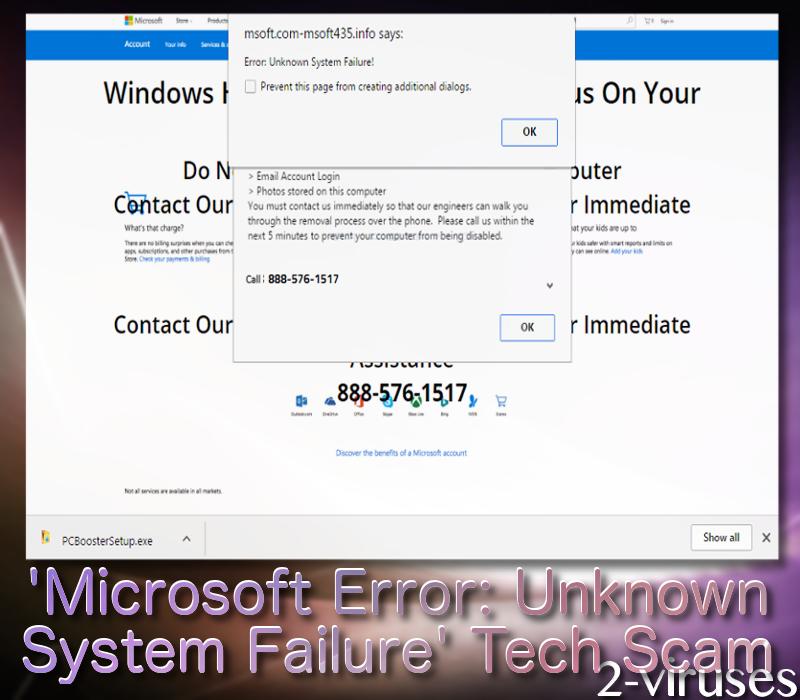 Researchers indicate that PCBooster is one of the rogue anti-malware tools that inform users about false positives and require people to purchase pricy full-versions (that are actually no-good). If you call the scammers via their phone number, you will presumably be urged to acquire this tool. If you refuse, technicians can require remote control over a device. Do not trust these scammers as their only goal is the almighty dollar.
Despite the fact that it might be frightening to encounter "Microsoft Error: Unknown System Failure" pop-up, it does not address any actual issues. Your operating system could be tainted with malware, but nor the message nor its engineers intend to care about it. Since such a notification has surfaced to you, we have some suspicion that a Trojan infection is relevant to you.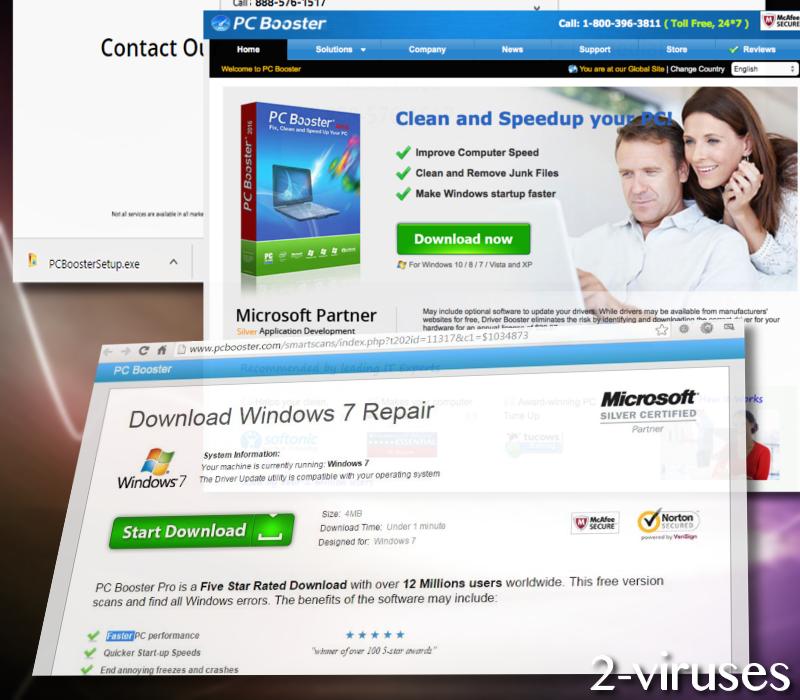 The alleged technicians behind this scam have been involved in a number of similar hoaxes. One person realized that access to his/her computer has been blocked and decided to call 888-576-1517. According to the testimonial, the fake specialist spoke badly about truly sophisticated security programs and insisted that he would obtain remote control of the computer. This privilege was explained to be necessary because he would attempt to fix the current issues.
A person also asked the technician if he was actually working for Microsoft, and scammer explained that he worked for a private company which does contacts for Microsoft. This is obviously false as this message and people behind it are independent swindlers of money. Also, once the scam window appeared, an automatic audio message was launched. It explained the situation about the device being blocked to avert any unnecessary damages. None of the statements that are incorporated in the "Microsoft Error: Unknown System Failure" warning are valid.
How to escape the pop-up
Nevertheless, since such a message was displayed on your screen, we could assume that your operating system has become vulnerable and could suffer from irregularities and other type of disruption. To correctly address this message is to open Windows Task Manager and find the entry of the frozen browser. End this process and re-launch browser. Now that you have a reason to be concerned, it would be appropriate to run a full security scan and figure out whether there are any Trojan infections that could be secretively damaging your device. Try Spyhunter or Plumbytes and restore order in your Windows operating system.
In case you believed the scammers that pretended to be technicians and gave away your credit card information (or purchased a certain program), you should contact representatives of your bank and cancel the transaction or apply other security measures that your account would not be secretively billed.
Lastly, remember that Trojans can disguise themselves as regular files, while their true objective is to disrupt an operating system. Some Trojans specialize in collection of users' personally-identifiable information, while others attempt to oversee online banking account information.
Automatic Malware removal tools