Spyhunter for Mac is an anti-malware program for macOS. We've already reviewed its Windows counterpart, Spyhunter 5. In this review, we will look at Spyhunter for Mac – its features and usability.
Security is the main concern of Spyhunter for Mac. More and more, malicious actors are targeting macOS devices with adware, scareware scams, trojans, and junkware. As such, there's a growing need for good anti-malware solutions for Macs.
Spyhunter for Mac offers an array of features for Mac security, optimization, and support. It's intended as a comprehensive security solution with multiple features. Let's review them in more detail.
Spyhunter for Mac features
Security
First and foremost, Spyhunter for Mac finds and removes adware, malware, and potentially unwanted programs. Scans by Spyhunter for Mac can also show potential software vulnerabilities that need to be fixed.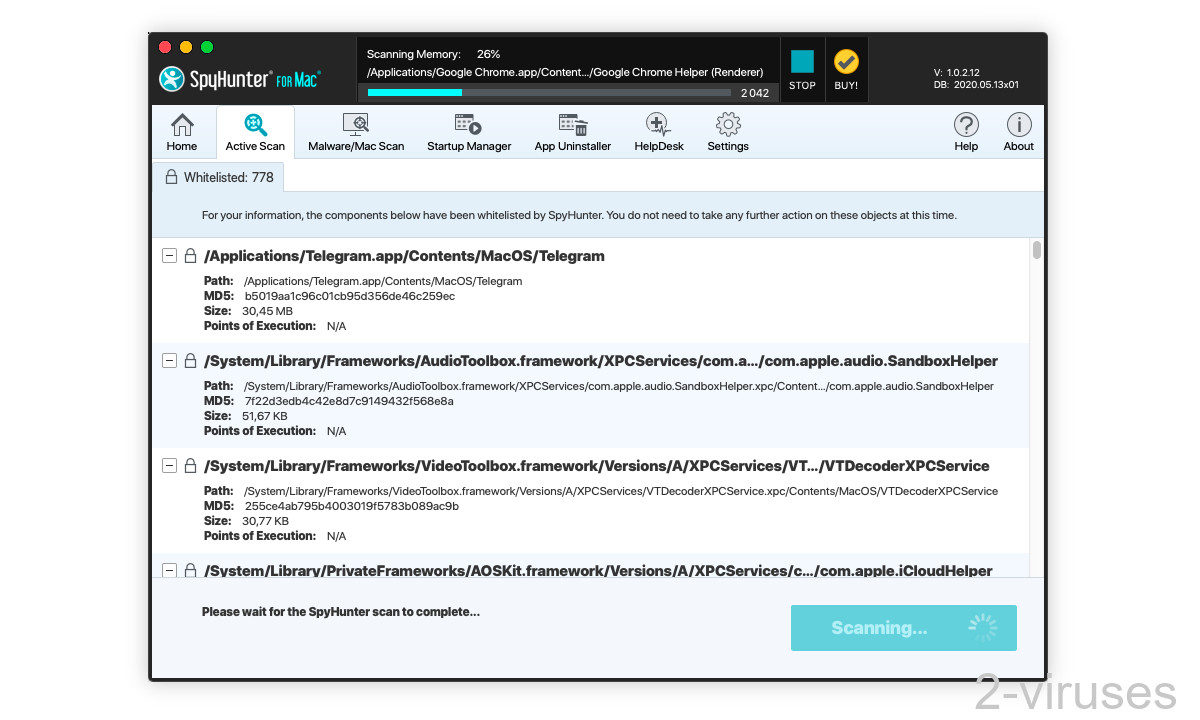 In short, the categories that Spyhunter for Mac scans for are as follows:
Malware – truly malicious apps,
PUPs (potentially unwanted programs) – these are apps that use aggressive marketing, like bundling, to get installed.
Privacy – items like tracking cookies that are used by advertisers.
Vulnerabilities – known and exploitable issues with software. They're usually caused by failing to install a software update.
Unnecessary Items – unnecessary files that can be deleted to free up space.
To keep its definitions up-to-date, Spyhunter for Mac needs to frequently download and install updates. It also needs to perform regular scans, which, thankfully, are very fast. There is a scan scheduler that allows you to specify exactly when you want the scans to be done. I appreciate this level of customization.
Another thing that needs to be noted in this review is the level of customization that Spyhunter for Mac offers in what it scans. You can set it to check individual files and locations. You can also force it to only look at particular threat categories and ignore others. Of course, exceptions are also here, letting you whitelist files and apps that you trust.
App remover, optimization, and privacy protection
Mac optimizer is a bit of a dirty word, but it's undeniable that anti-malware apps benefit from optimization features.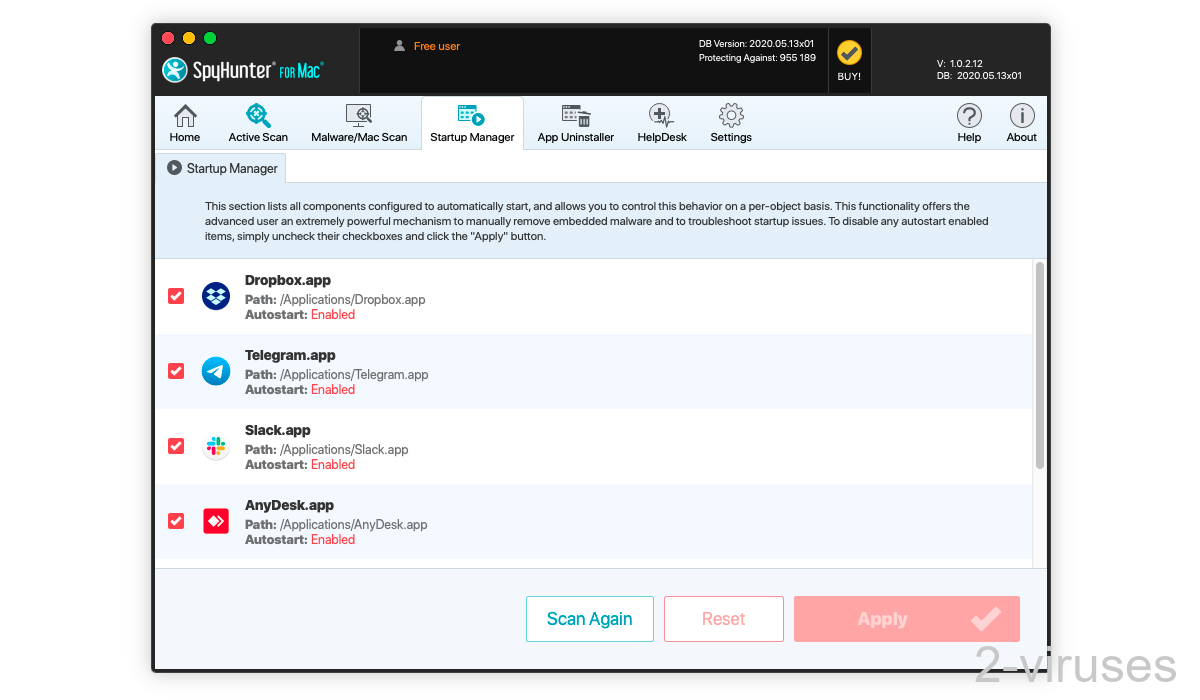 For example, Spyhunter for Mac helps manage and remove apps. Managing apps in macOS manually should be pretty easy, but we have encountered some malicious ones. They hide from the user and place malicious files on the device that reinstall the app after it's removed. Spyhunter for Mac displays the files created by an app and provides an option to remove all or some of them. It also allows you to manage startup apps.
Spyhunter for Mac also steps into cleaner territory by offering scans for duplicates and unnecessary files. It could help free up disk space, but it's quite unnecessary, as macOS offers its own storage optimization solutions.
As for privacy protection, Spyhunter for Mac scans for suspicious browser cookies. Cookies are files that websites put on your computer. They are used by websites to save your settings, as well as to track you. Spyhunter for Mac tries to detect which cookies are helpful and which are problematic, allowing you to delete them while keeping the useful ones.
HelpDesk support
It's inevitable that there will be some issues and unforeseen situations when it comes to removing malware. Spyhunter for Mac has a technical support team to help people with issues, which is the least that we expect from a paid product. The HelpDesk interface is accessible from the app, which is convenient.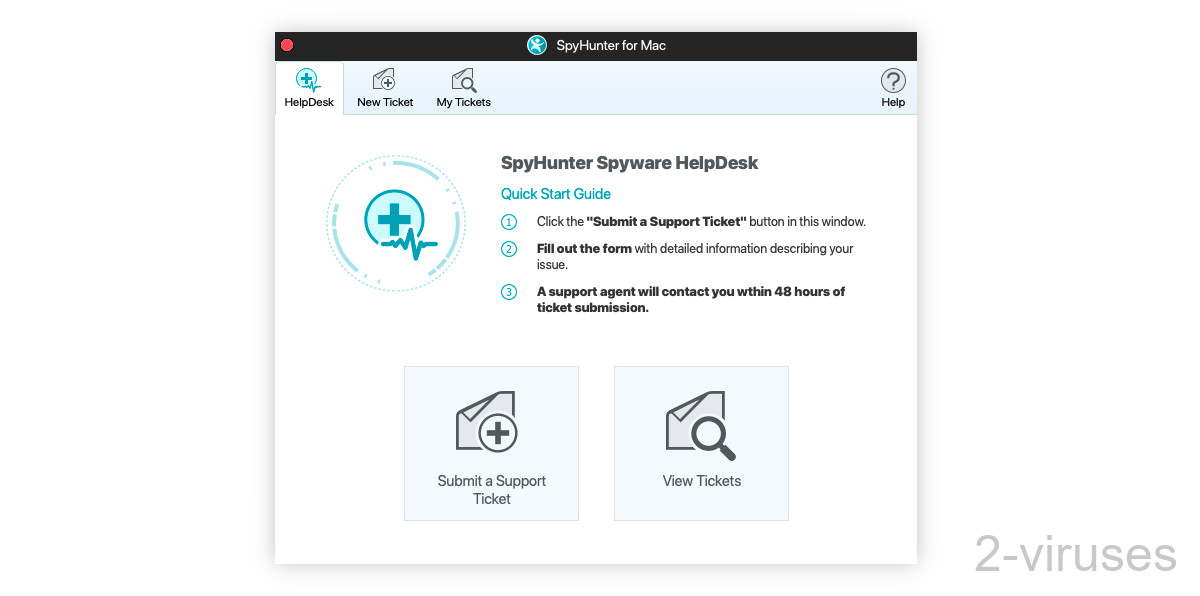 Price and reputation
No review s complete without discussing something as important as the price. Spyhunter for Mac is a paid program with a limited free trial. This means that you can download and review Spyhunter for Mac yourself for free. But the free version is restricted. Most importantly, it free malware removal has limits.
Spyhunter for Mac's free version performs anti-malware scans and, with a 48-hour waiting period, provides a free removal for a single item that the scan discovered. This is better than nothing, but it's not as good as a proper free trial.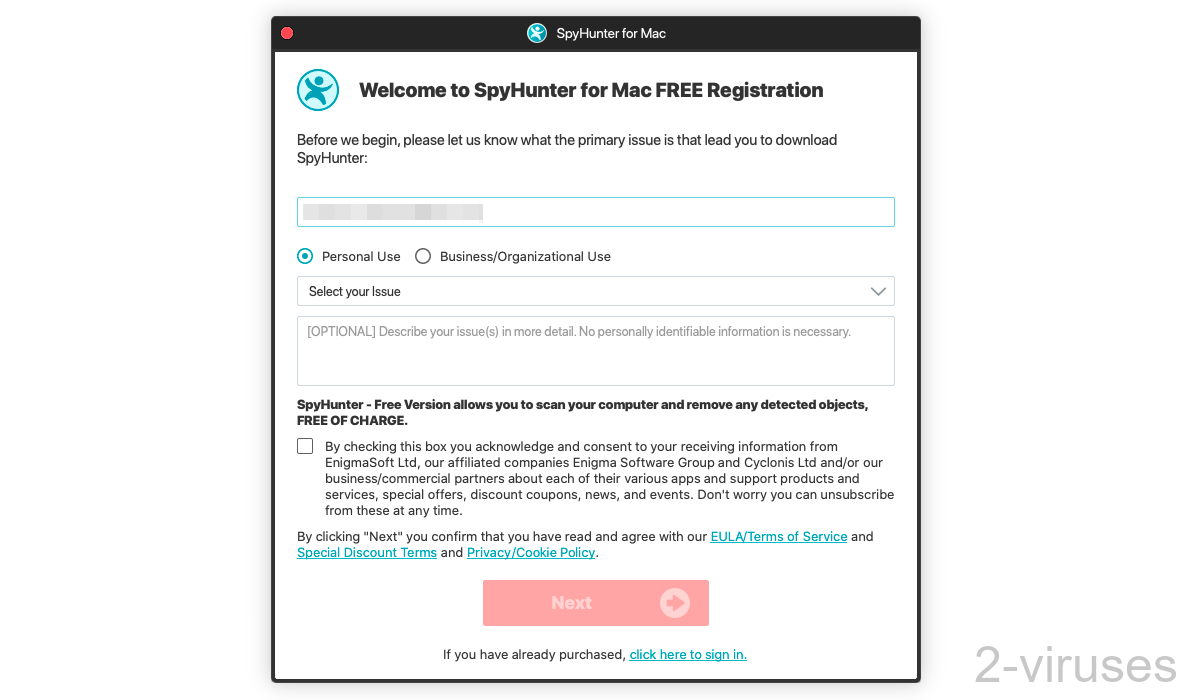 Luckily, Spyhunter for Mac has a 30-day refund policy, no questions asked.
Spyhunter for Mac uses a subscription model with a minimum of 6 months. The price is $42 or €48, which works out to $7 or €8 per month. These are recurring payments every six months. The 6-month term offers more flexibility than the usual 1-year term and price is comparable to other anti-malware programs, but is a bit on the costly side. That said, it does offer additional features (optimization and file cleaning) that could make it worth the money.
Spyhunter for Mac is a relatively new app. It's made by EnigmaSoft Limited, which used to have an iffy reputation back in 2014-2016 for its dubious advertisements. It seems to have got things together for now, though. It's been certified by AppEsteem – a company that tracks and reviews violations of good behavior and advertisement in apps and programs.
Positive Sides of Spyhunter for Mac
There is a lot of customizability
The scans are fast
Additional features (app remover, optimizer) are offered
Negative Sides of Spyhunter for Mac
The free version malware removal is limited