PCKeeper is a program that promises to optimise your system. However, this is not a useful program in our opinion.This is both because of the way it is distributed and the way it works CKeeper usually comes bundled with other free software that can be found on the Internet and gets installed onto users' computers without their knowledge. This is the reason why a lot of users think that it is a virus even though it's not. It uses fishy techniques to promote itself – usually this program is advertised on various semi-malicious adware or questionable download sites. This is noticed both by us personally and in various forums with complains that PCKeeper ads are shown by adware. Due to this fact we listed this program as Potentially Unwanted Program (PUP) in the past. As there are no such promotions at the moment we decided to move it under reviews. However, I can not recommend using this program.
We have reviewed PCKeeper itself and we strongly recommend removing it. Its scan does not show enough easy accessible details about items detection. It detects errors on clean Windows installations and shows exaggerated warnings about their severity.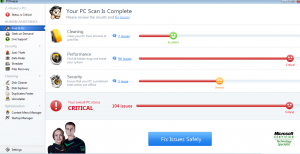 In the screenshot above, PC Keeper shows that our testbed (which is clean windows 7 with couple browsers downloaded is in critical situation.

One Serious issue is that anti-theft software is missing (they sell such service). Anti-theft might be useful for laptops but in many cases they are not so required for desktop PCs (which are not stollen so often). Additionally, I doubt they check if other anti – theft software is installed (except their own).

In this screenshot we see "Technical" issues that caused system performance to be rated critical by PCKeeper. Majority of them are missing activeX paths, which effect to system speed is nonexistent and missing shared DLLs. The optimisation of these things are not critical and can be fixed with CCleaner for free (you can test that it won't have huge effect on performance). Additionally, the message about system defragmentation issue is misleading. There is no need to defragment systems using SSD disk technology.
As mentioned before, this unwanted application travels bundled with freebies or promoted by adware in such bundles. That being said, you need to be extra cautious when installing new software that has been downloaded from questionable reputation websites. Do not skip any steps and don;t just always click "agree" or "next" buttons. Read everything on installation wizard and don't forget to read terms and conditions. If possible, opt out for a custom or advanced install mode to make sure no potentially unwanted applications is being installed behind your back.
In case your computer is installed with PCKeepe without your consent, you should remove it from your control panel. Use RevoUninstaller if you need to remove this program, and run adwcleaner, Spyhunter or malwarebytes if you are plagued by ads.
Positive Sides of PCKeeper
None
Negative Sides of PCKeeper
Uses adware for promotion.
Shows misleading information about system status.