WiperSoft is a powerful anti-malware tool that offers real-time protection for Windows computers. It can detect a vast variety of malware, such as adware, browser hijackers, and potentially unwanted programs. WiperSoft boasts that it can react quickly to new infections thanks to its malware database being updated frequently.
In this review, we will talk about WiperSoft's main features, technical details, and a few issues.
Main features of WiperSoft
Antispyware
WiperSoft is an antispyware and anti-adware tool. It can detect mild but annoying threats, such as browser hijackers, adware infections, and other junkware.
Here are some problems that you might want to throw WiperSoft at:
Browser started displaying excessive ads, opening unfamiliar websites.
Browser changed its new tab for no reason, or it changed your default search engine.
Pop-up ads on your screen.
Browser hijackers and adware infections are not as bad as trojans or viruses. However, they're terrible for privacy, productivity, and can easily lead to scams and serious malware by promoting malicious ads.
Reports
Besides scanning for malware, WiperSoft also displays a report on new system files and startup entries. This information can be used to find recently added programs.
The information that the WiperSoft report feature gives can help find malicious and suspicious programs. You can use it to find and delete malicious programs and files yourself.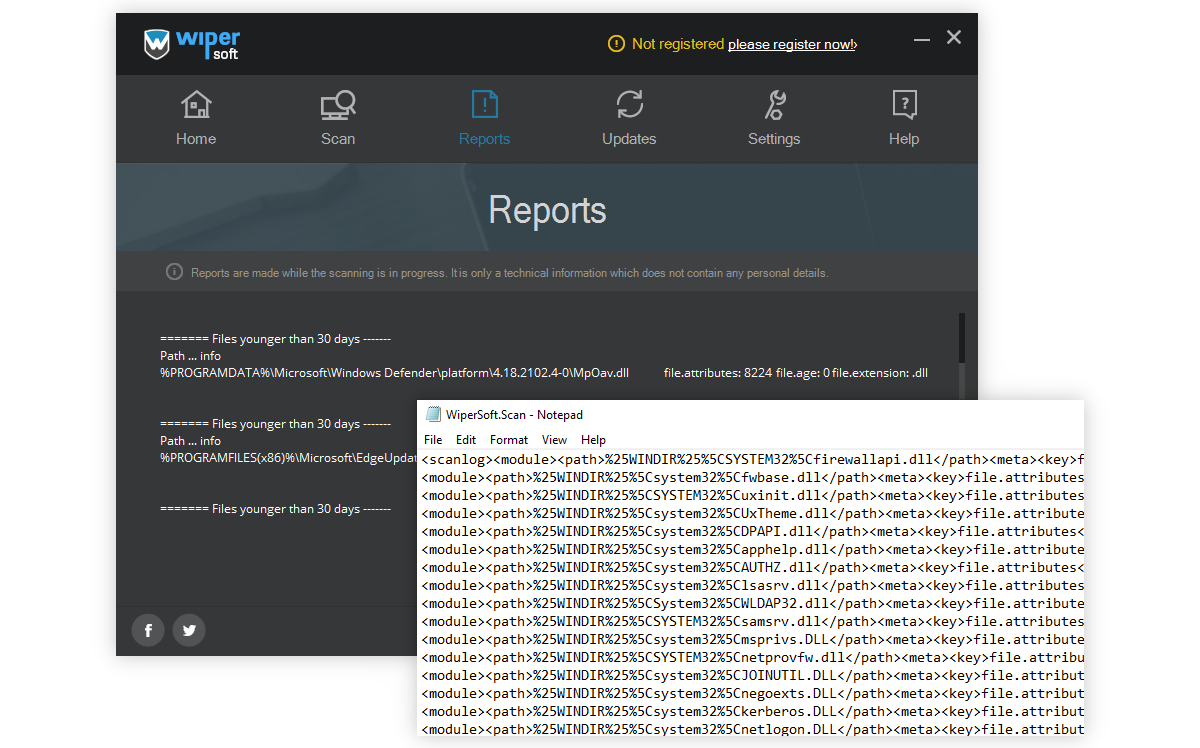 Real-time security
WiperSoft offers real-time security. This means that it can detect suspicious processes as they're running.
Real-time security is necessary because malicious files are often encrypted, archived, or otherwise hidden and made difficult for antivirus programs to analyze. When reviewing security products, we consider real-time protection an important feature for cybersecurity programs.
Helpdesk and custom fix
As expected of a paid security program, WiperSoft provides tech support for its users in case they need help dealing with a unique problem.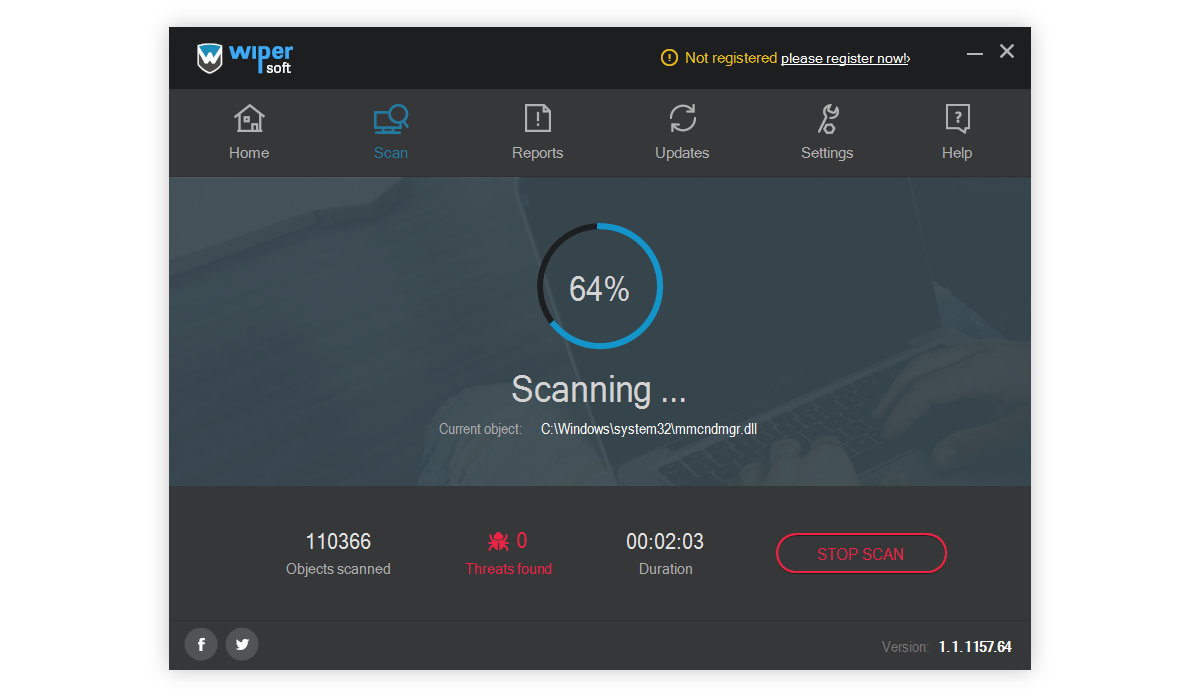 WiperSoft Guard anti-ransomware
Since WiperSoft antispyware is unable to detect threats such as ransomware, WiperSoft Guard was released for this purpose. It's a separate and still new product. Although the tool can slightly hurt the computer's performance, that's expected of an anti-ransomware program.
Just like the antispyware, WiperSoft Guard is not supposed to be used as your main security solution. But though we mention this tool in our review, it does not affect our view on the antispyware program.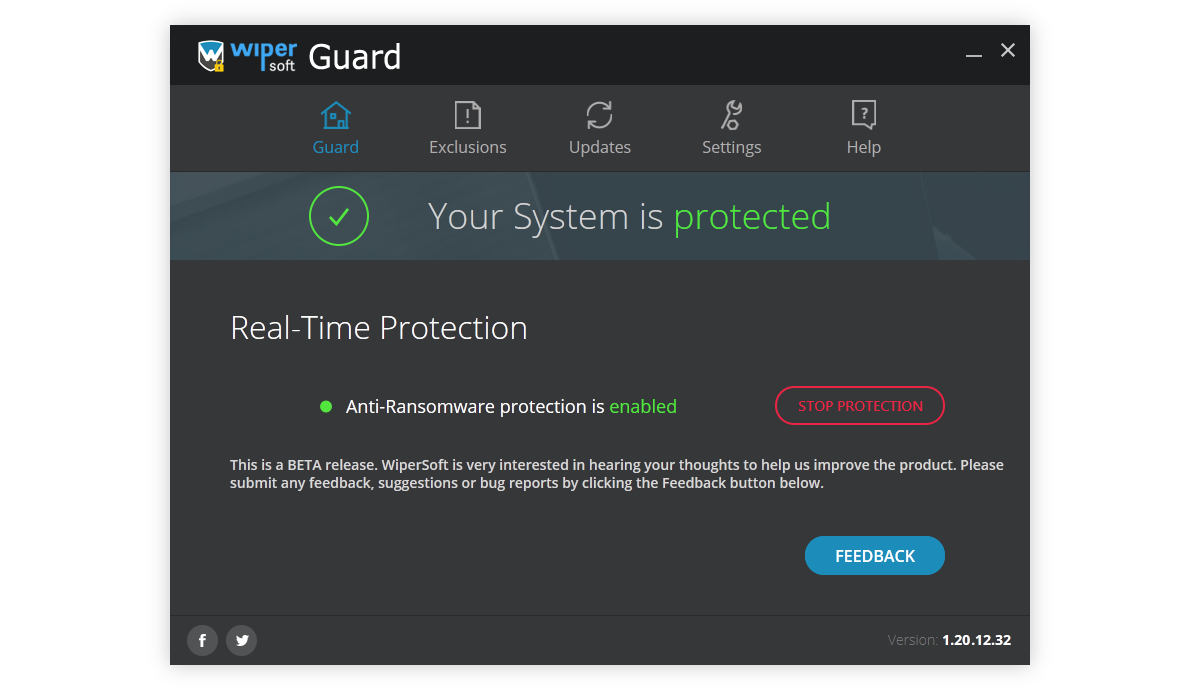 Problems with WiperSoft
No anti-malware program is perfect. Although WiperSoft has improved its quality and reputation over the years, it had and may still have a few problems.
It used to be considered a bit of a PUP – potentially unwanted program. That means that though it was not malicious, it showed some potentially deceptive and pushy behavior.
It was flagged by Malwarebytes as a PUP and it was called out by AppEsteem for a few problems: for failing to provide a free fix in its free trial version and for scanning the user's computer without waiting for permission.
WiperSoft's developers have apparently fixed these issues since then, but a couple of antivirus vendors continue to flag it.
Also, be careful of WiperSoft's marketing. Its descriptions include language that's too absolute, like this:
The security tool will protect it from all the possible threats and will find all the undesirable programs that are already inside your system.
No anti-malware tool should be expected to be perfect. For WiperSoft to claim that it will find "all the possible threats" is not right. Some new cyber threats are very clever and slip by many high-quality anti-malware tools.
Price and technical details
WiperSoft is Windows-only and it supports systems all the way back to Windows XP.
WiperSoft is a paid program, but it has a free version with limited functionality. The free version of this application can only detect but not remove infections.
The paid version works as a subscription:
$36.00 for 6 months
$50 for a year
$72 for 2 years
Each paid license is good for five devices. Each one comes with a 30-day refund policy.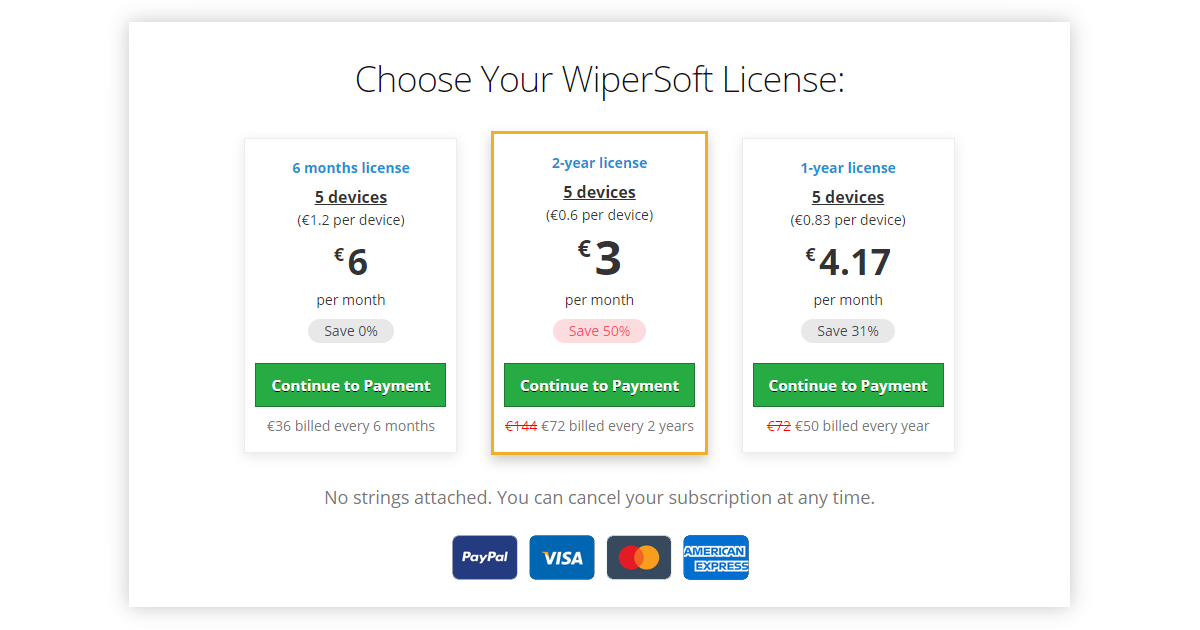 We mentioned another product, WiperSoft Guard, earlier in the review. It is an anti-ransomware solution. It monitors the system for suspicious behavior in order to detect and shut down ransomware before it can do any harm. It is not included in the WiperSoft subscription, but it can be downloaded separately for free.
Final thoughts on WiperSoft
WiperSoft provides valuable security and system information. It detects spyware, adware, and similar threats. It can be extremely valuable to users who surf the web often.
WiperSoft should not be the only security tool that you rely on. WiperSoft can enhance your security while you use another antivirus program that protects you against viruses, trojans, and other serious threats.
Positive Sides of WiperSoft
All-around tool for spyware, adware and other types of malware
Helpdesk support for premium users
Fast malware database updates
Negative Sides of WiperSoft
Only the paid version can actually remove infections
Other anti-malware software might consider WiperSoft as malicious and block its installation
WiperSoft enhances security but can't be used as your only antivirus solution