EaseUS Data Recovery Wizard is a data recovery program that helps bring back files that have been deleted unintentionally: lost due to human error and software mishaps, dead hard drives and USB keys, SD cards, and other storage devices. Maybe you accidentally emptied your Recycle Bin Here, we care about malware damage, such as data lost to ransomware attacks – and EaseUS can help in these situations.
There are a lot of similar programs offering to help users restore lost data. EaseUS attempts to stand out by offering these features:
File preview during the scan and before recovery.
Pause and resume scanning and recovery.
File type and file tag (such as graphics, documents, etc.) filtering.
Simple and friendly user interface.
Feature-rich free and paid versions.
Support for Windows, macOS, iOS, and Android devices.
If you are stuck with files lost to accidental deletion or a malware attack, EaseUS is worth considering. In the review below, we'll look into more specifics of how EaseUS helps users solve these problems, including technical requirements.
EaseUS – Technical Information
EaseUS offers versions for Windows and Macs, as well as iOS and Android. It is able to undelete files from both Hard drives are from Solid State drives.  What version of EaseUS Data Recovery Wizard should be used depends on the device being scanned (is it a storage device, a phone, etc.) and on the device that you're using to scan it (Windows, Mac, etc.).
There are some technical requirements that ought to be reviewed. For instance, EaseUS advises that you save recovered files to external drives and avoid writing to the drive that you're recovering files from. This is so that you don't accidentally override the files that you're trying to recover.
10 to 12 hours is what EaseUS might take to scan a 1 TB drive, so it's important to be prepared for this before you start the recovery process. The Data Recovery program does allow for scans to be paused and resumed, so that can help you manage the process. That said, most data recovery programs take a very long time to thoroughly scan the data on the drives.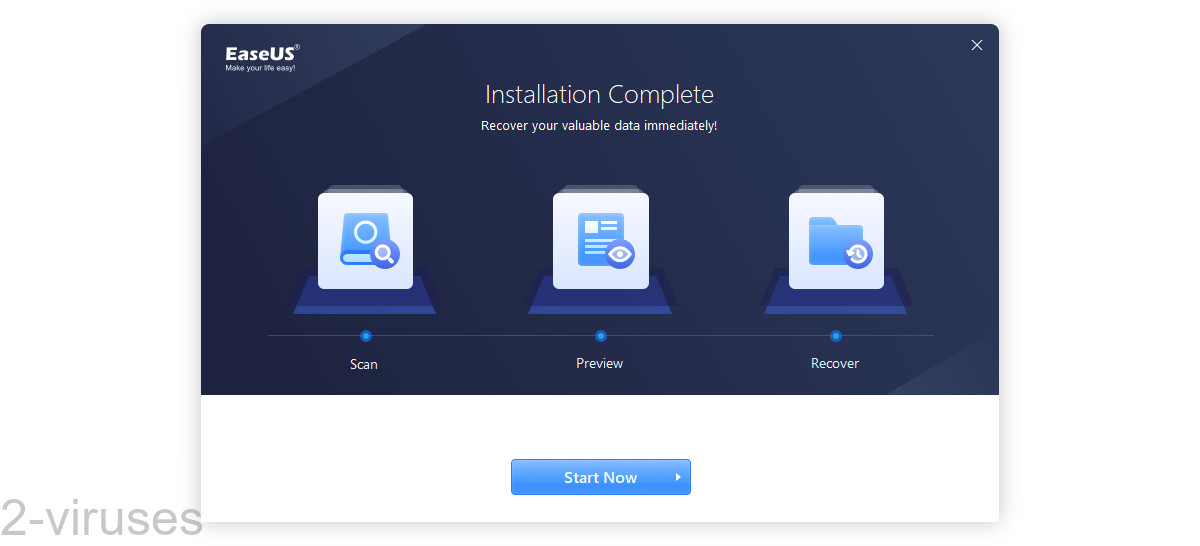 How EaseUS Works
Once EaseUS is downloaded and installed, you can run it to start the recovery process.
EaseUS asks users to select the file tag that is to be searched for, such as Documents, Video, others – or to scan for all file types. Then, EaseUS asks which drive or device should be scanned. It detects local drives and external devices that you connect to your computer. For instance, if you're trying to recover files from a memory card, you must first make sure that your memory card is connected to your computer.
Then, EaseUS scans the memory device. The bigger it is, the longer the scan takes (multiple hours for the bigger drives). Luckily, it does allow you to review files and file locations during the scan, which does wonders for your sanity. That said, it's always good to try the free version of the data recovery program to check if there are files to be recovered.
You might also want to check with EaseUS's tech support. It's included with the program and can help you in case you run into problems.
Of course, it's important to be aware that EaseUS Data Recovery Wizard Pro is not the only file backup option. And, very admirably, the data recovery guides on Easeus.com to make readers aware of the alternatives, such as Windows File Recovery (Howtogeek.com).
With that in mind, EaseUS's friendly user interface and tech support do help it stand out from the various free solutions. If you want to undelete your data quickly and easily, a paid program like EaseUS might be best for you.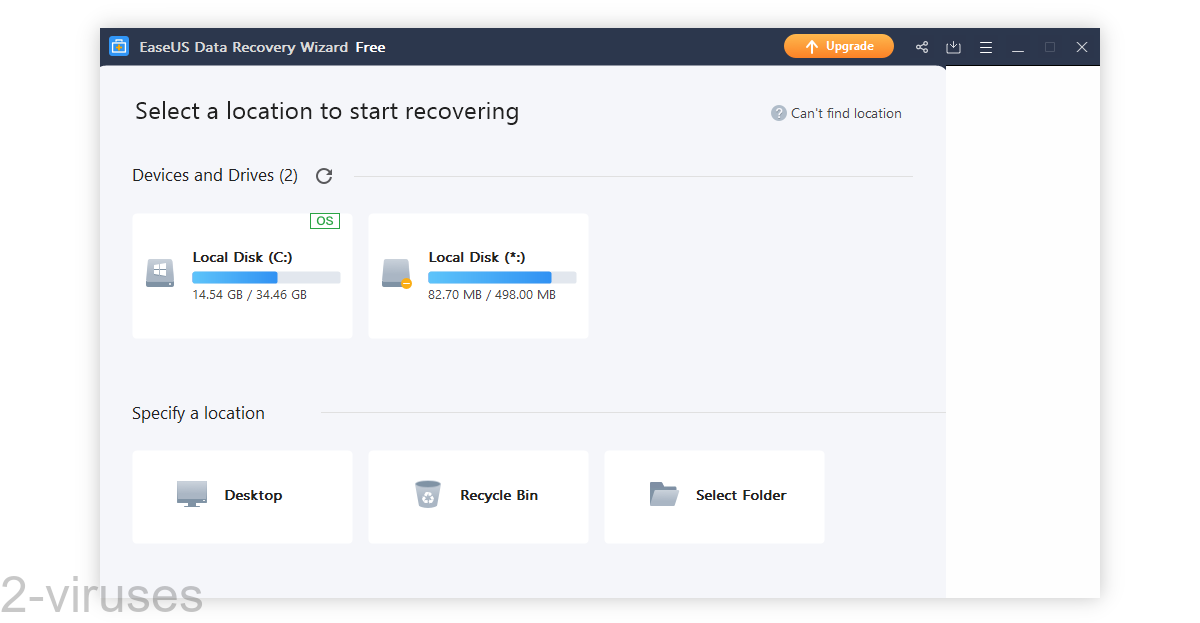 Pricing and Comparison
| Data Recovery Tool | Price |
| --- | --- |
| Stellar Data Recovery | $49.99 |
| Ontrack EasyRecovery | $79.00 |
| Piriform Recuva | $19.95 |
EaseUS offers Free (limited functionality), Pro (unlimited functionality for one computer), and Technician (advanced features for multiple computers). For individual users, the Free and Pro versions are the most relevant.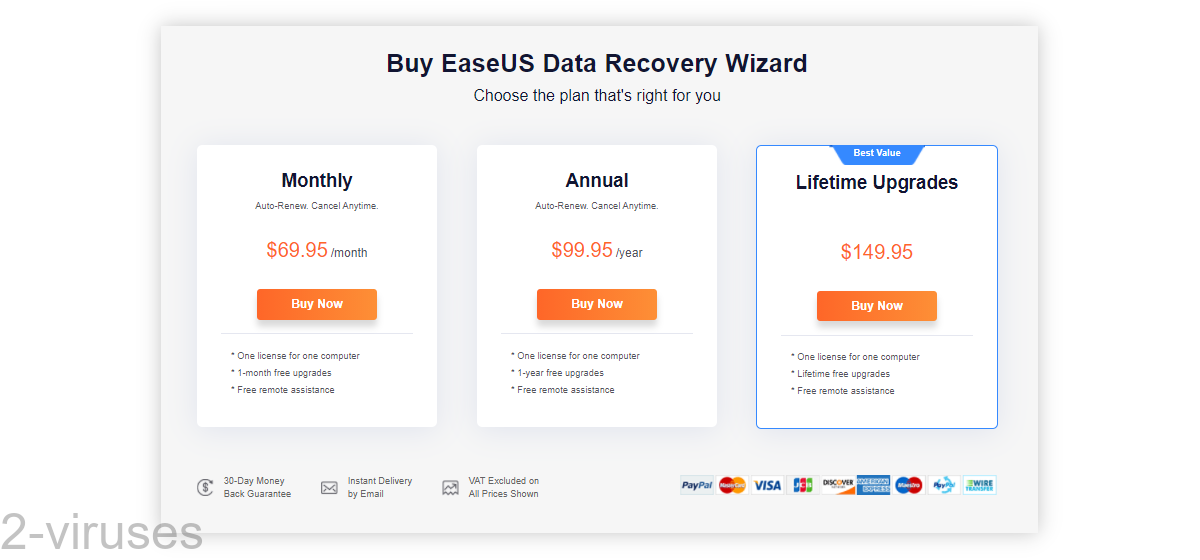 EaseUS's Data Recovery Wizard Pro offers from 500MB to 2GB of data recovery with its free version of Data Recovery Wizard. This allows users to preview the files they might be able to get back. It's a little iffy – you only get 500MB of files by default, while the advertised 2GB amount requires that you fulfill some additional conditions.
It's also important to not confuse the program's Free version with its Trial versions. Free allows for some files to be recovered, while Trial does not.
If you consider buying EaseUS Data Recovery, it lists its versions and prices that, at the time of writing, are such:
EaseUS's Data Recovery Pro for Windows costs $69.95. The price is a bit higher for Mac – $89.95.
The tool for data recovery from iOS devices, the price is $59.95 for Windows and $79.95 for Mac.
For Android data recovery, the cost is $39.95.
The cost is for a monthly subscription and no free upgrades. With that in mind, the price is steep. Luckily, EaseUS does offer 30-day money back guarantee in case something goes wrong. Of course, you can just cancel the subscription after you've used the Data Recovery Wizard. And it's definitely recommended to try the free version first and review it for yourself.
EaseUS also promotes various backup programs that were developed by the same company, including a backup manager. Be careful during the purchasing process and don't buy bundles that you don't need. Carefully consider which software you require and be cautious.
Summary
For those who lost data, it's a stressful time and any friction gets amplified. With that in mind, EaseUS is a good data recovery program that is easy to use while offering advanced file filtering options. It allows users to manage their files before the scan is done, which speeds up the file recovery process.
However, it does cost money and the free version has limited functionality. And, of course, some users had problems with EaseUS software (Trustpilot.com).
Ultimately, EaseUS has very positive reviews online (Pcmag.com, Techradar.com).
Positive Sides of EaseUS Data Recovery Wizard
Friendly user interface
Allows for files to be previewed while the scan is ongoing
Offers various file filtering options
Allows files to be recovered from various storage devices
Negative Sides of EaseUS Data Recovery Wizard
Has a relatively steep cost
The Free version's functionality is limited