A new mobile malware called 'System Kernel UI upgrade' has been spotted lately. While it's not really clear what consequences it could bring, you should stay away as far from it as possible. It targets various mobile devices with an Android operating system. You can get infected with it while browsing the Internet with one of mobile web browsers, such as Google Chrome. Take a look at the screenshots that appear if your mobile device gets infected: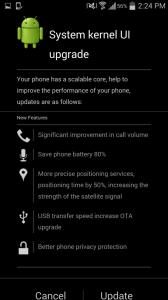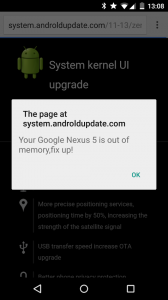 As you can see, you will get a notification that your mobile device ran out of memory and you need to update something to fix the problem. Notice the strange URL – system.androldupdate.com, there you have at the lower-case L instead of i in the word 'Android'. Google wouldn't deliver updates in this strange manner, so this message automatically looks strange. Don't approve this update, because if you do so, some additional malware can be downloaded to your smartphone or tablet.
As for now, it's known that this infection can take place on all of the newest smartphones, such as Samsung Galaxy 5 or Google Nexus 5. Some malicious code can be inserted in valid websites so your mobile device can get infected while browsing well-known and reliable websites.
System Kernel UI upgrade is listed as a mobile hijacker. Once inside it will redirect you to other malicious websites. This may result in your smartphone or tablet getting infected with even more malware. That's why you should get rid of System Kernel UI upgrade as soon as possible.
Read "System Kernel UI upgrade" in other languages