ESET NOD32 Antivirus
ESET NOD32 Antivirus 4 is a powerful, but yet very fast and user-friendly security software that provides comprehensive antivirus and antispyware protection without affecting your computer's performance. The program integrates award-winning parasite detection engine and advanced real-time protection. ESET NOD32 Antivirus 4 was thoroughly tested on several computers including absolutely clean machines and PCs infected with viruses and malware. It successfully passed all our tests and showed good results.
ESET NOD32 Antivirus was noticeably improved; it has numerous speed, security and usability upgrades. The program has antivirus and antispyware protection combined together, smarter scanner, self defense and many other useful system tools. It is the essential security you need to protect all your data, files and sensitive information.
The application protects your computer against known and unknown viruses, trojans, worms, adware, spyware, rootkits and other Internet threats. ESET NOD32 Antivirus 4 carefully scans entire file system and all running processes. The user can choose between two scan modes: Standard scan and Custom scan. The last mode provides several scan profiles: in-depth scan, context menu scan and smart scan. Smart scan is the fastest, but still very effective. Usually, it takes no more than a couple of minutes. In-depth scan is the most exhaustive; this mode allows scanning the entire file system in details. What is more, the user can select which system components to scan. The selected components can be also scanned without cleaning. Custom scan is very flexible and in certain cases can be more effective than other modes.
ESET NOD32 Antivirus 4 includes advanced real-time protection and award-winning ThreatSense technology that proactively protects your computer from new attacks, detects changes to the system configuration, networking settings and security options. The program alerts the user whenever a suspicious activity is detected. It is also very important that ThreatSense produces fewer annoying "false alarms" than other products.
ESET NOD32 Antivirus 4 snapshot: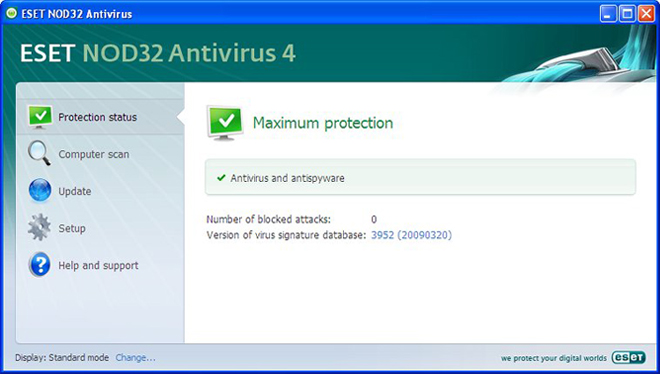 Another great thing about ESET NOD32 Antivirus 4 is self defense technology. It ensures that your computer is always protected. The program uses built-in tools to prevent malicious software from corrupting or disabling it.
ESET NOD32 Antivirus 4 provides even more additional tools: ESET SysInspector and ESET SysRescue. These tools simplify diagnosing and cleaning of infected systems. Furthermore ESET SysRescue creates bootable rescue CD/DVD or USB drives to help you repair an infected computer.
The program provides email scanning for Microsoft Outlook, Outlook Express, Mozilla Thunderbird, Windows Live Mail, Windows Mail, and other POP3/IMAP mail clients. ESET NOD32 Antivirus 4 also has very flexible and effective firewall, advanced scheduler and remote administration option.
Last, but not least, the program uses an extensive parasite definitions database updated on a daily basis.
More information about ESET NOD32 Antivirus
ESET NOD32 Antivirus 4 is recommended by various reputable sources like: virusbtn.com, Maximum PC, AV-Comparatives, Forbes.com, SC Magazine and others.