Malware infections have become a huge problem nowadays. More and more computer users experience security issues related to abundant spread of malware infections. For this reason we thought it would be expedient to have a look what parasites have been torturing our users over the year 2010.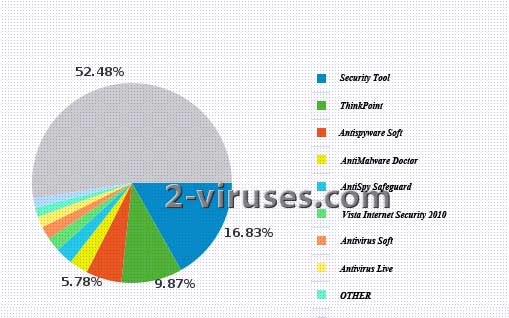 According to the statistics of the most visited descriptions of rogue antispyware programs we can see that the most aggressive badware was undoubtedly Security Tool. It makes almost 17 % of all visits of rogue antispyware programs.The program that appeared on the Internet in 2009 has stuck in the first position and doesn't seem to retreat. It's still very active at the moment. What is more, computer users have the most difficulties when removing namely Security Tool.
The second most visited rogue antispyware program is Think Point. It was first noticed on October of 2010. As you see, the application doesn't have to be that old in order to become prevalent. Think Point makes almost 10 % of all the visits and has also become a challenge for plenty of computer users. One of the main reasons why it became so difficult to get rid of is its competence to disable computer users from the Internet.
The third place is firmly taken by Antispyware Soft which was also often disabling users from using the Internet and created horrible conditions to look for any information about it.
Next goes Antimalware Doctor and AntiSpy Safeguard. The latter belongs to the multi-rogue family. It is promoted through fake Microsoft Security Essential alert which uses the name of Microsoft to convince computer users their systems are infected with Trojans and then persuade them into purchasing some rogue program. AntiSpy Safeguard has been the most popular among the other member of multi-rogue family but if we take into consideration other names that have been used by this badware, for example, Red Cross Antivirus or Peak Protection 2010, the percentage would increase dramatically. This multi-rogue family has definitely aggravated lives of many computer users.
Similar damage was done from many other rogue program. As you can see from the chart above Vista Internet Security 2010, Antivirus Soft and Antivirus Live have also been very popular. Antivirus Live is also a creation of 2009 but still have a huge impact on security situation nowadays.
These results represent the situation of malware spread of 2010 building entirely upon the data of 2-viruses.com.