On Monday (10th of April), we paid attention to Wonga loan service that quickly borrows money to those in need. The service informed its former and current clients about a potentially fragile situation via email and recommended that they would check their banking accounts for any unauthorized activity. According to the research which was implemented in the hopes to find out more about the incident, one scary conclusion was drawn. It is possible that people's personal data might have been stolen, including users' credit card information. For the sake of being cautious, we recommend that you would contact the authorities of your selected bank. You can also consult with Wonge representatives as well: simply call 0207 138 8330 phone number if you have any questions. More at: 2-viruses.com.
Kelihos botnet is finally down. It has been operating since 2010 and used over 1000 000 computers worldwide to spread spam, steal private information or even infect computers with ransomware viruses. Shut down of this botnet is a result of an arrest of Russian hacker named Peter Yuryevich Levashov which was arrested over the Weekend in Barcelona. As suspected, he was the main operator of Kelihos botnet. FBI was after him since 2016 US election hack and arrested him as soon as he left his homeland Russia. More at: thehackernews.com.
On Tuesday (11th of April), it was crucial to inform our visitors that more security concerns were expressed towards Microsoft. This time, it appeared that Microsoft Office was the flawed tool. The main concern was that malicious .doc documents were distributed. Due to the way these files were designed, not all anti-malware tools are able to detect and recognize these executables as malicious. Please be extremely careful while downloading .doc files from the Internet as they might turn out to be concealing harmful .hta files. If you allow this combination to be released from the leash into your device, you have to realize that your cyber security will be compromised. More at: 2-viruses.com.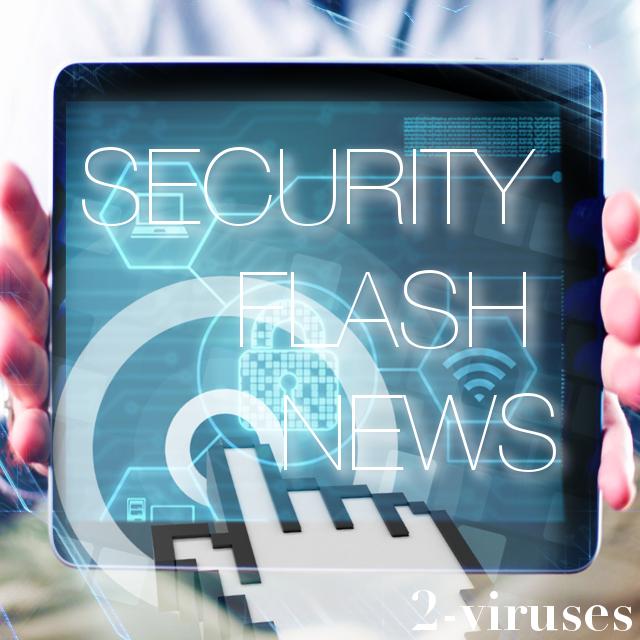 On the same day, we had to address a compromising situation which occurred in Dallas. Hackers had all of the resources to hijack the security system of Dallas and make more than one hundred sirens go off without any real danger. The invasion lasted about two hours and took place in the middle of the night. This means that people definitely had no way of getting a good rest. Sirens are usually triggered when there is a critical situation and people have to be warned immediately. People of Dallas might have assumed that a war was starting or that another tragic event might have happened. Of course, the sirens did not decide to go off on their own: yet unidentified attackers are presumably behind this. More at: 2-viruses.com.
On Wednesday (12th of April) we explained that a new patch was released for several of Adobe products. Of course, one of the most important changes were made in the Adobe Flash Player which you should not hesitate to update to the latest version. There is no reason to delay updating other software as well: Adobe Campaign, Photoshop or Adobe Creative Cloud Desktop App. All of these applications had flaws that were solved with the newly released update. If you wish to renew your software, we advise you to do it as soon as the patches are released. Otherwise, you are left with old features and vulnerabilities that hackers can exploit to their benefit. More at: 2-viruses.com.
You think that using fingerprint scan is the safest way to lock your smartphone? Well, think again – researchers recently discovered that this system can be easily tricked. Cyber security specialists designed a 'masterprint' which looks like multiple fingerprints at the same time and absolutely trick fingerprint system. Success rate of this print is shockingly high – it can be up to 65%. While it's still an effective way to protect your device, you should not rely on it 100% since it can be hacked too. More at: ibtimes.co.uk/
On Thursday (13th of April) we were reminded of the situation we wrote about back in Tuesday: malicious .doc files and vulnerabilities in Microsoft Office. It came to light that flaws in these products were not only exploited to distribute Dridex malware, but also a FINSPY variant. More disturbingly, the main distributors of FINSPY are suspected to be government institutions. After certain calculations were made, it was determined that Russian people were the main targets. How do we know that? Harmful .doc files are identified to be featuring information that Russians would certainly be intrigued by. More at: 2-viruses.com.
Very dangerous Android Trojan is publicly accessible on Google Play store. It is called 'Funny Videos 2017' and already has between 1000 and 5000 installs. As you can see, this applications pretends to be a free tool to watch various funny video clips online (yet we already have YouTube for that), but really is a Trojan infection. The main goal of this infection is to steal users private information, such as banking details, so it is very dangerous. More at: thehackernews.com
On Friday (14th of April), we aimed to educate our users about PDoS attacks that could influence hard drives to the point that would there was no other choice but to contact professionals for help. Permanent Denial of Service attack is no joke and we indicated that gradually more hackers are exploring this opportunity for disruption. We examined the recently discovered BrickerBot which was opting to hijack IoT devices: devices that are connected to the Internet like your Smart TV. The attack was done to affect a device and infect it with malware. Luckily for you, there are certain steps you can pursue for the sake of becoming immune to these attacks. More at: 2-viruses.com.
Good news from Google – they are constantly battling malware and this time they did a good job to improve Android systems. Malware research team collected and analysed other 30 Android malware families, collected over 50 000 samples and made needed conclusions. The main goal is to make malware development expensive and complicated, which would eventually decrease its' numbers. Android operating system is now more secured against all types of malware, all due to recent adjustments. More at: threatpost.com.