Zapmeta.com is a potentially unwanted search engine, created by Visymo Universal Search Group. By itself, the platform does not look very dangerous, and its owners seem to present their product as legitimate. However, many Internet surfers have expressed questions, asking why does Zapmeta keep appearing during their browsing? Concerned people suggest that they get redirected to random sites or search engines, and also keep getting misleading pop-ups.
Zapmeta.com search engine is not a virus, but is used by many malicious browser hijackers
Before analyzing Zapmeta.com virus, we should mention that some browser hijackers are using its search platform for the purpose of delivering results to search queries. Over the years, we have noticed these parasites to use Zapmeta: Webcrawler.com, Boost.ur-search.com, Nowsearch.info and Bitmotion-tab.com. This feature does not necessarily suggest that Zapmeta.com is malicious. Even legitimate search engines are exploited by hackers.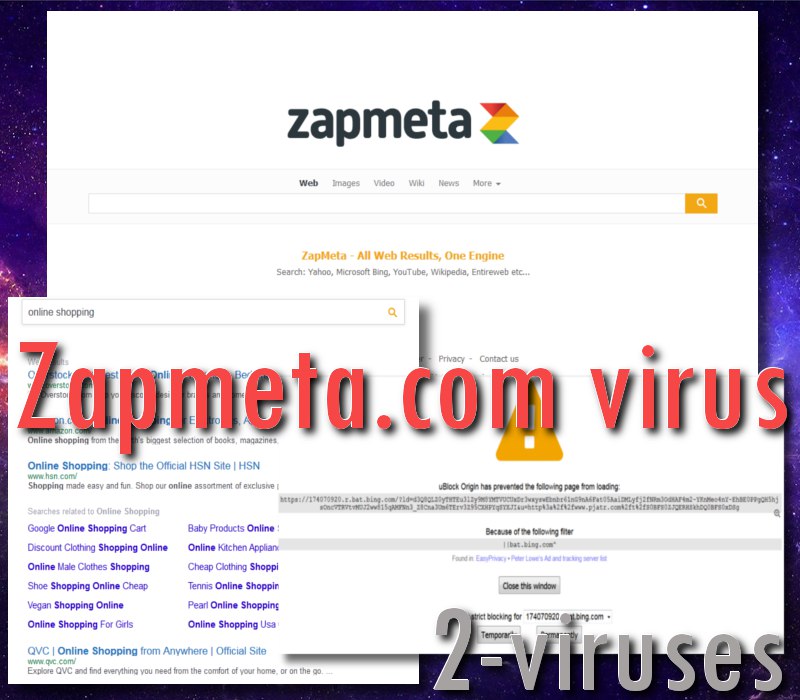 However, after analyzing results from the original Zapmeta platform, we found some red-flags, suggesting that this engine might not be 100% ready for users. Many of the sponsored links in the results to search queries were blocked by AdBlockers. This might be done for the purpose of protecting people from unsafe, deceptive and malware-laden content (How).
Overall, Zapmeta.com search engine has reached popularity in Thailand, United States, Bulgaria, Canada and Argentina. While it should not be seen as a high-risk infection, the repetitive redirection to Zapmeta might indicate an infection with a browser hijacker. Even though the search engine itself is legitimate, hackers are using it for the purpose of making their browser hijacker functional. We noticed that Searchencrypt.com, Findgofind.co and Searchprivacy.com are all referring sites, leading to Zapmeta. We have also figured out that Hp.myway.com hijacker is also associated with the search engine we discussed in this article.
Zapmeta.com hijacker is also related with a bunch of advertising companies, serving online adverts to the platform. We have discovered that Shop411, Media.net, AdMarketplace, Ad6 Media and other advertisers will be the top servers of advertisements. We are inclined to believe that Zapmeta.com is a legitimate platform, but it might be using deceptive means of distribution. For instance, this search engine might occupy home pages, default search providers and new tab pages without users' permission (Browser). During installation of freeware apps, you should not always pay attention whether additional programs or changes are going to be offered.
However, some people refer to Zapmeta.com as an annoying virus. For instance, this concerned user provided some disturbing information about his/her experience with this search engine:
"Some spy/adware called Zapmeta has gotten ahold of my browser, so that every now and then when I click a link, it redirects me to the Zapmeta 'search results' page using the words in my URL as search terms. It also happens when I type in a URL, and it happens when I click any given hyperlink. Usually all I have to do is back up, hit the link again and I go where I wanted to in the first place. But it's so annoying I want to kill somebody.

What really chaps my arse is that these jerks seem to have figured out search engine science, so when you Google 'zapmeta' or 'remove zapmeta', it comes up with all these bogus links talking about how great Zapmeta is, or other stuff giving you this idea that Zapmeta is somehow legitimate".
Why is Zapmeta.com redirect bothering me?
It could be that one of the browser hijackers, using Zapmeta search engine, have invaded your browser. Be careful during installation processes of freeware and make sure that no unwanted application would get access to your device. Zapmeta is legitimate, but has several red-flags which make us doubt its respectability.
Therefore, we hope that you will choose a more sufficient search platform. In order to stop this suspicious Zapmeta.com redirect, we hope that you will remove all unknown browser extensions from the list of active plugins. In addition to that, take care of all unknown tools in your Control Panel as well. If the search platform continues on making an appearance, run a scan with Spyhunter. Both of these tools will reveal the condition of your operating system and make sure that no malware would make unwanted changes.
Automatic Malware removal tools