Outbyte PC Repair is a PC optimizer. It offers to help you make your computer faster, more stable, and safer. Whether Outbyte PC Repair helps at all is dubious, however, only a few antivirus programs detect it as a potentially bad program (Virustotal link). Outbyte PC Repair is not malware, but there are probably better programs to use out there.
Outbyte Pc Repair quicklinks
Outbyte PC Repair features and problems:
Type of threat
PUP (potentially unwanted program).
How Outbyte PC Repair gets installed
Advertised online,

bundled with free programs.

Problems and issues
Offers functions that have little effect on PC performance,

advertises by pretending that Microsoft recommends Outbyte PC Repair,

detected as a PUP by some anti-malware programs.

Removing Outbyte PC Repair
Manually uninstall using the Control Panel,

use an anti-malware tool (Spyhunter, Malwarebytes, etc.) to check for malware.
Outbyte PC Repair features
PC optimizer
Outbyte PC Repair offers a few basic functions that don't help it stand out in the overcrowded PC optimizer scene:
delete junk files (temporary files, logs, cache) to free up space,
clean the registry for stability,
change minor system settings to try to make the computer run faster,
delete browser data for privacy,
remove malicious files.
PC optimizers can be helpful but are often seen as snake oil for promising a lot and failing to deliver.
So, Outbyte PC Repair deletes some temporary and unnecessary files and sells that as privacy protection and freeing space. Even though these deletions do very little for PC performance (new temp files will be quickly created) and even less for privacy (data on your drive is far from the main way that people's data is stolen). Not to mention, your browser will likely be slower when its unnecessary data is deleted.
Similarly, Outbyte PC Repair editing your registry can help get rid of some PC problems. Occasionally, we have to change or create a registry key to solve a particular issue. But does using a cleaner help anything? The registry is just a big list of settings and, sure, there are unused entries that can be safely deleted, but there's usually no benefit to doing that. And if a cleaner does something wrong and changes the wrong keys, the consequences could be dire. At worst, being unable to start Windows.
Finally, the system settings tweaks by Outbyte PC Repair include things like shadows under your windows and minimizing animations – stuff that might impact the user interface, but have a negligible impact on performance. Outbyte PC Repair eats more of your resources than it saves here.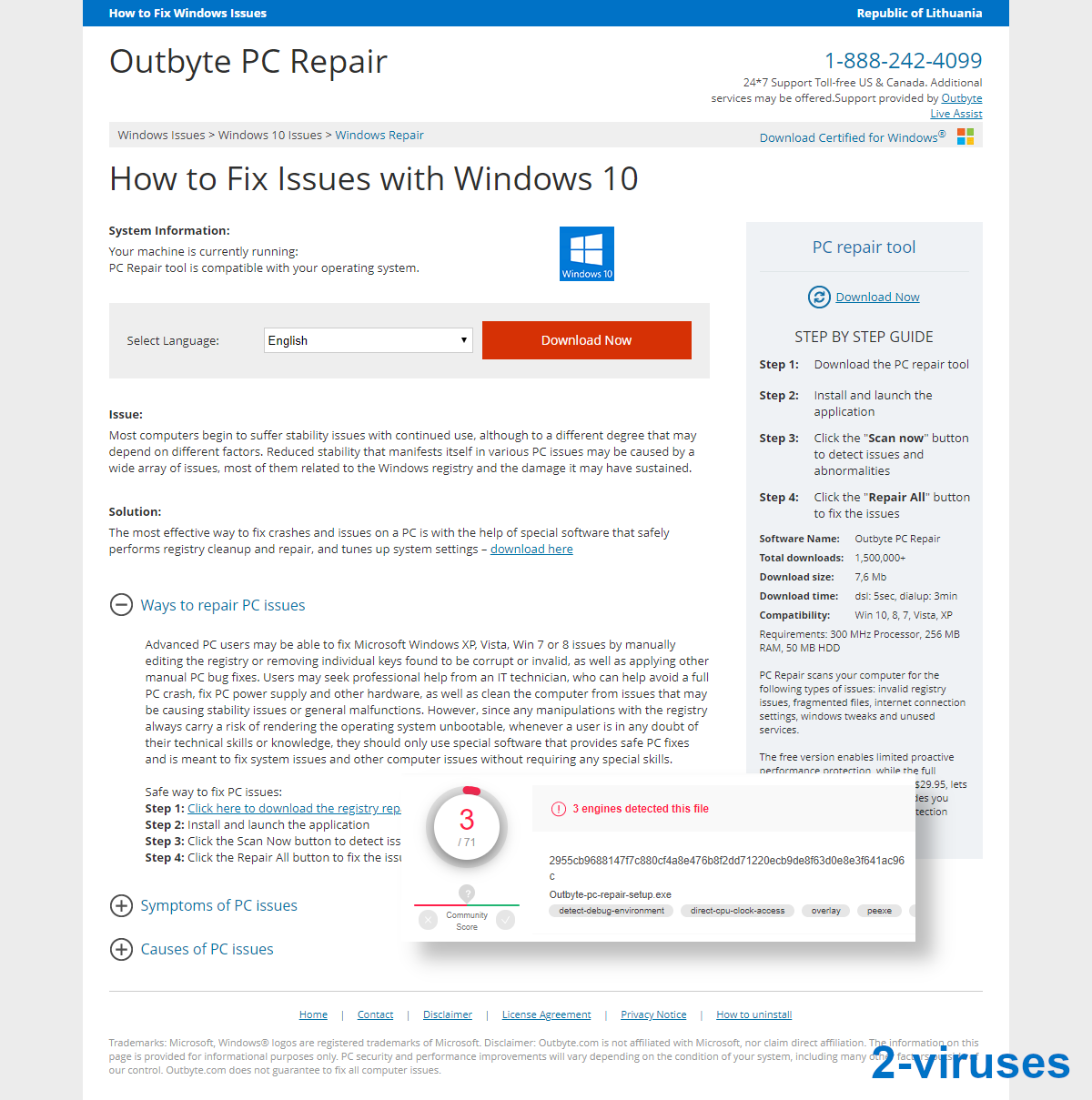 Advertising
I have some problems with how Outbyte PC Repair is advertised. There is a page on Outbyte.com that blatantly steals Microsoft's web design to advertise its product. This is bad. It means that people will see the page recommending Outbyte PC Repair and think "Oh, this is recommended by Microsoft, the same people who made Windows". In fact, Microsoft has come out and said that it does not support registry cleaners, so using its image to promote a registry cleaner is quite unethical.
This spoofed page by Outbyte PC Repair is the third result on the first page of Google when searching for "Outbyte PC Repair", so it's obviously used actively and isn't some little experiment. It can't be dismissed. Bad advertising is a huge part of why some programs are considered dangerous. It seriously ruined the reputation of Reimage, and it's how Pcvark-type optimizers are pushed on people. Deceptive advertising is a serious issue.
There is a disclaimer at the very bottom of the Outbyte page that reveals that Outbyte PC Repair is not affiliated with Microsoft, as does the URL of the page. But we are busy and often distracted, it's not our fault if we fall for phishing sites. It's up to Outbyte PC Repair to not take advantage of us.
How to remove Outbyte PC Repair
If you are fine with Outbyte PC Repair and find it helpful, then don't feel bad for using it. Just be aware that PC optimizers are not all that they promise to be.
According to Outbyte PC Repair's website, the way to remove it is by using the Control Panel, just like shown in the guide below. If you want to scan your computer for malware or other potentially unwanted programs, you can use a trusted anti-malware program, like Spyhunter or Malwarebytes (the latter detects Outbyte PC Repair as a potentially unwanted program).
Automatic Malware removal tools
How to remove Outbyte PC Repair using Windows Control Panel
Many hijackers and adware like
Outbyte PC Repair
install some of their components as regular Windows programs as well as additional software. This part of malware can be uninstalled from the Control Panel. To access it, do the following.
Start→Control Panel (older Windows) or press Windows Key→Search and enter Control Panel and then press Enter (Windows 8, Windows 10).
Choose Uninstall Program (if you don't see it, click in the upper right next to "View by" and select Category).
Go through the list of programs and select entries related to Outbyte PC Repair . You can click on "Name" or "Installed On" to reorder your programs and make Outbyte PC Repair easier to find.
Click the Uninstall button. If you're asked if you really want to remove the program, click Yes.
In many cases anti-malware programs are better at detecting related parasites, thus I recommend installing Spyhunter to identify other programs that might be a part of this infection.