MS Antivirus (a.k.a MS Antivirus 2008) is a clone of the ever so cloneable rogue anti-spyware program XP Antivirus. It is, essentially, a fake spyware remover, designed to appear as a legitimate program and thus trick inexpierienced users into buying it. MS Antivirus can enter the system using several methods: it may be imported by the Zlob trojan or any of it's clones, but it can also be downloaded and installed manually from it's homepage.
Once inside and active, MS Antivirus will flood the user with popups and fake system notifications, supposedly to inform him of an infection or multiple infections present on the system. While this may be true due to sheer coincidence, it doesn't change the fact that in most cases non of these infections would actually be in existence. The "trial" version of MS Antivirus allows the user to scan the system for spyware and returns a falsified report, spiced up with non-existent threats, and in order to remove these threats, the user has to purchase MS Antivirus' "licensed version".
MSAntivirus-xp.com, the home of this parasite, is your typical rogue website, with the same copy+pasted material that has been used in this lucrative scam business for years. There is no genuinely important content on the website and every line and word serve one of two purposes, which are either to frighten the user about the pains that spyware brings to people, as well as the risks of getting infected, or to praise the fake removal tool. The company behind this product is of dubious nature or more likely non-existent: it claims to be based in London, but the IP can be traced back to Belize and the name of the registrant seems to be Russian. Also, there is no contact information, as is usually the case with rogue scams.
MS Antivirus is a scam and should be treated as such: do NOT download or buy it and block it's homepage using your HOSTS file.
Automatic MS Antivirus removal tools
We might be affiliated with some of these programs. Full information is available in disclosure
Manual removal
Important Note: Although it is possible to manually remove MS Antivirus, such activity can permanently damage your system if any mistakes are made in the process, as advanced spyware parasites are able to automatically repair themselves if not completely removed. Thus, manual spyware removal is recommended for experienced users only, such as IT specialists or highly qualified system administrators. For other users, we recommend using Reimage or other tools found on 2-viruses.com.
Processes:
Files:
Registers:
MS Antivirus screenshots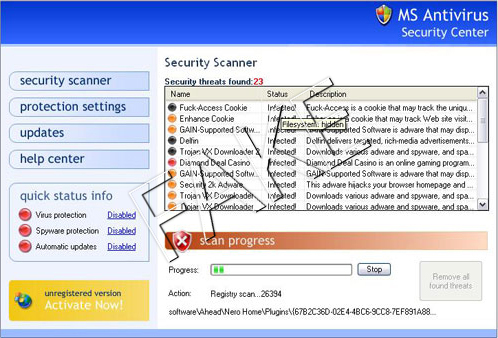 About the author