Mirar or Getmirar is a browser helper object for Internet explorer (a toolbar) that installs on the browser using shady techniques. It serves advertisements and opens websites "related" to the ones the user is viewing and thus disturbs the browsing experience. Although Mirar is more annoying than dangerous in itself, having this scumware in your PC could lead to additional infections. Some users report that this adware installs SaveNow, which is classified as adware. The Mirar process starts at system startup and is quite difficult to remove manually. Mirar has been identified to be written in the programming language C++. You should get rid of Mirar as soon as possible to avoid infection with more dangerous threats. After arriving in a device, Mirar will start the following processes:
C:WINDOWSSystem32smss.exe
C:WINDOWSsystem32csrss.exe
C:WINDOWSsystem32winlogon.exe
C:WINDOWSsystem32services.exe
C:WINDOWSsystem32lsass.exe
C:Program FilesWebrootWebrootSecurityWRConsumerService.exe
C:WINDOWSsystem32svchost.exe
C:WINDOWSsystem32svchost.exe
C:WINDOWSSystem32svchost.exe
C:WINDOWSsystem32svchost.exe
C:WINDOWSsystem32svchost.exe
This is only a small part of the processes. All of them will be done for the sake of reaching your personal files or getting access to other data that might be of a certain value. Reports are suggesting that infected people suffered from slowly running computers. It was also indicated that the Safe Mode managed to give more freedom to the infected victims. Another aspect that was noticed was that regular software applications took longer periods of time to launch. All of these inconveniences are quite displeasing and people notice them straight away.
Mirar is an old example of browser helper objects (it installs as an add-on). Its approximate date of appearance was indicated to be in 2007, or maybe even earlier (some analysis recognize that it first was spotted in 2005). According to the reports in 2009, written by former victims, the infection was difficult to eliminate. Even security researchers had a hard time dealing with this issue. After carefully following advises by the reliable consultants, infected victims complained that the virus returned.
Now, in 2016, there are many tutorials that would help you get rid of Mirar. Who would not want to get rid of this infection? It displays a number of objectionable advertisements that might be originating from questionable sources. It might be that it presented victims with content that was unacceptable or malware-laden. Furthermore, security researches concluded that users played a big role in the distribution of Mirar. People had to participate in some sort of way. Of course, that does not necessarily mean that user knew exactly what he/she was doing. Peer-to-peer file sharing networks were found as one of the potential sources of Mirar. Another way for Mirar to spread was to use tactics, similar to the ones that are exploited by the creators of ransomware. It could have been that infectious email letters were sent around. The recipients might have opened their inboxes and found peculiar letters. After opening these messages, they noticed that the letters featured an attachment. If he/she wrongfully decided to download the recommended attachment, then they might have voluntarily invited Mirar over to play. We hope that our readers did not face this infection since it was capable of creating severe security issues.
Automatic Mirar removal tools
We might be affiliated with some of these programs. Full information is available in disclosure
Manual removal
Important Note: Although it is possible to manually remove Mirar, such activity can permanently damage your system if any mistakes are made in the process, as advanced spyware parasites are able to automatically repair themselves if not completely removed. Thus, manual spyware removal is recommended for experienced users only, such as IT specialists or highly qualified system administrators. For other users, we recommend using Reimage or other tools found on 2-viruses.com.
Processes:
Files:
Dll:
Registers:
Mirar screenshots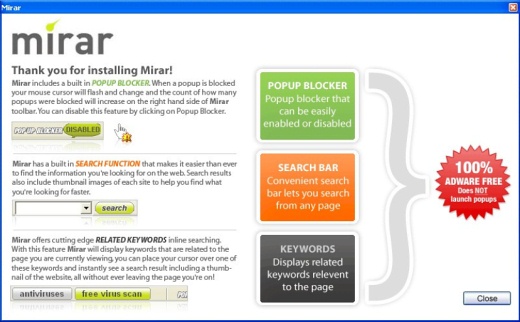 About the author