Digital Protection - How To Remove?
Digital Protection is a fake anti-virus program that is spread using trojans and worms. That is why you might start seeing Digital Protection popups without downloading anything visibly related to this parasite. Each of its messages tries to convince you that your system is unprotected and that you need to purchase full version of this malware to protect your PC. These popups will appear even if you got normal antivirus and will announce something like that:
DANGEROUS! ANTIVIRUS DETECTED SOME HARMFUL PROGRAMS ON YOUR PC! THEY MAY CORRUPT YOUR INFORMATION OR SEND IT TO HACKERS.

A security threat detected on your computer! This malicious program may steal your private data. Click on the message to ensure the protection of your computer.

Harmful viruses detected on your computer. This malicious software may harm your computer. Click on the message to ensure the protection of your computer.

A security threat detected on your computer. TrojanASPX.JS.Win32. It strongly recommended to remove this threat right now. Click on the message to remove it.

Unauthorized person tries to steal your passwords and private information. Click on the message to prevent identity theft.

System files of your computer are damaged. Please, restart your system ASAP.

Warning! Virus threat detected!
Virus activity detected!
Trojan-Clicker.Win32 adware has been detected. This adware module advertises websites with explicit content. Be advised of such content being possibly illegal. Please click the button below to locate and remove this threat now.
After launching unregistered version of Digital Protection, you will "scan" your PC very fast – faster than it is technically possible to check anything on your PC. It will show some regular files infected with trojans, spyware and other parasites. The detections Digital Protection provides is fake – most of the files detected are harmless. The parasite that should be removed is Digital Protection scamware itself.
Do not pay for Digital Protection! Trying to push you into purchasing it, malware will also attempt to uninstall your legitimate security software in order to protect itself from being removed. Security applications that it will try to uninstall will be:
Spyware Doctor
NOD32
Malwarebytes' Anti-Malware
Norton Internet Security
Avira AntiVir
AVG8
AntiVir
Agnitum Outpost Security Suite
avast!
Moreover, Digital Protection is illegal program on itself run by scamware manufacturers. They will store your credit card details and you might loose more money that you have originally paid. You should contact your bank if you have purchased Digital Protection.
To get rid of Digital Protection you have to stop Digital Protection trojan processes, typically avp.exe or some random name. If you installed unregistered version of it, than stop digprot.exe process too. To do so, start task manager (ctl+shift+esc) and look for malicious processes there. In some cases it is more effective to restart PC to safe mode (press F8 on reboot) and perform removal instructions then.
It is highly recommended to use automatic Digital protection removal software like Spyware Doctor or Malwarebytes anti-malware. Most of infected trojans reside in your windows users or systems temp directory and might use random names which are hard to find. Also, you should scan your PC for other infections that made Digital Protection popups possible.
Automatic Digital Protection removal tools
We might be affiliated with some of these programs. Full information is available in disclosure
Manual removal
Important Note: Although it is possible to manually remove Digital Protection, such activity can permanently damage your system if any mistakes are made in the process, as advanced spyware parasites are able to automatically repair themselves if not completely removed. Thus, manual spyware removal is recommended for experienced users only, such as IT specialists or highly qualified system administrators. For other users, we recommend using Reimage or other tools found on 2-viruses.com.
Processes:
Files:
Dll:
Registers:
Digital Protection screenshots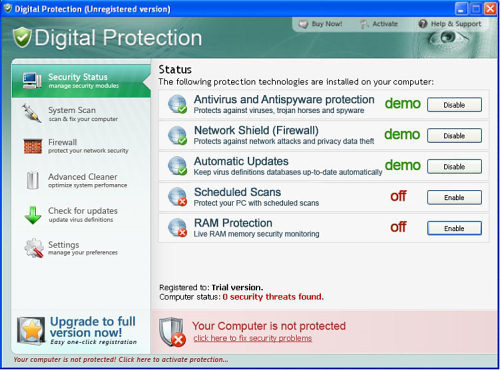 About the author