Unlimited Defender is a rogue antivirus application, that is a software, that impersonates antivirus and tries to convince user into purchasing it to protect from viruses without any ability to do so. Typically, one meets Unlimited Defender after a trojan infection caused by some "codec" download or visiting infected website. These trojans have ability to download additional malware to misuse your PC. This involves either software for helping infecting other computers, or software that tries to make money from unsuspecting victims. Unlimited Defender is later sort of software.
Typically, Unlimited Defender will start by showing various alerts to convince that something is wrong with your PC: either it got a bad case of virus infections, or some sort of hacker is tinkering with it, or a network attack is noticed. The most of the users will click on such message and it will open Unlimited Defender window which proposes a system scan. It will detect various infections in legitimate and completely clean or even non-existing files. Defender Unlimited will refuse to fix your PC for free, and as infections are faked such software is classified as malware, or, more specifically fake/rogue antivirus.
Additionally, Unlimited Defender might mess up PC further. It will prevent legitimate sites from opening in browser, might cause redirects. Also, malware like this might hide various folders and documents to cause stress for users. Typically, malware does not actually deletes documents or files and they are recoverable.
This software should not be trusted.
How to get rid of Unlimited Defender
To remove Unlimited Defender , reboot your PC into safe mode with networking. You can try doing system restore from there (rstrui ), but Defender Unlimited might disable this function or mess up restore points.
The better way to get rid of Unlimited Defender is following:
1. Launch browser and disable proxy server in it.
2. If it is possible, enter private browsing mode, as some versions of Unlimited Defender does not intercept this traffic (might not help in all the cases).
3. Download Process explorer ( https://www.2-viruses.com/wp-content/uploads/PE/eXplorer.exe for backup location ) and launch it.
4. Make sure you see file execution path and kill all processes from APPDATA, Application Data and TEMP.
5. Download and scan your PC with reputable anti-malware program to identify Unlimited Defender files and delete them. I recommend spyhunter ( https://www.2-viruses.com/spdoc.exe ) or Malwarebytes Anti-Malware. Update before scan.
6. Reboot. Make sure your antivirus and anti-malware programs are up to date and real time protection is enabled. Decent anti-malware programs should have prevented Defender Unlimited / Unlimited Defender infections in most of the cases.
Automatic Defender Unlimited/Unlimited Defender removal tools
We might be affiliated with some of these programs. Full information is available in disclosure
Manual removal
Important Note: Although it is possible to manually remove Defender Unlimited/Unlimited Defender, such activity can permanently damage your system if any mistakes are made in the process, as advanced spyware parasites are able to automatically repair themselves if not completely removed. Thus, manual spyware removal is recommended for experienced users only, such as IT specialists or highly qualified system administrators. For other users, we recommend using Reimage or other tools found on 2-viruses.com.
Processes:
Files:
Registers:
Defender Unlimited/Unlimited Defender screenshots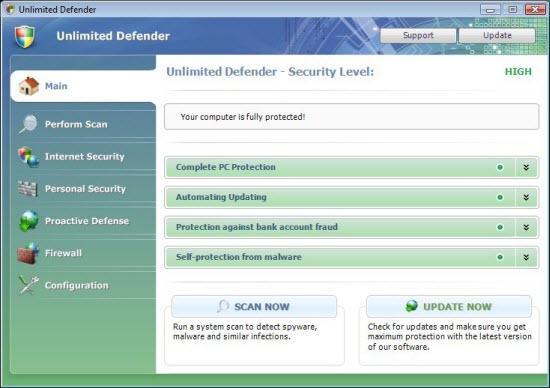 About the author