Cybercrime Investigation Department virus is a scam designed by computer hackers who want to steal money from random computer users. It is a tricky ransomware that can target any computer system. Once inside, it locks computer completely and does not allow to do anything there. Basically, all you see is one message that looks like it's coming from Canadian Cybercrime Investigation Department. The messages states that you have violated law by using or distributing some copyrighted content. According to the law you can be provided a fine of even deprivation of liberty for two to eight years. Here's how the message looks like:
Police Cybercrime Investigation Department

Attention! Your PC is blocked due to at least one of the reasons specified below.

You have been violating Copyright and Related Rights Law (Video, Music, Software) and illegally using or distributing copyrighted content, thus infringing Article 128 of the Criminal Code of Canada.

Article 128 of the Criminal Code provides for a fine of two to five hundred minimal wages or a deprivation of liberty for two to eight years.

You have been viewing or distributing prohibited Pornographic content (Child Porn/Zoofilia and etc.) Thus violating article 202 of the Criminal Code provides for a deprivation of liberty for four to twelve years.
Despite the fact that the message looks like a legitimate one, you must know that it has nothing in common with real Cybercrime Investigation Department. This is a clear scam that only tries to get access to your credit card and rip you off.
On the right part of the message you will see a Ukash payment system window where you will be able to pay a fine that is supposedly imposed for you. Stay away from doing so. First of all, you should know that no governmental institutions would be imposing you fines this way over Internet and they would never ask you pay any fine using your prepaid credit card. CCybercrime Investigation Department virus wants only to swindle your money away.
One of the most annoying things about this virus that once downloaded you will not be able to access any of your files and not even Task Manager which makes it very difficult to remove this virus. However, you can try to remove Cybercrime Investigation Department virus using these removal instructions:
Reboot your computer and press F8 by the time it's booting
Choose Safe Mode with Networking
Launch MSConfig
Disable startup items rundll32 launching something from Application Data
Reboot once again. Cybercrime Investigation Department virus should not load anymore.
Download
If this doesn't work, you can ask for remote assitance. Simply call +1-888-334-2444 or use some alternate OS Scanners.
Automatic Cybercrime Investigation Department Virus removal tools
We might be affiliated with some of these programs. Full information is available in disclosure
Manual removal
Important Note: Although it is possible to manually remove Cybercrime Investigation Department Virus, such activity can permanently damage your system if any mistakes are made in the process, as advanced spyware parasites are able to automatically repair themselves if not completely removed. Thus, manual spyware removal is recommended for experienced users only, such as IT specialists or highly qualified system administrators. For other users, we recommend using Reimage or other tools found on 2-viruses.com.
Processes:
Files:
Dll:
Cybercrime Investigation Department Virus screenshots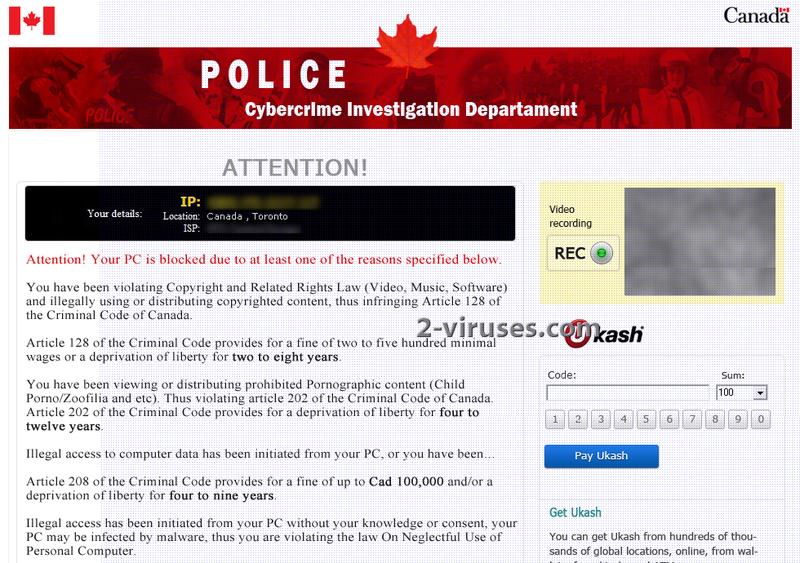 About the author