AVASoft Antivirus Professional is a rogue antivirus program that is probably going to change infamous Disk Antivirus Professional or at least gain the same strong positions as the latter one. It appeared on the Internet in the middle of March and so far it has already managed to find some victims. It's a software that imitates actions of an antivirus program and expects computer users to fall for this scam. AVASoft Antivirus Professional uses illegal methods to get into computer systems. Usually the infiltration is performed with a help of Trojan viruses and without letting users know about it. Once inside the machine, the program tries to convince the user that his system is infected and recommends buying a full version of AVASoft Antivirus Professional to fix all the issues.
The purpose of this rogue application is to get money from random computer users, and it does all it takes to fulfill this plan. When AVASoft is being installed to the system, first of all, it is configured to be started every time you restart your computer. Basically, every time you reboot your system, you will see the scanner that imitates looking for infections on your PC. It has quite a professional looking GUI which makes many users take it for a reputable antivirus tool. AVASoft Antivirus Professional warns that your computer is full of threats and strongly recommends purchasing its full version to get everything fixed.
While this rogue is acting on your system, you will not be able to run any of your legitimate programs. It blocks everything, even your browser and security tools, leaving your computer unprotected. This increases the chances of getting infected with more threats badly and it complicates your PC situation in general as your system becomes very vulnerable and unsuitable to work on. AVASoft Antivirus Professional bombards your computer with various security alerts and pop up ads which are fake. However, they look very convincing and help the program to persuade you into purchasing its fake tool. Here are couple of the security alerts that may appear on your computer if you got infected:
Security Monitor: WARNING!
Attention! System detected a potential hazard (TrojanSPM/LX) on your computer that may infect executable files. Your private information and PC safety is at risk.
To get rid of unwanted spyware and keep your computer safe your need to update your current security software.
Click Yes to download official intrusion detection system (IDS software).
Warning: Your computer is infected
Detected spyware infection!
Click this message to install the last update of security software…
You should never trust anything related to AVASoft Antivirus Professional as you will end up purchasing a fake tool and losing your money. Beware that it's a rogue antivirus program that was designed only to trick you and swindle your money away. Remove AVASoft Antivirus Professional from your system as soon as you detect its traces on your computer. Use a reputable antispyware program, such as Spyhunter. If you cannot run an antispyware, try using this code to fake register AVASoft Professional: AA39754E-715219CE. Please note that the code does not remove infection therefore you must scan your computer using antivirus tool after fake registering. Below you can check the video that explains how to get rid of it:
Automatic AVASoft Antivirus Professional removal tools
We might be affiliated with some of these programs. Full information is available in disclosure
Manual removal
Important Note: Although it is possible to manually remove AVASoft Antivirus Professional, such activity can permanently damage your system if any mistakes are made in the process, as advanced spyware parasites are able to automatically repair themselves if not completely removed. Thus, manual spyware removal is recommended for experienced users only, such as IT specialists or highly qualified system administrators. For other users, we recommend using Reimage or other tools found on 2-viruses.com.
Processes:
Files:
Registers:
AVASoft Antivirus Professional screenshots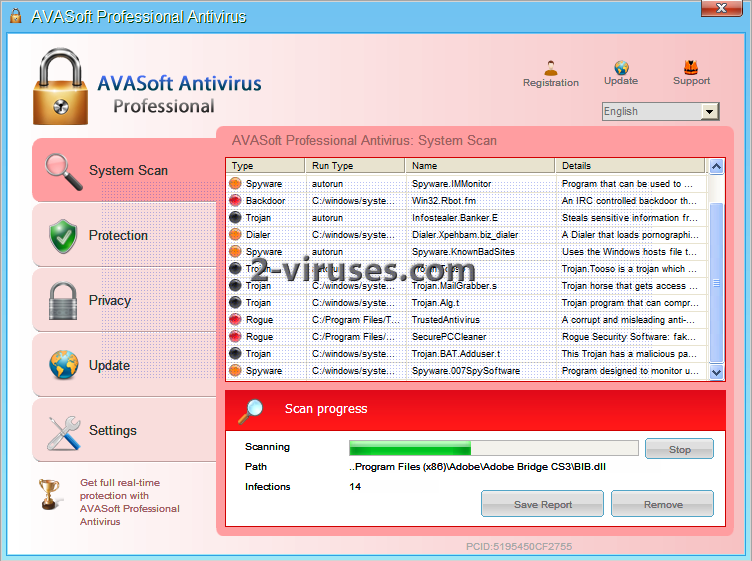 About the author