Antivirus System - How To Remove?
Antivirus System is a new Rogue antivirus program related to PC Defender Pro family. The rogue was released around middle of July 2013 Although it is not very well known infection group, it is very aggressive and blocks most of approaches to remove it. Typically, you do not have to download and install the rogue yourself, it is enough to execute malicious file once or visit corrupted and infected website. As Antivirus System will block majority of ways to remove it, it is extremely dangerous.
First time Antivirus System rogue will launch a fake PC scan. It will detect around 10-90 infected items and will rate them as medium or high security risks. Everything else in the program won't work without paying around 80 USD.
To convince your into paying this amount for program you do not know or need, Antivirus System will do 2 other things: first, it will block other programs from launching, claiming that they are infected:
Antivirus System Firewall Alert
cmd.exe is infected with not-a-virus:Adware.Win32.WhiteSmoke.a. Private data can be stolen by third parties, including credit card details and passwords.
Windows recommends activate Antivirus System
…
The second annoyance is tons of popups claiming about various attacks, which do not happen for real. Thus it is obvious that you should remove Antivirus System and not pay for this scam.
Antivirus System special removal instructions
Antivirus System is extremely annoying, so you will have to disable malware process manually to run any anti-malware programs. This can be done in several ways.
If you have other user account available, run antimalware scan (e.g. Spyhunter from other one. If you can run full system scan, the malware can be removed. This is a very good reason to keep a separate administrator account that is used for such situations only.
If this fails, do following:
Reboot, while system boot starts press F8
Choose safe mode with networking
Start->Run enter https://www.2-viruses.com/downloads/spyhunter-i.exe . Save file on place you remember. Reboot normally.
Rename Spyhunter installer from .exe extension to .com extension and run. You will need to be able to see extensions of the known file types. This will restore .exe file associations.
Install and scan with Spyhunter, Hitman Pro, Malwarebytes Anti-Malware and other anti-malware programs (they should be able to install and run normally now). Delete Antivirus System startup entries and follow the instructions.
Here is a video detailing Antivirus System removal:

Another way to disable this rogue is fake-register it using any email and activation code ?O?Z?L?W?I?T?F?Q?C?N?Y?K?V?H?S?E. The malware would think it is authorized and stop preventing other programs from execution. Then scan with anti-malware programs.
If this method fails, you can try Hitman Pro kickstarter USB or any Alternate OS scanner CDs. You will need an uninfected PC to prepare these discs.
Automatic Antivirus System removal tools
We might be affiliated with some of these programs. Full information is available in disclosure
Manual removal
Important Note: Although it is possible to manually remove Antivirus System, such activity can permanently damage your system if any mistakes are made in the process, as advanced spyware parasites are able to automatically repair themselves if not completely removed. Thus, manual spyware removal is recommended for experienced users only, such as IT specialists or highly qualified system administrators. For other users, we recommend using Reimage or other tools found on 2-viruses.com.
Processes:
Antivirus System screenshots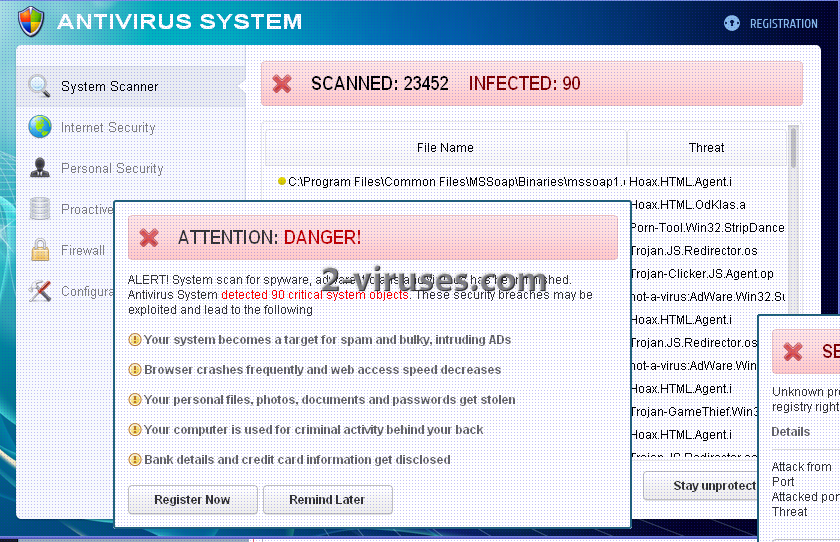 About the author