Eset informs the community of Vodafone multinational telecommunications company that hackers have made it their mission to transmit spam letters, pretending to originate from official representatives of the company. Customers are introduced with a rather-believable statements, indicating that customers' bills for Vodafone services have to be paid.
Even people that are not using Vodafone services could be targeted
Itemized bill dates are sometime in August. Naturally, a malicious spam campaign transgression via email accounts would not be complete either without an attachment or a link to an outside domain. In this case, these fraudulent written announcements possess an underlined shortcut of "Click here to view your bill".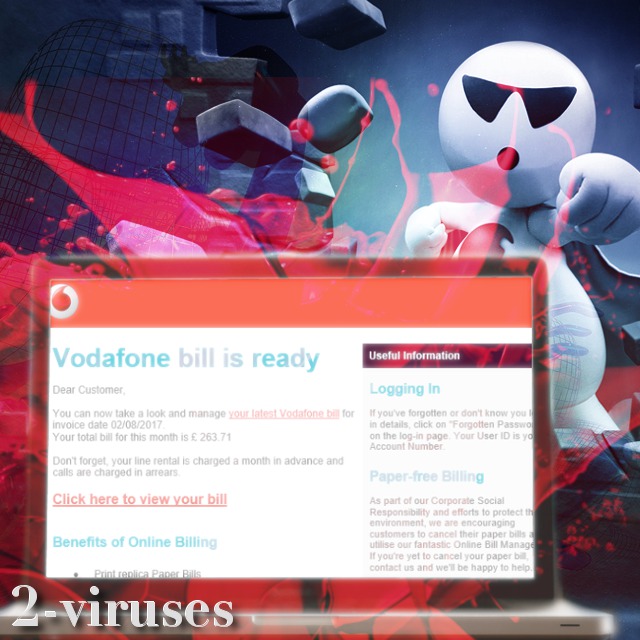 Despite alias of Vodafone is used as a cover up story, this does not mean that only actual customers of this service are to be targeted. Vodafone mentioned that basically anybody can receive this misleading letter. However, recipients that are in no way related with the company might feel puzzled about the received bills. This confusion could make them check out the link, appended into spam.
As soon as people click on this shortcut, Vodafone bill.zip will commence an evasive strategy, involving Javascript, and finally, go on to download Nemucod Trojan infection. This malware has been marked to distribute ad-clicking backdoors and ransomware viruses.
To menace people's devices with this delivery of malicious email letters, hackers hope to trick users by sending email letters from Vpsonlinebillmanager@vodafone.com (it almost hits the mark of respectability, doesn't it? Almost). This email address should strike you as suspicious: is it really operated by professional telecommunication specialists? Evidently, the answer is no. A more observant surfer would go on and check the official email address of a specific company which sends them such messages.
Ways to recognize a fake email letter
Follow the recommendations we enumerate below and try to always abide by them.
1. Neglect email messages that come from clearly fabricated accounts: if their addresses are funny or do not match the official ones that the service provides, it would be best to delete them. Having some doubts? Simply contact the service and request it to respond to the email message you received. To be more specific, screen shot the letter and transfer it to the service.
2. Malicious message demands you to enter a specific domain or to download an attachment. Be 100% convinced that a letter is secure before even thinking of implanting content from it into your operating system.
3. Rogue letters usually are written with a lot of grammatical mistakes and illogical details.
4. If you receive a message from a service you do not even use: ignore it.
We hope you won't be targeted by scammers and will enjoy a malware-free day!
Source: independent.ie.