VAFMusic Toolbar - How To Remove?
VAFMusic toolbar also known as VAF Toolbar is an add-on that can be installed together with VAFMusic music player. As the latter program is free of charge its development is sponsored by advertisements and distribution of third party software that comes bundled with it. If you read VAFMusic Terms & Conditions, it clearly states:
We may also offer to: (i) change your browser's homepage; (ii) change your default search provider; and (iii). Software we own and our partner's software may include advertisements within the application.
It means that after installing the software your home page, default search engine and new tab page are very likely to be replaced with those promoted by the company. You will also start getting more than usual amount of advertisements. Please note that removing VAFMusic toolbar and/or VAFMusic music player will not eliminate redirections and advertisements because it comes bundled with third party adware and browser hijackers, such as the SweetIM Toolbar or the Incredibar Toolbar.
A manual removal of VAFMusic toolbar and any other unwanted applications that came bundled with it is recommended only if you have good enough knowledge about computers not to delete the files that are crucial to PC functioning. Otherwise we advice to use special removal tools, such as Spyhunter. Please note that VAFMusic toolbar is not a malware therefore not all of antivirus programs will detect it as a threat. If you want to use any other removal tool, check beforehand if it has the feature of identifying adware and browser hijackers.
VAFMusic toolbar Removal Instructions:
Scan your computer using antimalware program that removes adware and browser hijackers. We recommend using Spyhunter.
Go to Control Panel -> Add and Remove Programs -> Check if there are any unfamiliar applications related to VAFMusic toolbar. If you see any, remove them. It is also recommended to remove any other applications installed on the same day.
Remove the toolbar from all of Internet browsers:

For Internet Explorer: Go to "Tools" (or gear icon in Internet Explorer 9), -> "Manage Add-ons". Look for VAFMusic toolbar and disable it.
For Google Chrome: Click on the wrench or bars icon on the top right of the screen; go to "Tools"-> "Extensions". If you see any extensions related to VAFMusic toolbar, click on a trash can icon next to them.
For Mozilla Firefox: Go to "Tools" -> "Add-ons" -> "Extensions". If you see any extensions related to VAFMusic toolbar, disable them.

Check if your home page and default search engine are changed to the one you always used. If you see any unfamiliar address, replace it with your own, e.g. google.com.
Automatic VAFMusic Toolbar removal tools
We might be affiliated with some of these programs. Full information is available in disclosure
VAFMusic Toolbar screenshots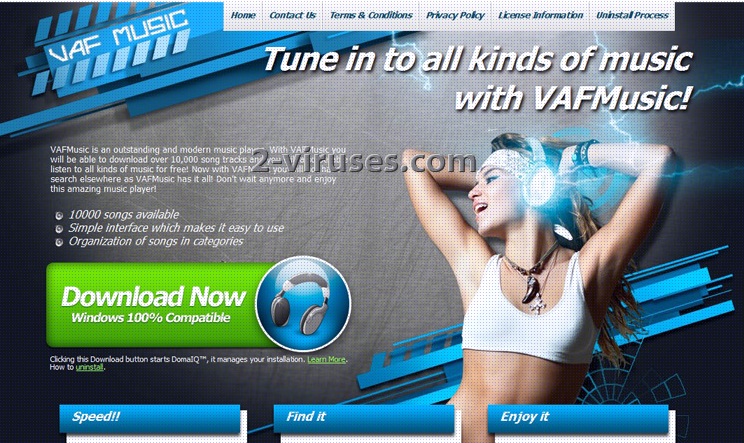 About the author