The Specialist Crime Directorate Ransomware - How To Remove?
The Specialist Crime Directorate Ransomware is a scam used for taking victim's money away. A fine is as big as 100EUR from every person that got tricked. A scam works under the same scheme as many ransomware:
Once infiltrated into the system it blocks a computer's screen completely and it does not respond to any commands. Even if you reboot your computer the blocking will reaper again.
Strong psychological techniques are being used for the blocking to look professional and scary. The message is supposed to be from governmental authorities – Police Central E-Crime Unit and has its logo. A victim is accuses of crimes like illegal using or distribution of copyrighted content, such as movies, music, software, sending spam e-mails or even having pornography related material. To strengthen the seriousness of these charges a virus is capable of accessing an installed webcam and display a victim herself. The message says that video information is sent to a remote server and will be used for identification purposes.
For the charges to be removed and a computer to be unblocked cyber gang demands a ransom. It should be paid via Ukash or Moneypak. Prepaid payment systems let scammers collect money without being caught because it is very difficult or almost impossible to trace the amounts paid.
If your computer is blocked by The Specialist Crime Directorate Ransomware, this is what you may see in your computer screen:
THREAT OF PROSECUTION REMINDER
You have been violating Copyright and Related Rights Law (Video, Music, Software) and illegally using or distributing copyrighted content …
…..
THIS REMINDER MAY BE REMOVED AFTER FINE PAYMENT USING FOLLOWING METHODS
Choose a payment method by clicking on the image. Extra instructions will be shown.
Note that paying a ransom will not remove infection and in many cases will not even unblock your computer. For the Specialist Crime Directorate Ransomware to be removed follow these instructions step by step:
If you have another user account, scan with spyhunter or Hitman Pro from it. In most cases, this would be enough to clean the infection.
Restart your computer; press F8 while it is restarting;
Choose safe mode with networking;
Launch MSConfig;
Disable startup items rundll32 turning on any application from Application Data;
Restart the system once again.
Scan with http://www.2-viruses.com/downloads/spyhunter-i.exe to find the file and delete it.
If you cannot run your computer in safe mode, you should follow this removal guide:
Use a short gap between a display of a blocking screen and turning on your computer for antimalware program to be executed.
Reboot normally.
Start->Run.
Enter http://2-viruses.com/downloads/spyhunter-i.exe . If malware is loaded, just press alt+tab once and keep entering the string blindly. Press Enter.
Press Alt+tab and then R couple times. Below is a video showing how to do all these steps. Note that the Specialist Crime Directorate Ransomware is another version of Ukash virus therefore the same instructions will work.
Please note that the most common infecting with the Specialist Crime Directorate Ransomware is while browsing the Internet. It does not necessary has to be adults' website. Legitimate web pages can get corrupted as well and distribute the virus. If you suspect that a web page you usually visit has been a source of infection, inform its developers about the security breach on their site.
Automatic The Specialist Crime Directorate Ransomware removal tools
We might be affiliated with some of these programs. Full information is available in disclosure
The Specialist Crime Directorate Ransomware screenshots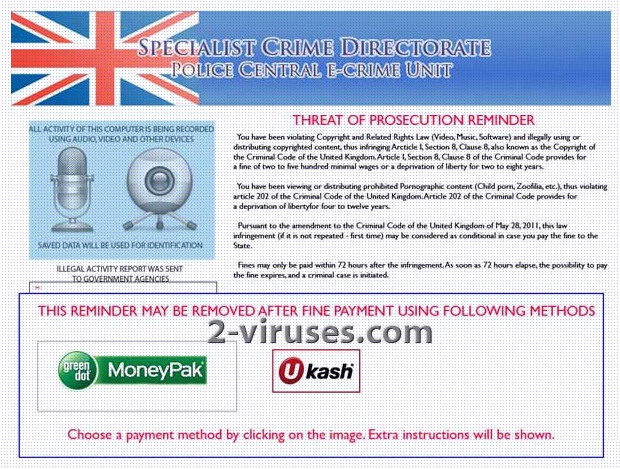 About the author