Spyware Protection - How To Remove?
Spyware Protection is one of those programs that should be avoided because they only try to steal unaware users' money. By making people worried about their computers, Spyware Protection just like its predecessors Spyware Protection 2009 or Spyware Protection 2010 expects to make users believe that their machines are heavily infected with spyware. However, all these alerts are fake and useless. To prevent SpywareProtection from disrupting Operating System of your PC and stealing your money, please follow the guide of its removal.
The basic specificity of this virus is quite typical. Spyware Protection refers to the category of rogue anti-spywares and this means you might not know when and how it gets installed on your machine. To give you more information it can be said that Trojans that use security vulnerabilities mostly get on the system and download such scams. Additionally, without any yours authentication, Spyware Protection will drop some fake randomly named files that later will announced as malware. Never trust SpywareProtection and its information given! here are some warnings displayed for making you scared about your machine:
Security Warning
Malicious program has been detected. Click here to protect your computer.
taskmgr.exe can not start
File taskmgr.exe is infected by W32/Blaster.worm. Please activate Spyware Protection to protect your computer.
Besides, Spyware Protection is designed to have capabilities of changing system settings, and registry values what consequently makes it powerful enough to show bogus computer scanners every time you reboot. Those scans claiming that numerous malware threats were found on your machine are expected to make you worried, so additionally they will recommend getting registered version of Spyware Protection. However, never believe these phony warnings saying that your system is infected. Instead of spending your money on virus and supporting the scammers, please remove the same SpywareProtection. It should be done once its insecure activity is noticed inside computer system.
As this rogue might block execution of legitimate programs, the simplest way to disable it is fake-registering it using this code: SL55J-T54YHJ61-YHG88. It works with any email you enter in the window where Spyware Protection asks for registration credentials. Then it will no longer bugger you with popups. Scan with decent anti-malware program like spyhunter or Malwarebytes Anti-Malware and remove what these program find.
Automatic Spyware Protection removal tools
We might be affiliated with some of these programs. Full information is available in disclosure
Spyware Protection screenshots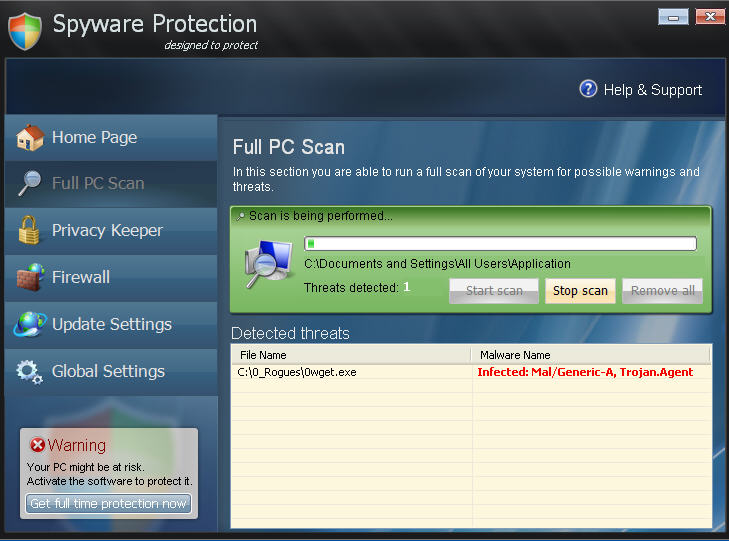 About the author