RTS Antivirus 2010 - How To Remove?
RTS Antivirus 2010 is a rogue anti-spyware which must be removed from the system once detected. It's because RTSAntivirus2010 is a direct clone of AKM Antivirus 2010 Pro which consists of basic traits based on malicious commercial goals only. If you fall into purchasing this scamware or if you find its "unregistered" version on your machine from nowhere, remember that you must remove RTS Antivirus 2010 as soon as possible.
As it was written about AKM Antivirus 2010 Pro, the story continues. RTS Antivirus 2010 fakes scanning for the spyware results in order to convince people to purchase its so called full commercial version. At the beginning, malware gets into the targeted computer through the backdoor trojans viruses or may be also installed manually from the malicious domain rtsantivirus2010.com. Don't take any advertisement which is written there serious and better avoid visiting it!
When inside the target computer, RTS Antivirus displays fake system scanners and misleading popup alerts that state the PC is full of spyware, trojans, worms and other malware. Have no doubt that these fake detections are supposed to make you scared and push you straight away into purchasing malware. As a solution for removal, RTS Antivirus 2010 registration is suggested which means that you have to purchase its "full" version. Classically we must warn you, that this is not a good idea because RTS Antivirus 2010 is dangerous! RTS Antivirus 2010 is only known to let MORE malware inside, decrease the internet connection speed and deteriorate the whole computer performance. You must remove RTS Antivirus 2010 as soon as possible, so if you are having troubles with this rogue anti-spyware, look at the removal instructions written below.
NOTE: You may find yourself disabled from running your anti-spyware, so use a flash drive for scanning. Before that download Spyware Doctor anti-spyware to another (clean) PC, install it, update the virus database. Now you should copy the program to your flash drive and then put it into the infected PC for a full system scan. If RTS Antivirus 2010 disables Spyware Doctor as well, rename its executive process and try running a scan one more time.
Automatic RTS Antivirus 2010 removal tools
We might be affiliated with some of these programs. Full information is available in disclosure
Manual removal
Important Note: Although it is possible to manually remove RTS Antivirus 2010, such activity can permanently damage your system if any mistakes are made in the process, as advanced spyware parasites are able to automatically repair themselves if not completely removed. Thus, manual spyware removal is recommended for experienced users only, such as IT specialists or highly qualified system administrators. For other users, we recommend using Reimage or other tools found on 2-viruses.com.
Processes:
Files:
Dll:
Registers:
RTS Antivirus 2010 screenshots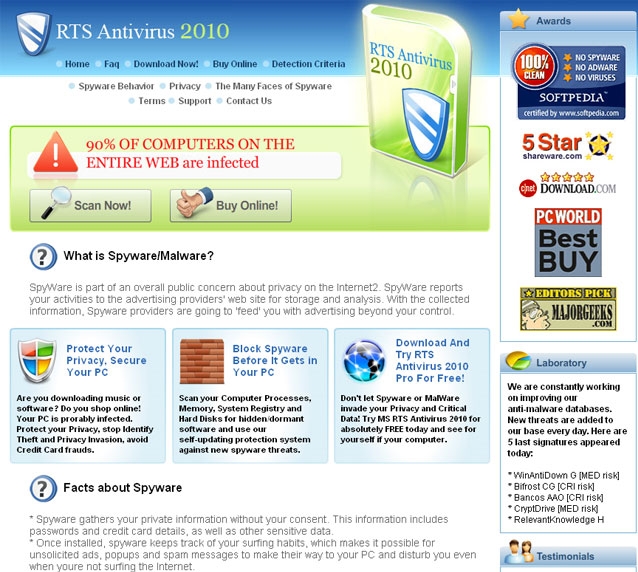 About the author