"Recommended For You" Popup - How To Remove?
"Recommended for You" popup is an adware that causes advertisements to be displayed while you browse the Internet. Usually you will see a promotion window on a lower right or left hand corner of the screen. If you click on it, you will open a new window having the whole page of ads. The ad is always related to what you read on the page, for example if you read an article about people not marrying, you might get an ad about Singles. If you close the window, you will still be able to see a small white box titled "Recommended for you".
Those that suffer from "Recommended for You" popup say they never installed anything that might cause displaying of advertisements. Yet in many cases people add adware to their computers without realizing about it. Usually such unwanted applications come bundled with some free software, like codecs, free video file converters, torrents, etc. Unwanted applications are marked to be installed by default and if one selects an automatic installation option, she ends up with additional programs. The only way to avoid such infections is by selecting a custom installation option and removing check boxes for any unknown applications.
"Recommended for You" popup should be removed from your computer not only because of inconveniences it causes but also that it increases a risk of your PC getting infected with viruses. Some of the ads displayed might contain malware or lead to compromised websites and if you click on such an ad, you will accidentally infiltrate infection. We recommend using antimalware removal tools, such as Spyhunter for "Recommended for You" popup to get deleted. First of all, it will take care of all the issues automatically, save your time and nerves. Secondly, if any other adware or/and browser hijacker was installed together with "Recommended for You" popup, it will detect and remove all of them. Thirdly, if your computer got infected with any viruses or Trojans while you had popups, the program will find them as well.
If you choose to remove the application manually, go to Control Panel – > Add and Remove Programs and delete it from there. Remove any unfamiliar applications. You should also check browser extensions and delete those not necessary ones as well. If these steps do not help, scan your computer using Spyhunter.
Automatic "Recommended for You" Popup removal tools
We might be affiliated with some of these programs. Full information is available in disclosure
"Recommended for You" Popup screenshots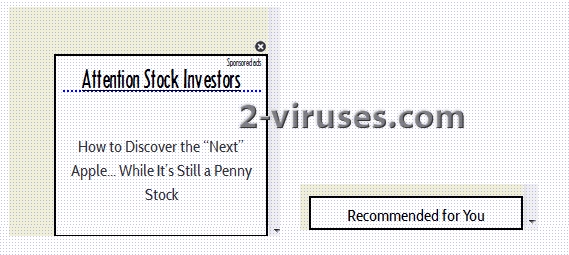 About the author