Price-Horse Ads - How To Remove?
Price-Horse is an adware program that affects Internet Explorer, Mozilla Firefox and Google Chrome. It generates annoying ads and displays them every time you browse the Internet. Once of the main objectives of Price-Horse is to make money from affiliate marketing. All ads by this adware contain links to the websites of its partners and when you click on them, you actually help adware makers to promote these pages and earn some money. If Price-Horse activity has stopped here, it would be nothing but just irritating application. However, it has some other features that can interfere with your security and even privacy.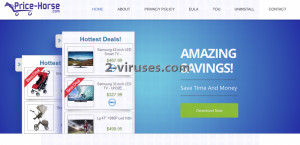 Most of the adware like Price-Horse also work as tracking cookies. This means the program can record your browsing history and get access even to some of your sensitive information. The primary goal of tracking your search queries and websites that you visit is to get to know about your interests and generate targeted ads. Clearly, users are more likely to click on the ads that somehow meet their interests. However, Price-Horse may also try to get access to your emails, passwords and other sensitive information, which can lead to logging in to your accounts and violating your privacy. Some of this information is even disclosed in the privacy policy of this application:
Collection of Personally Identifiable Information. the brand does not collect personally identifiable information ("PII") except where Users voluntarily provide such information via email or via registration for certain services or newsletters. the brand does collect non-personally identifiable information ("Non-PII") such as User's IP address, domain names, referring website addresses, and User's online web browsing activity to deliver advertising relevant to User.

Use of collected Information. the brand uses data collected for various purposes including the following: (i) to improve Service providence. (or any portion thereof); (ii) to respond to User's requests, support and needs more efficiently; (iii) to personalize User(s) experience; (iv) to offer User(s) with content the brand believes may interest such User(s), such as targeted advertising content or other commercial information; (v) to process payments; and (vi) to share User information with third parties.

Cookies. brand stores a small text file called cookie on User's computer to track session data and persist User's login for User's convenience. A session cookie expires when User exits User's browser. A persistent cookie stays on User's computer until it is deleted. Some of brand's advertisers may use cookies on the Site and/or Services. brand has no access or control over such cookies. This PP covers the use of cookies by the brand only, and does not cover the use of cookies by any advertisers or other third parties. User can remove persistent cookies by following the directions provided in User's browser's "help" files. User may choose to set his web browser to refuse cookies, or to alert when cookies are being sent. User is advised that if User chooses to activate such cookies refusal functionalities, the Services may not function properly.

Sharing with Third Parties. the brand may use third-party tools or services to provide Users with certain services or programs. the brand may make third party's information, content, software, services applications and/or tools available for download by User from or through the Site and/or the Services. The privacy policies of the third party provider(s) of such applications will apply to User's use of such applications. the brand may use third party service providers for the purpose of distributing to Users information, content, software, services and/or toolbar/apps or for providing the brand with operational services or data and server maintenance/optimization services. the brand may also share, rent, sell, or disseminate Non-PII to third parties and may sometimes use Users' information to enable brand's platforms or partners to deliver targeted advertisements that brand or they believe will be of interest to User. brand are not responsible for the privacy practices of any such third parties, and once User leaves brand's Site or Services via a link, enables a third party service, or clicks on an advertisement, User should check the applicable privacy policy of such third party site.
Beware that you can easily avoid downloading this type of programs. Although Price-Horse can be downloaded from it official website (price-horse.com), usually it comes bundled to other free software that users download by themselves. Even well-known programs can have bundles, so it is recommended to be more careful when installing any new applications, especially if they are free of charge. Always choose a Custom installation instead of a Basic one, even if the latter one is described as recommended. This will allow you to see all bundles listed at one of the steps and you will be able to refuse adding any unknown ones.
To remove Price-Horse Ads, scan your computer with a reputable antispyware program, like Malwarebytes, etc. Don't forget that you have to upgrade the program to its latest version before you run its scanner. To remove the adware manually, follow the guide provided below.
Manual removal of Price-Horse
Automatic Price-Horse Ads removal tools
We might be affiliated with some of these programs. Full information is available in disclosure
About the author