How to remove My Super Cheap?
What is My Super Cheap?
My Super Cheap is a browser extension that enables its user to compare prices for travel and insurance related websites. One can choose to find best prices for car rentals, flights, vacation, hotels, cruises, health insurance, dental insurance, etc. The company behind this toolbar is Yontoo LLC, the same that owes Yontoo Layers Client. My Super Cheap works on Internet Explorer, Mozilla FireFox and Google Chrome. It uses Yontoo application to show advertisements. The latter is identified as adware by a list of legitimate antivirus programs due to the fact that it lowers Internet browsers security levels.
My Super Cheap add-on is not directly connected to viruses but it is responsible for displaying of annoying advertisements on your Facebook page, Google or other web pages that you visit. Moreover, using browser cookies, web and DOM storage data, Adobe Flash cookies, pixels, beacons, and other tracking technologies, the toolbar collects your Internet browsing information. Among the data it collects there are operating system, IP address, unique identifier number, browser information, URLs visited, pages viewed, search queries entered, and other software and hardware information. If My Super Cheap toolbar is installed to a mobile device, even more information will be used by the company behind it, such as your address book, contact data information, SMS messages, SD card contents, and other system tools.
Although it is possible to install My Super Cheap from its official website, the most common way of distributing this adware is by bundling it with other freeware. It is a legal way of getting more application users, applied by many similar companies. This is how it works: a victim installs a program she wants and chooses an automatic installation option. During it there is a check box marked by default for additional programs to be installed. Usually a computer user does not read the text and simply press "next" this way ending up with unwanted software.
If you installed My Super Cheap unintentionally it is strongly recommended to remove it as soon as possible. You may try to do it from Control Panel Add and Remove Programs list. Yet most of the time adware is not that easy to get rid of because it hides itself. Application developers are motivated to have it installed in a victim's computer for as long as possible balancing on the line between legal and unfair. Even the removal guides they provide are very difficult to find and usually not complete. The easiest and quickest way to get rid of My Super Cheap as well as many other adware is by using special removal tools. For example, Spyhunter can delete it and all related files automatically. Not all of antimalware software has a function of detecting adware therefore before scanning your computer, make sure the program you use is effective in identifying and removing infection.
My Super Cheap
is Dangerous
My Super Cheap is Adware that can present itself as a toolbar
My Super Cheap logs your internet browsing history
My Super Cheap displays lots of annoying advertisements
My Super Cheap may infect your system via spyware or freeware
My Super Cheap may repair its files, spread or update by itself
My Super Cheap may prove difficult or impossible to remove
My Super Cheap violates your privacy and compromises your security
Download Spyhunter
for My Super Cheap detection
Note: Spyhunter trial provides detection of parasite like My Super Cheap and assists in its removal for free. You can remove detected files, processes and registry entries yourself or purchase a full version.
My Super Cheap screenshots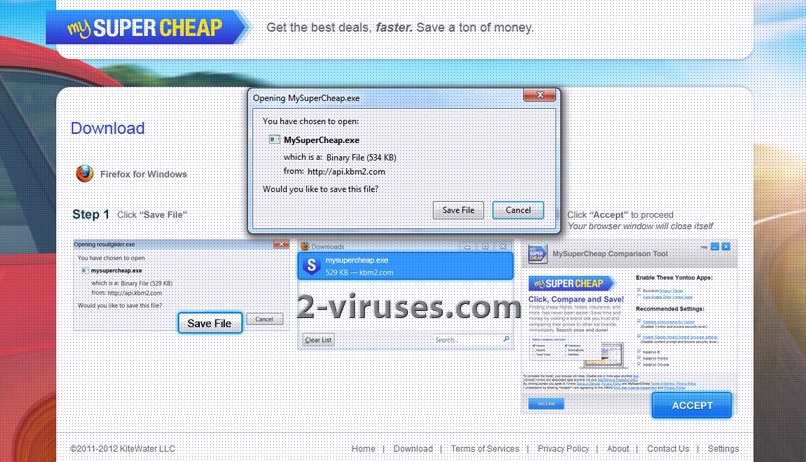 Manual My Super Cheap removal
Important Note:
Although it is possible to manually remove My Super Cheap, such activity can permanently damage your system if any mistakes are made in the process, as advanced spyware parasites are able to automatically repair themselves if not completely removed. Thus, manual spyware removal is recommended for experienced users only, such as IT specialists or highly qualified system administrators. For other users, we recommend using
Spyhunter
or other
malware and spyware removal applications
found on 2-viruses.com.
Disable these My Super Cheap DLL files::
Remove these My Super Cheap Registry Entries:
Remove these My Super Cheap files:
It is impossible to list all file names and locations of modern parasites. You can identify remaining parasites, other My Super Cheap infected files and get help in My Super Cheap removal by using free Spyhunter scanner. It comes with free real-time protection module that helps preventing My Super Cheap and similar threats.
My Super Cheap is Adware, which means that it plays, displays, or downloads advertising material to a system after being installed. My Super Cheap is known to display numerous annoying pop-ups while running.
Such Adware as My Super Cheap often hijacks your homepage and replaces it with third party commercial and marketing site. Then My Super Cheap proceeds to alter your browser code to prevent you from changing vital browser options.
However, the most dangerous threat My Super Cheap poses is that such Adware may steal your private information and browsing history and pass it to third parties without your knowledge and consent.
How to tell if your PC has been infected by a Adware such as My Super Cheap?
Slow PC Performance:
Most of Adware is not optimized and coded very poorly, which causes your system to become unstable, slow and unreliable, as such Adware is constantly running in the background.
Numerous undesirable and annoying pop-ups:
A typical Adware parasite keeps track of your internet browsing habits, sending your browsing history data to remote servers, owned by third party companies that use this information to advertise their products via numerous pop-ups, toolbars, hijacked homepages and spam letters. All these undesirable advertising methods are used on the victims of Adware.
Slow internet connection:
Adware is constantly using your internet connection to send your private information to remote servers, as well as receive ads and pop-ups from third party servers, which causes much slower internet connection speed and stability.