How to remove Live Security Platinum?
What is Live Security Platinum?
Live Security Platinum is a new rogue antivirus program that belongs to the same family of rogues as Security Shield and Security Tool, which are known for their nasty activities for a long time now. This family is called WinWebSec. The program has the same goal as the latter programs – it wants to steal money from the users that are not aware of this type of applications. The malware is distributed using exploit kits, that infect PCs through various vulnerabilities. If you have older Java, Adobe Flash or non-updated Windows version, you risk to get Live Security Platinum rogue. In some cases this parasite can use trojans for infection too.
Live Security Platinum displays numerous fake pop up messages and security alerts that redirect to pages selling its so-called full version which promises to fix all your computer problems. In reality, the program has no useful functions at all. Its only goal is to convince computer users into purchasing a so called full version of this rogue. Here's how they look like:
Live Security Platinum Warning
Live Security Platinum has found viruses at your system.
We highly recommend to get license for Live Security Scanner to remove harmful software now.

Live Security Platinum Warning
Spyware.IEMonster process is found. This is virus that is trying to send your passwords from Internet browser (Explorer, Mozilla Firefox, Outlook & others) for the third-parties.
Click here to protect your data with Live Security Platinum.
LIve Security Platinum, as the rest of this type of programs, infiltrates to the system completely secretly. Once it is there, it makes modifications letting the program be launched easily with each system reboot. Then fake AV pretends to scan your machine for infections. Lastly, the scanner even displays a list of infections that were supposedly detected on your system. To finish the scan and to remove them, you will be asked to purchase a full version of Live Security Platinum. Do not fall for this scam unless you want to give your money to computer hackers.
There are no reasons to trust Live Security Platinum under any circumstances. Paying for its full version is a huge mistake as such version doesn't even exist. The best way to fix all the problems is to remove Live Security Platinum using a reliable antispyware program, for example Spyhunter or Spyware Doctor (2012 version) . Upgrade it to its newest version and run a full system scan with it. If it does not launch, rename it to .com from .exe . Spyhunter kills rogue process automatically on the launch, and Spyware Doctor prevents the malware from killing its process and thus stopping the scan.
Special Live Security Platinum removal instructions
This rogue is extremely aggressive and kills processes on starting them. This disables legitimate security tools. However, there are ways to overcome this:
(Recommended) Download Spyhunter antimalware by entering this address into the address bar: http://www.2-viruses.com/downloads/spyhunter-i.exe . This program kills malicious process on install so it can be run even when other programs are blocked. You might need to change executable extension to .com from .exe for anti-malware program to run. You can try using rkill or stopzilla for this task too.
Fake register Live Security Platinum try using this registration code: 64C665BE-4DE7-423B-A6B6-BC0172B25DF2. This will disable the parasite and you will be able to run your legitimate antispyware, for example, Spyware Doctor, Spyhunter or Malwarebytes Antimalware. Note: Some versions of this rogue do not have registration code at all, so you will not be able to fake register it. The code mailed by rogue makers will not work too, so you will have to remove it using other options.
Enter this to the address bar to download process explorer: http://www.2-viruses.com/wp-content/uploads/PE/eXplorer.exe . Rename it to explorer.exe or iexplore.exe and kill processes of Live Security Platinum. Run an upgraded version of Spyhunter, Spyware Doctor or other legitimate antispyware to remove all infected files from your system.
Use Alternate OS scanner, like Norton Power Eraser or Avira Boot CD
Video on killing Live Security Platinum process
Live Security Platinum
is Extremely dangerous
Live Security Platinum is a corrupt Anti-Spyware program
Live Security Platinum may spread via Trojans
Live Security Platinum may display fake security messages
Live Security Platinum may install additional spyware to your computer
Live Security Platinum may repair its files, spread or update by itself
Live Security Platinum violates your privacy and compromises your security
Live Security Platinum screenshots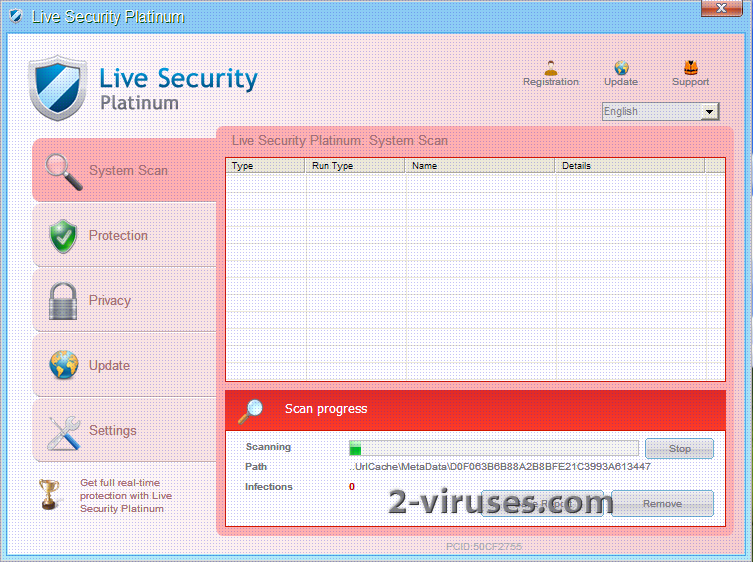 Manual Live Security Platinum removal
Important Note:
Although it is possible to manually remove Live Security Platinum, such activity can permanently damage your system if any mistakes are made in the process, as advanced spyware parasites are able to automatically repair themselves if not completely removed. Thus, manual spyware removal is recommended for experienced users only, such as IT specialists or highly qualified system administrators. For other users, we recommend using
Spyhunter
or other
malware and spyware removal applications
found on 2-viruses.com.
Remove these Live Security Platinum Registry Entries:
Remove these Live Security Platinum files:
It is impossible to list all file names and locations of modern parasites. You can identify remaining parasites, other Live Security Platinum infected files and get help in Live Security Platinum removal by using free Spyhunter scanner. It comes with free real-time protection module that helps preventing Live Security Platinum and similar threats.
Live Security Platinum is classified as Rogue Anti-Spyware. After infecting a user's system, it proceeds to scare its victim into buying the "product" by displaying fake security messages, stating that your computer is infected with spyware and only Live Security Platinum can help you to remove it after you download the trial version. As soon as the victim downloads Live Security Platinum trial version, it pretends to scan your computer and shows a grossly exaggerated amount of non-existent errors. Then, Live Security Platinum offers to buy the full version to fix these false errors. If the user agrees, Live Security Platinum does not only fix the errors, but it also takes the user's money and may even install additional spyware into the victim's computer.
Some Rogue Anti-Spyware, such as Live Security Platinum, may offer users to buy it after the victim clicks on a banner or a pop-up while surfing the internet. Usually, a Trojan is installed to a victim's computer after clicking on the advertisement. It then proceeds to download or even install Live Security Platinum, which is another way for Rogue Anti-Spyware to spread itself.
Most of rogue Anti-Spyware, such as Live Security Platinum, is nearly impossible to remove manually.
How to tell if your PC has been infected by a Rogue Anti-Spyware such as Live Security Platinum?
Numerous undesirable and annoying pop-ups:
A typical Rogue Anti-Spyware parasite keeps track of your internet browsing habits, sending your browsing history data to remote servers, owned by third party companies that use this information to advertise their products via numerous pop-ups, toolbars, hijacked homepages and spam letters. All these undesirable advertising methods are used on the victims of Rogue Anti-Spyware.
Changed or new icons:
Sometimes, Rogue Anti-Spyware installs unwanted software to a victim's PC without user's knowledge and consent. This may lead to slower PC performance and stability, as well as more unwanted programs you can't remove.