How to remove JollyWallet?
What is JollyWallet?
JollyWallet is yet another adware that causes coupons to be displayed on your computer while you browsing the Internet. The coupons pop up when you visit websites like eBay.com, facebook.com, amazon.com and others. The program promises that you can get a cash back at thousands of online stores as well as discounts. Unfortunately, JollyWallet is noticed to get into computers not in the best ways, so it is considered to be an unwanted program.
Most of the times, the application enters computers bundled with other software, mostly free programs downloaded from the Internet. We all know that most of the times we install programs automatically, without even reading much what it says on each step of the installation. This gap was used by JollyWallet in order to get installed to random computers. You can avoid this, if you pay attention each step of the installation and choose Custom Installation. Then you can control which extra applications you want to download.
If you haven't installed JollyWallet on purpose, you should remove it from your system straight away. First of all, it is very annoying to receive a bunch of messages while you are browsing and constantly get redirected to unwanted websites. Second, this kind of programs tend to track your browsing history, collect this information and later use it for promotions. What is more, you can be also infected with some malware programs if you get redirected to compromised websites or click on infected link. Remove JollyWallet from your system with no doubts to avoid all these consequences.
Check if you can find anything related to JollyBox on your Control Panel Add/Remove programs list and uninstall any of its components from there. Then scan your computer using and antivirus program, for example, Spyhunter which will make sure all unwanted program to be removed automatically.
JollyWallet
is Dangerous
JollyWallet is Adware that can present itself as a toolbar
JollyWallet logs your internet browsing history
JollyWallet displays lots of annoying advertisements
JollyWallet may infect your system via spyware or freeware
JollyWallet may repair its files, spread or update by itself
JollyWallet may prove difficult or impossible to remove
JollyWallet violates your privacy and compromises your security
Download Spyhunter
for JollyWallet detection
Note: Spyhunter trial provides detection of parasite like JollyWallet and assists in its removal for free. You can remove detected files, processes and registry entries yourself or purchase a full version.
JollyWallet screenshots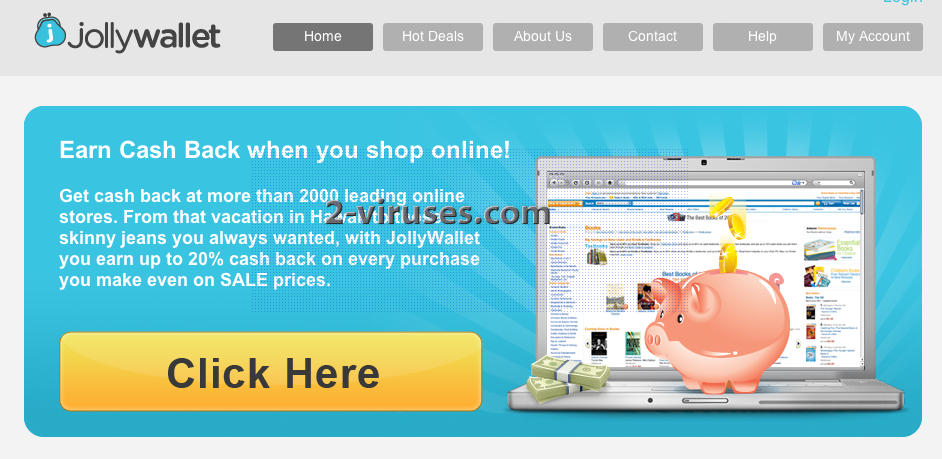 Manual JollyWallet removal
Important Note:
Although it is possible to manually remove JollyWallet, such activity can permanently damage your system if any mistakes are made in the process, as advanced spyware parasites are able to automatically repair themselves if not completely removed. Thus, manual spyware removal is recommended for experienced users only, such as IT specialists or highly qualified system administrators. For other users, we recommend using
Spyhunter
or other
malware and spyware removal applications
found on 2-viruses.com.
Stop these JollyWallet processes:
It is impossible to list all file names and locations of modern parasites. You can identify remaining parasites, other JollyWallet infected files and get help in JollyWallet removal by using free Spyhunter scanner. It comes with free real-time protection module that helps preventing JollyWallet and similar threats.
JollyWallet is Adware, which means that it plays, displays, or downloads advertising material to a system after being installed. JollyWallet is known to display numerous annoying pop-ups while running.
Such Adware as JollyWallet often hijacks your homepage and replaces it with third party commercial and marketing site. Then JollyWallet proceeds to alter your browser code to prevent you from changing vital browser options.
However, the most dangerous threat JollyWallet poses is that such Adware may steal your private information and browsing history and pass it to third parties without your knowledge and consent.
How to tell if your PC has been infected by a Adware such as JollyWallet?
Slow PC Performance:
Most of Adware is not optimized and coded very poorly, which causes your system to become unstable, slow and unreliable, as such Adware is constantly running in the background.
Numerous undesirable and annoying pop-ups:
A typical Adware parasite keeps track of your internet browsing habits, sending your browsing history data to remote servers, owned by third party companies that use this information to advertise their products via numerous pop-ups, toolbars, hijacked homepages and spam letters. All these undesirable advertising methods are used on the victims of Adware.
Slow internet connection:
Adware is constantly using your internet connection to send your private information to remote servers, as well as receive ads and pop-ups from third party servers, which causes much slower internet connection speed and stability.