InfoAtoms - How To Remove?
InfoAtoms is a free browser plug-in that can get into your system together with some free software that you may download from the Internet. It is meant to make your browsing experience easier by making it faster, using less tabs and more features. This plugin is programmed to allows users to view definitions, translations and search results by highlighting keywords or phrases. You can download InfoAtoms by yourself, alas, mostly the program gets inside without your intention to install it. That means, it comes bundled with other programs and you don't even notice that.
InfoAtoms is not a dangerous program. However, computer users have noticed that it tends to cause redirections to websites sponsored by InfoAtoms, change your homepage, default search and make some other modifications in your browser settings that complicates your computer work. Developers of certain products or services use such techniques for promotional purposes. For example, InfoAtoms causes additional banner, search, pop-up, pop-under, and in-text link advertisements to be displayed. According to the Plugin's Terms, one should not see more than 1 to 5 banner advertisements per page, 1 to 4 search advertisements per page, 1 to 4 intext advertisements per page, and 1-2 pop-up or pop-under ads per day. Advertisements will have the InfoAtoms Name or Logo and should be related to the website's you visit content.
InfoAtoms can also collect information about your online activity which violates your privacy. This data is used for various marketing purposes and later on you can notice targeted pop ups to appear on your computer. As you see, the program can cause long term consequences to your computer. It is  not an application to trust.
If you have this problem too, you should just uninstall InfoAtoms from Windows Control Panel. Go to Start -> Control Panel, click un "Uninstall Program" un Programs area. Look for InfoAtoms Toolbar on a list and click on Uninstall/Change button next to it. You may also need to remove add-on and extensions from your browser. Go to "Tools", then "add-ons", then "Applications" and disable all entries related to InfoAtoms. Please note, uninstalling of InfoAtoms from Control Panel will not remove all of the files related to it. If you want to delete it completely, we recommend using antimalware tools like Spyhunter for this.
Automatic InfoAtoms removal tools
We might be affiliated with some of these programs. Full information is available in disclosure
InfoAtoms screenshots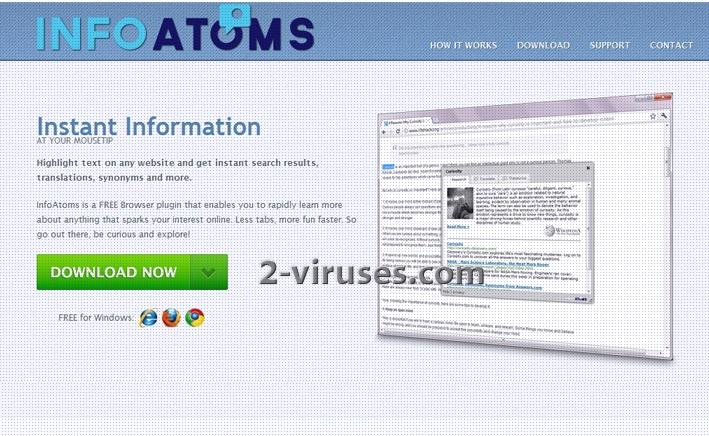 About the author