Deal Spy - How To Remove?
Deal Spy is an adware program that gets into computers without users consent, usually bundled with other programs. It is an application that displays coupons and advertisements while you are visiting websites like Facebook, eBay, Amazon and other well-known sites. The purpose of Deal Spy adware is to promote certain products and services. For this reason it displays tons of ads hoping that you will click on one of them.
The program can get into Internet Explorer, Mozilla Firefox or Google Chrome browsers. This happens while you are downloading some free application form the Internet. You can avoid this if you deselect the option to download Deal Spy at one of the steps of installation. However, this step is usually skipped and most of the users don't even notice what extra programs are entering their systems.
You should always be very careful when downloading anything from the Internet, especially if the program is free. If you already have Deal Spy on your computer, soon you will notice how annoying the program becomes. All your searches will be led by tons of ads which pose risk to get infected even with malware program if you click on some malicious link. Then you will experience much more difficult consequences.
Remove Deal Spy from your system as soon as you notice its activity on your computer. Go to Control Panel Add/Remove programs list and uninstall any components of this adware from there. Then scan your computer using and antivirus program, for example, Spyhunter which will make sure all unwanted program to be removed automatically.
Automatic Deal Spy removal tools
We might be affiliated with some of these programs. Full information is available in disclosure
Deal Spy screenshots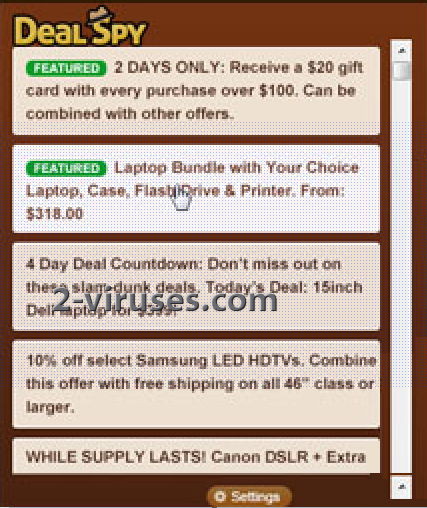 About the author