BlueFlare Antivirus - How To Remove?
BlueFlare Antivirus is a fake security program that is spread by trojans. Such programs infect your PC and try to convince you into buying full version by detecting fake problems on one's PC. While BlueFlare Antivirus and other similar programs do not harm your PC physically, we advice against paying for any fake software. First, this software is completely useless and thus money is stolen from you. Secondly, your money will be used for developing new versions of such malware. This rogue is related to Milestone Antivirus, Wireshark Antivirus and SysInternals Antivirus rogues. First BlueFlare Antivirus (testing ones, apparently) infections were noticed around 05 July, 2011.
Blue Flare Antivirus uses a bit different way to scare you into buying its full version. Most of the fake Antiviruses are trying to emulate a problem with your PC only. However, BlueFlare Antivirus will try to convince you that your reputation is in danger as well. It will show various popups claiming that you send out emails containing spam messages or sleazy offers. Although they are "blocked" according to this rogue, many will get scared that their co-workers or their boss will get one of such emails signed by them. For example, alerts would look like :
Warning! infection found
Unauthorized sending of E-Mail
with subject "F*ck blondy"
to *****@******
was CANCELLED
Sure, BlueFlare Antivirus will block execution of legitimate programs as well. This is regular tactics, like claiming that one's PC is infected with all types of computer parasites at once: info stealers, keyloggers, etc. Everything is done to convince that BlueFlare is legitimate program.
You might have problems launching your antivirus programs or they might be closed right after they are executed. This makes removal of Blue Flare antivirus quite hard. Luckily, security reasearcher Xylitol has deciphered the registration string that allows disabling this malware: DB038748-B4659586-4A1071AF-32E768CD-36005B1B-F4520642-3000BF2A-04FC910B. After you fake-register the rogue, you should be able to run legitimate anti-malware removal programs like Malwarebytes Anti-Malware, spyhunter or scan your PC with regular antivirus like Kaspersky or ESET. This should get rid of remaining BlueFlare Antivirus files.
Automatic BlueFlare Antivirus removal tools
We might be affiliated with some of these programs. Full information is available in disclosure
Manual removal
Important Note: Although it is possible to manually remove BlueFlare Antivirus, such activity can permanently damage your system if any mistakes are made in the process, as advanced spyware parasites are able to automatically repair themselves if not completely removed. Thus, manual spyware removal is recommended for experienced users only, such as IT specialists or highly qualified system administrators. For other users, we recommend using Reimage or other tools found on 2-viruses.com.
Processes:
Registers:
BlueFlare Antivirus screenshots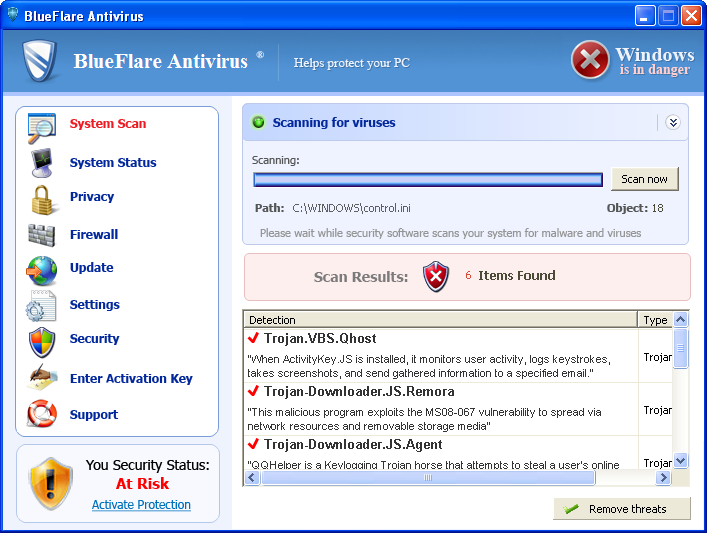 About the author