How to remove Antivirus Pro ?
What is Antivirus Pro ?
Antivirus Pro is the application that can be described with one word – 'dangerous'. Moreover, it is categorized as rogue anti-spyware, so it will be closely connected to Trojans that get through security vulnerabilities found without any permission asked. The first thing that should make you think that something is wrong is continuous alerts and scanners coming up every time you reboot your computer. Pay attention to them and if you see the program that you haven't installed to your computer, run your 'licensed' anti-spyware to make sure that Antivirus Pro is a virus.
As it was mentioned above, Antivirus Pro comes without any permission asked. Similarly like Antivirus Center or Internet Protection, it does that with a help of Trojans that mostly come from fake scan websites you may visit accidentally during a random Internet session. After this scamware manages to come inside, it will additionally modify your computer's settings to manage to launch after computer is rebooted. Classically, it will begin reporting some threats that are allegedly inside your system putting it at risk. Never believe such information given by Antivirus Pro!
Additionally, you will receive bogus security scanners as well, that will pretend to check your computer for Trojans, worms, rootkits and other malware. Antivirus Pro won't leave you alone any time and may even disconnect you from the internet to scare you into purchasing its license.
Please never do that! As a rule, these so called infections are files or registry entries Antivirus Pro creates after intrusion. This faked problem created is additionally expected to make you worry about your computer and data which is on it. Instead of paying for Antivirus Pro and 'fixing' your machine, you should remove Antivirus Pro instead. If simply ignored, this malware creates other side effect on your PC – it causes continuous slow downs, internet connection loss and other problems. As you may have already realized, it's strongly recommended to remove Antivirus Pro. Please, rely on a reputable anti-spyware to have all infected files removed for you. To help for removal, you van also use this registry code, given by S1Ri:
D13F-3B7D-B3C5-BD84
Antivirus Pro
is Extremely dangerous
Antivirus Pro is a corrupt Anti-Spyware program
Antivirus Pro may spread via Trojans
Antivirus Pro may display fake security messages
Antivirus Pro may install additional spyware to your computer
Antivirus Pro may repair its files, spread or update by itself
Antivirus Pro violates your privacy and compromises your security
Download Spyhunter
for Antivirus Pro detection
Note: Spyhunter trial provides detection of parasite like Antivirus Pro and assists in its removal for free. You can remove detected files, processes and registry entries yourself or purchase a full version.
Antivirus Pro screenshots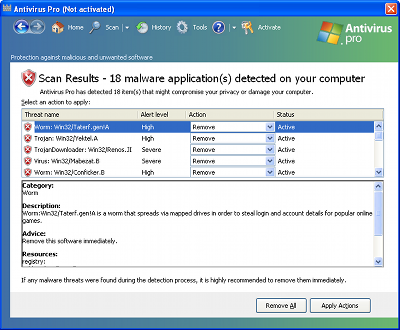 Manual Antivirus Pro removal
Important Note:
Although it is possible to manually remove Antivirus Pro , such activity can permanently damage your system if any mistakes are made in the process, as advanced spyware parasites are able to automatically repair themselves if not completely removed. Thus, manual spyware removal is recommended for experienced users only, such as IT specialists or highly qualified system administrators. For other users, we recommend using
Spyhunter
or other
malware and spyware removal applications
found on 2-viruses.com.
Stop these Antivirus Pro processes:
Remove these Antivirus Pro Registry Entries:
Remove these Antivirus Pro files:
It is impossible to list all file names and locations of modern parasites. You can identify remaining parasites, other Antivirus Pro infected files and get help in Antivirus Pro removal by using free Spyhunter scanner. It comes with free real-time protection module that helps preventing Antivirus Pro and similar threats.
Antivirus Pro is classified as Rogue Anti-Spyware. After infecting a user's system, it proceeds to scare its victim into buying the "product" by displaying fake security messages, stating that your computer is infected with spyware and only Antivirus Pro can help you to remove it after you download the trial version. As soon as the victim downloads Antivirus Pro trial version, it pretends to scan your computer and shows a grossly exaggerated amount of non-existent errors. Then, Antivirus Pro offers to buy the full version to fix these false errors. If the user agrees, Antivirus Pro does not only fix the errors, but it also takes the user's money and may even install additional spyware into the victim's computer.
Some Rogue Anti-Spyware, such as Antivirus Pro , may offer users to buy it after the victim clicks on a banner or a pop-up while surfing the internet. Usually, a Trojan is installed to a victim's computer after clicking on the advertisement. It then proceeds to download or even install Antivirus Pro , which is another way for Rogue Anti-Spyware to spread itself.
Most of rogue Anti-Spyware, such as Antivirus Pro , is nearly impossible to remove manually.
How to tell if your PC has been infected by a Rogue Anti-Spyware such as Antivirus Pro ?
Numerous undesirable and annoying pop-ups:
A typical Rogue Anti-Spyware parasite keeps track of your internet browsing habits, sending your browsing history data to remote servers, owned by third party companies that use this information to advertise their products via numerous pop-ups, toolbars, hijacked homepages and spam letters. All these undesirable advertising methods are used on the victims of Rogue Anti-Spyware.
Changed or new icons:
Sometimes, Rogue Anti-Spyware installs unwanted software to a victim's PC without user's knowledge and consent. This may lead to slower PC performance and stability, as well as more unwanted programs you can't remove.