Antivirus Plus 2014 - How To Remove?
Antivirus Plus 2014 is a very aggressive FakeRean rogue antivirus. This family of parasites is well known for their destructive ways to prevent removal by closing all useful programs including your browsers. You can easily tell if you are affected by it because you will see a fake antivirus screen which will show tons of infections and all other windows (except file explorer ) will be closed. So, it is impossible to use ones PC for anything after your system got infected with Antivirus Plus 2014.
Typically, one gets the Antivirus Plus 2014 infection from exploit pages or fake emails. This is especially true when browsing unprotected by antivirus software or with system update turned off. Once the trojans run the rogue, it won't switch off and will start on every system boot annoying you with its scans.
You should not pay for Antivirus Plus 2014 as it will fund making other rogues or illegal activities. Better spend the money on a full version of anti-malware or a decent antivirus package.
Special Antivirus Plus removal instructions:
Reboot and press F8 right away.
Choose SAFE MODE from menu.
Run MSConfig.
Go to startup and disable all the unknown items from there.
Try rebooting normally.
If you see no Antivirus Plus 2014 popups either delete the disabled file or run system scan with Reimage, SpyHunter, Stopzilla or Malwarebytes.
Automatic Antivirus Plus 2014 removal tools
We might be affiliated with some of these programs. Full information is available in disclosure
Antivirus Plus 2014 screenshots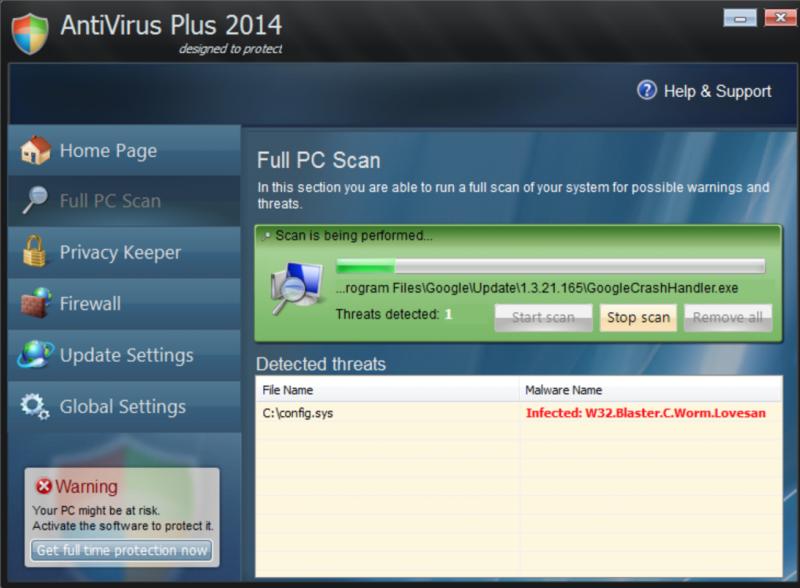 About the author