How to remove Antivirus Monitor?
What is Antivirus Monitor?
Antivirus Monitor is another fake antivirus program. It is associated with AntiMalware GO due to the fact that it uses same botnet (aka bunch of trojans) for distribution. Also, in its own structure it is very similar to its predecessor. Typically, AntiVirus Monitor enters user PC through trojan downloaders, that install through browser vulnerabilities, fake online scanners or some "freeware" downloads and cracks. These trojans can download other parasites by command, and Antivirus Monitor is one of such parasites.
Once the PC affected, Antivirus Monitor will try to disrupt user work and convince him that PC is in grave danger. This is done by displaying various alerts, stopping legitimate programs from launching and limiting websites one can view. For example, if user would try launching notepad, the program would be blocked with such alert:
Virus Alert!
Application can't be started!
The file notepad.exe is damaged.
Do you want to activate your antivirus software now?
if one press on "YES", the application window of Antivirus Monitor will start and you are asked to start a scan.
Antivirus Monitor scan will display multiple infections of known and old parasite names without listing files affected. No details are provided, and one can be sure that Antivirus Monitor results are completely fake. As a proof, majority of detected parasite symptoms would be seen on the infected PC. It even "detects" some fake antiviruses in the scan results. However, Antivirus Monitor will refuse to remove the "threats" before you purchase full version of it. This is a scam to collect your credit card details, as there is not full version of this rogue. Your credit card would be charged, and then its details would be sold further. Thus if you paid for Antivirus Monitor, consider contacting your bank and asking for credit card change and chargeback.
For removing Antivirus Monitor we recommend scanning the PC with decent anti-malware tools like Spyhunter or Malwarebytes Anti-Malware. I recommend doing scans in safe mode with networking and updating each tool before scan. Antivirus Monitor malware might block some pages from opening. To fix that, disable proxy server in your browser. If you are blocked from executing anti-malware programs, try rebooting into safe mode with networking, launching task manager and killing all garbage processes. Then you should be able run Spyware Doctor, Malwarebytes and other legitimate software. At the moment detection ratios are not too good as it is new malware, however it should be detected at least by one tool. You can also remove Antivirus Monitor manually following instructions bellow, or doing system restore before scan.
Full versions of anti-malware programs would have likely stopped Antivirus Monitor before entering the system. I recommend keeping an up-to-date version of Internet Security Suites and having second opinion anti-malware programs running all the time. Getting rid of Antivirus Monitor is more complex task compared to prevention of PC parasites.
Update! If you can't reach the internet, follow the guide:
Open Internet Explorer, choose Tools menu and select Internet Options. Click on the Connections tab and then on the LAN Settings button. Uncheck the checkbox labeled Use a proxy server for your LAN under the Proxy Server section and press OK. Download Spyhunter and run a full system scan. Delete files identified as infected.
Antivirus Monitor
is Extremely dangerous
Antivirus Monitor is a corrupt Anti-Spyware program
Antivirus Monitor may spread via Trojans
Antivirus Monitor may display fake security messages
Antivirus Monitor may install additional spyware to your computer
Antivirus Monitor may repair its files, spread or update by itself
Antivirus Monitor violates your privacy and compromises your security
Download Spyhunter
for Antivirus Monitor detection
Note: Spyhunter trial provides detection of parasite like Antivirus Monitor and assists in its removal for free. You can remove detected files, processes and registry entries yourself or purchase a full version.
Antivirus Monitor screenshots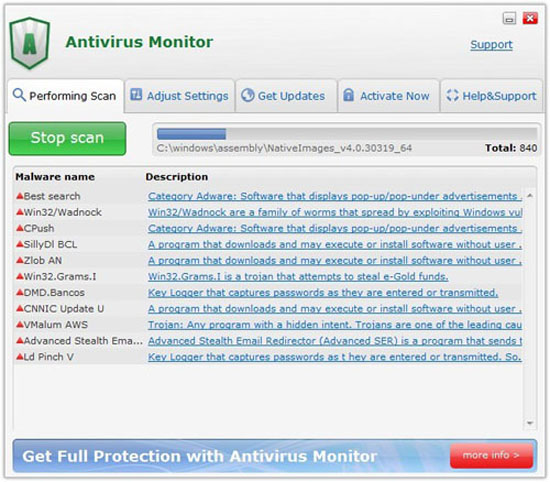 Manual Antivirus Monitor removal
Important Note:
Although it is possible to manually remove Antivirus Monitor, such activity can permanently damage your system if any mistakes are made in the process, as advanced spyware parasites are able to automatically repair themselves if not completely removed. Thus, manual spyware removal is recommended for experienced users only, such as IT specialists or highly qualified system administrators. For other users, we recommend using
Spyhunter
or other
malware and spyware removal applications
found on 2-viruses.com.
Stop these Antivirus Monitor processes:
Remove these Antivirus Monitor Registry Entries:
Remove these Antivirus Monitor files:
It is impossible to list all file names and locations of modern parasites. You can identify remaining parasites, other Antivirus Monitor infected files and get help in Antivirus Monitor removal by using free Spyhunter scanner. It comes with free real-time protection module that helps preventing Antivirus Monitor and similar threats.
Antivirus Monitor is classified as Rogue Anti-Spyware. After infecting a user's system, it proceeds to scare its victim into buying the "product" by displaying fake security messages, stating that your computer is infected with spyware and only Antivirus Monitor can help you to remove it after you download the trial version. As soon as the victim downloads Antivirus Monitor trial version, it pretends to scan your computer and shows a grossly exaggerated amount of non-existent errors. Then, Antivirus Monitor offers to buy the full version to fix these false errors. If the user agrees, Antivirus Monitor does not only fix the errors, but it also takes the user's money and may even install additional spyware into the victim's computer.
Some Rogue Anti-Spyware, such as Antivirus Monitor, may offer users to buy it after the victim clicks on a banner or a pop-up while surfing the internet. Usually, a Trojan is installed to a victim's computer after clicking on the advertisement. It then proceeds to download or even install Antivirus Monitor, which is another way for Rogue Anti-Spyware to spread itself.
Most of rogue Anti-Spyware, such as Antivirus Monitor, is nearly impossible to remove manually.
How to tell if your PC has been infected by a Rogue Anti-Spyware such as Antivirus Monitor?
Numerous undesirable and annoying pop-ups:
A typical Rogue Anti-Spyware parasite keeps track of your internet browsing habits, sending your browsing history data to remote servers, owned by third party companies that use this information to advertise their products via numerous pop-ups, toolbars, hijacked homepages and spam letters. All these undesirable advertising methods are used on the victims of Rogue Anti-Spyware.
Changed or new icons:
Sometimes, Rogue Anti-Spyware installs unwanted software to a victim's PC without user's knowledge and consent. This may lead to slower PC performance and stability, as well as more unwanted programs you can't remove.