How to remove Antisywaresuite.com?
What is Antisywaresuite.com?
Have you recently got redirected to Antisywaresuite.com website?  If so, you are probably a victim of Antispyware Soft rogue antispyware application. It's a program that attempts to make computer users pay for it pretending to be an antispyware program. Redirections to Antisywaresuite.com website is one of the symptoms that the system was infected.
Antispyware Soft infects systems secretly and once inside, it inserts Antisywaresuite.com value to the HOSTS file so when you browse the Internet, you are redirected straight to Antisywaresuite.com or Antisywaresuite.microsoft.com. In any case you will end up on the website promoting a rogue antispyware program.
Antsywaresuite.com was created in order to advertise Antispyware Soft program. The website describes the application as a great help fighting against viruses and spyware infections. It also contains a payment form were you are expected to order Antispyware Soft. Unfortunately, all information in there is fake and once you make a payment you lose your money instead of getting what the website promises.
You must remove Antispyware Soft program and its browser hijacker if you have noticed its activity on your computer immediately. We recommend consulting our removal instructions for safe and easy removal.
Antisywaresuite.com
is Dangerous
Antisywaresuite.com is a parasitic Browser Hijacker
Antisywaresuite.com may show numerous annoying advertisements
Antisywaresuite.com logs your internet browsing history
Antisywaresuite.com will replace (hijack) your browser homepage
Antisywaresuite.com may spread additional spyware
Antisywaresuite.com violates your privacy and compromises your security
Download Spyhunter
for Antisywaresuite.com detection
Note: Spyhunter trial provides detection of parasite like Antisywaresuite.com and assists in its removal for free. You can remove detected files, processes and registry entries yourself or purchase a full version.
Antisywaresuite.com screenshots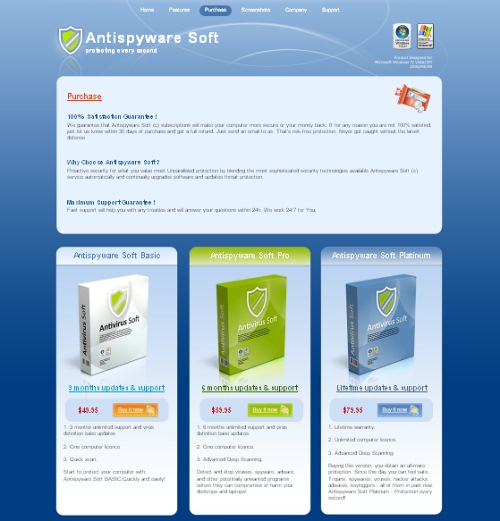 Manual Antisywaresuite.com removal
Important Note:
Although it is possible to manually remove Antisywaresuite.com, such activity can permanently damage your system if any mistakes are made in the process, as advanced spyware parasites are able to automatically repair themselves if not completely removed. Thus, manual spyware removal is recommended for experienced users only, such as IT specialists or highly qualified system administrators. For other users, we recommend using
Spyhunter
or other
malware and spyware removal applications
found on 2-viruses.com.
Stop these Antisywaresuite.com processes:
Remove these Antisywaresuite.com Registry Entries:
Remove these Antisywaresuite.com files:
It is impossible to list all file names and locations of modern parasites. You can identify remaining parasites, other Antisywaresuite.com infected files and get help in Antisywaresuite.com removal by using free Spyhunter scanner. It comes with free real-time protection module that helps preventing Antisywaresuite.com and similar threats.
Antisywaresuite.com is classified as a Browser Hijacker, which means its parasitic damage payload consists of hijacking your browser homepage, error page, or search page with its own, mostly a commercial site of its creators, forcing you to accumulate force hits to a particular website to make it more popular or by using pay-per-click sites to earn money.
The easiest way for a Browser Hijacker such as Antisywaresuite.com to infect your computer is to exploit certain ActiveX controls and other security holes in your Internet Explorer browser. By browsing insecure websites on the internet, users may encounter various pop-ups, which secretly install Browser Hijackers like Antisywaresuite.com on your computer once clicked upon.
As soon as Antisywaresuite.com completes its operations, the overall browser stability and performance severely degrade, making it nearly impossible to surf the web normally.
How to tell if your PC has been infected by a Browser Hijacker such as Antisywaresuite.com?
Slow internet connection:
Browser Helper Objects are constantly using your internet connection to send your private information to remote servers, as well as receive ads and pop-ups from third party servers, which causes much slower internet connection speed and overall connection instability.
Numerous undesirable and annoying pop-ups:
A typical Browser Hijacker keeps track of your internet browsing habits, sending your browsing history data to remote servers, owned by third party companies that use this information to advertise their products via numerous pop-ups, toolbars, hijacked homepages and spam letters. All these undesirable advertising methods are used on the victims of Browser Hijackers.