Antisywaresuite.com - How To Remove?
Have you recently got redirected to Antisywaresuite.com website?  If so, you are probably a victim of Antispyware Soft rogue antispyware application. It's a program that attempts to make computer users pay for it pretending to be an antispyware program. Redirections to Antisywaresuite.com website is one of the symptoms that the system was infected.
Antispyware Soft infects systems secretly and once inside, it inserts Antisywaresuite.com value to the HOSTS file so when you browse the Internet, you are redirected straight to Antisywaresuite.com or Antisywaresuite.microsoft.com. In any case you will end up on the website promoting a rogue antispyware program.
Antsywaresuite.com was created in order to advertise Antispyware Soft program. The website describes the application as a great help fighting against viruses and spyware infections. It also contains a payment form were you are expected to order Antispyware Soft. Unfortunately, all information in there is fake and once you make a payment you lose your money instead of getting what the website promises.
You must remove Antispyware Soft program and its browser hijacker if you have noticed its activity on your computer immediately. We recommend consulting our removal instructions for safe and easy removal.
Automatic Antisywaresuite.com removal tools
We might be affiliated with some of these programs. Full information is available in disclosure
Antisywaresuite.com screenshots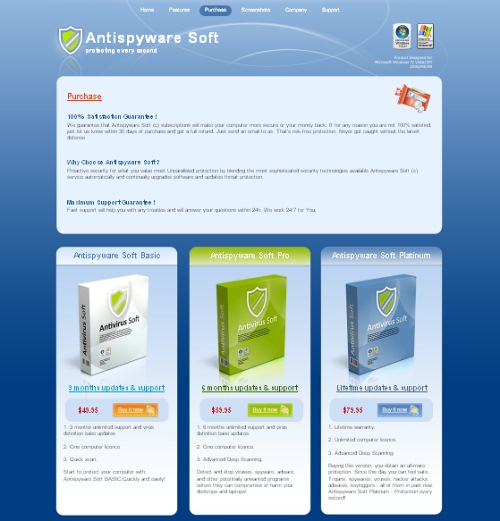 About the author